Nike (NYSE: NKE) has been a painful stock for investors this year. Having lost more than 25 percent from its all-time high of $68.19, the stock still languishes near its 52-week low, even as the broader market scales fresh highs. Although the decline seems tempting to add more shares at $50, I believe investors would be better off postponing their purchases and adding closer to $40.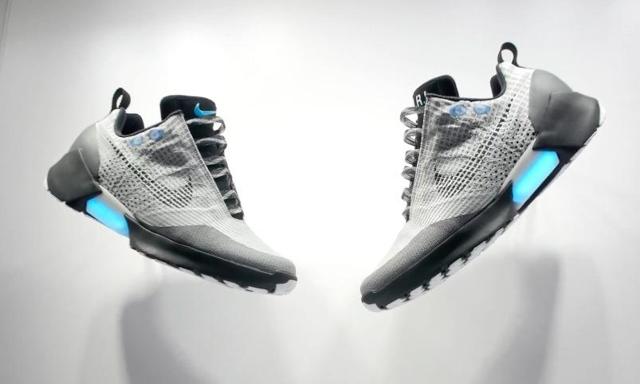 Click to enlarge
(Source: TechCrunch)
The primary reason for not recommending a purchase at the current level is because an investor should be willing to weather a 20-25 percent decline in his stock value. So, investors who bought near the top don't necessarily have to rush in to add now. Adding now would make strong business sense only if there is high conviction that the downtrend is over and the stock is primed for a rally.
Technically, the stock is trapped in a downtrend, which has been clearly marked in the daily Nike price chart below. The technical indicators - RSI and MFI - fail to indicate any signs of reversal as of yesterday.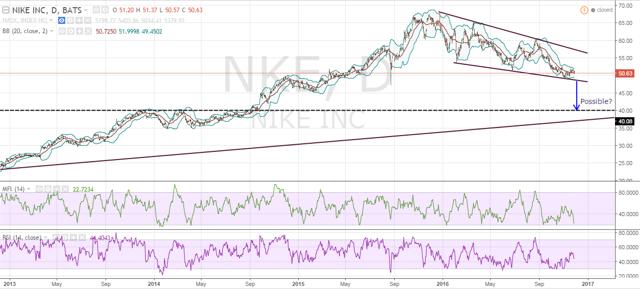 Click to enlarge
(Source: TradingView)
If the year-long downward channel is breached on the downside, there is a strong probability that the correction extends down to $40, which acted as a strong resistance earlier. The same has been marked in the daily chart above.
But if the stock were to negate the selling pressure and head higher, it will have to cross the formidable resistance of $56, beyond which significant short covering can be observed.
At this point, I also want to address Nike's short interest, which is at a 5-year high. It must be understood well that even at the multi-year highs, the short interest is just 2.06 percent of the outstanding float, which is nothing to be concerned about. So, investors are advised to look past the scary headlines and find out the actual merit.
Click to enlarge
If the $56 resistance is taken out, we will definitely see a retreat in the short positions, but if the channel is breached on the downside, then we may see fresh short positions building up as well. The support level of $48 is the key.
Let us also take a look at the monthly Nike price chart, which spans almost two decades. After the debacle of 2008-09, Nike began an uptrend which lasted until late 2012. Come 2013, the stock began another uptrend, although this time on a higher slope (highlighted in dotted line). Just few months ago, the stock violated the higher slope uptrend and has been declining since. Check this out below.
Click to enlarge
(Source: TradingView)
My bear case expectation is that the stock will now attempt to take support from the much stronger and more sustainable support, extrapolated from the 2009-2012 uptrend. Interestingly, the present value of this support comes close to $40.
Another reason why $40 could mark a strong reversal point is because it marks the 50 percent Fibonacci retracement level of the entire rally from 2009 to 2015. The stock, after taking support from the 23.6 percent Fib retracement, decisively violated it. The next Fib support is the 38.2 percent retracement level of $45.79, but the market generally views the 50 percent retracement as a stronger reversal level.
It must also be noted from the monthly chart above that the Money Flow has dropped to 33.9860, a level not seen in the last 20 years. This is a strong indication of the underlying bearishness, and forces me to wait for better levels before recommending a buy.
If the stock does drop 20 percent from the current level, it would bring many fundamental metrics in line with their 5-year averages or even lower. Please see the valuation data below pulled from Morningstar, which suggests that several ratios, such as Price/Sales, Price/Cash Flows, Price/Book, Price/Forward Earnings, are trading at 10-15 percent premiums to their 5-year averages.

Click to enlarge
(Source: Morningstar)
A 20 percent drop will also push the current earnings yield of 4.35 percent to a level not seen since 2008.
All of this confirms the same thing - that levels closer to $40 would be attractive from both technical and fundamental perspectives.
Conclusion
Nike has been battling weakness since the beginning of this year; however, investors do not have to add to their long positions now. The stock is trapped in a downward channel, which, if pierced on the downside, could open the gates to $40.
It has been well established both fundamentally and technically that another 20 percent drop would make NKE stock a very juicy affair. It would also attract significant buying interest from those investors who have been sitting on the sidelines with idle cash. That would lay the foundation of a sustainable recovery in the stock price.
Only above the resistance of $56 should investors expect to see more gains and renewed short covering.
Note: I cover several stocks in different sectors as well as S&P 500, crude oil, gold and silver, U.S. dollar, etc. So, if you liked this update and would like to read more of such informative articles, please consider hitting the "Follow" button above. Thank you for reading!
Disclosure: I/we have no positions in any stocks mentioned, and no plans to initiate any positions within the next 72 hours.
I wrote this article myself, and it expresses my own opinions. I am not receiving compensation for it (other than from Seeking Alpha). I have no business relationship with any company whose stock is mentioned in this article.