Analysts could not have been more wrong. Against all odds, Trump did the unthinkable and won the U.S. presidential election. After Trump's upset win, stocks and the U.S. Dollar went up (not down as predicted), crushing bearish consensus forecasts that the stock market would drop in case the controversial T.V. personality got elected.
However, since Trump won the White House in November's election, investors have started to focus again on the things that really matter: The upcoming interest rate decision of the Federal Reserve. Since investors are now pricing in an interest hike with near certainty, I think it pays to look at investments that are primed to profit from higher U.S. interest rates.
My favorite income investment to play higher interest rates remains New Residential Investment Corp. (NYSE:NRZ), a mortgage investment company that invests in everything from mortgage servicing rights - a.k.a. MSRs -, servicer advances, residential securities, residential and consumer loans and so on. Mortgage servicing rights are New Residential Investment's biggest exposure, leaving the mortgage REIT well positioned to profit from a rise in U.S. interest rate levels.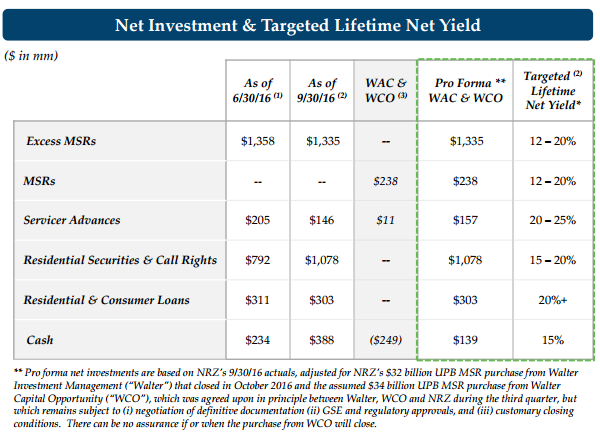 Source: New Residential Investment
The MSR business is indeed the most exciting part of New Residential Investment's portfolio in my opinion because mortgage servicing rights are the most attractive mortgage assets to hold in an environment of rising interest rates. Mortgage servicing rights increase in value when benchmark interest rates rise due to lower prepayment speeds, which in turn translates into core earnings tailwinds that could be passed through to shareholders via higher dividends.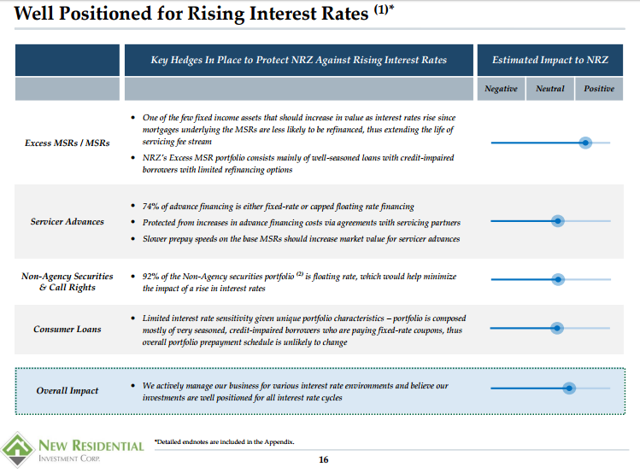 Click to enlarge
Source: New Residential Investment
Since we all expect the Federal Reserve to push interest rates up in December, New Residential looks like a solid investment to hold as the Federal Reserve moves along the interest rate curve.
New Residential Investment Already Has Significant Excess Dividend Coverage
I think the most important part for dividend investors in (high-yield) income vehicles is whether a company will be able to sustain its current dividend payout. As a rule of thumb, high-yield income vehicles are at a higher risk than the average investment vehicle of having to slash their dividend if performance starts to falter.
New Residential Investment, however, is a notable exception here and a high-yield investment vehicle that surely can afford to pay a higher dividend due to its significant excess dividend coverage.
In the last five quarters New Residential has averaged core earnings per-share of $0.506, significantly overearning its dividend per-share payout of $0.46/share. New Residential's dividend coverage ratio over the last five quarters has been 1.10x (and it has never fallen below ~1.07x in the last five quarters either). High excess dividend coverage not only makes it more likely that we will see a dividend hike in the not too distant future, but the current dividend payout also comes with a very high margin of safety.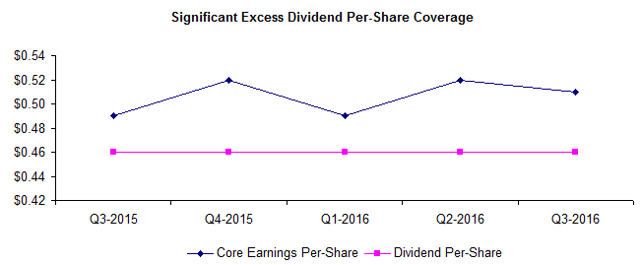 Click to enlarge
Source: Achilles Research
The takeaway here is this: Not even factoring in core earnings growth related to New Residential Investment's MSR portfolio in a rising rate environment, the investment company already pulls in more than enough cash to pay a higher dividend TODAY.
New Residential Investment last increased its dividend payout by 2 percent in the 3rd quarter of 2015, largely because the company pulled in record core earnings per-share.
I think New Residential Investment is one of the most exciting high-yield stocks to hold at this point, chiefly because of the two reasons discussed in this article:
New Residential Investment's MSR portfolio will contribute to higher earnings as interest rates rise due to its positive interest rate sensitivity;
New Residential Investment's significant excess dividend coverage suggests that the company is able to return more cash to shareholders via a higher base dividend.
Not Overpriced At All
New Residential' shares have risen 27.22 percent this year, but are not overpriced just yet. New Residential's shares can be gobbled up for just ~7.6x Q3-16 run-rate core earnings. A bargain if you ask me.
Your Takeaway
New Residential Investment looks like a good, directional bet on higher interest rates in my opinion, especially since the company has invested heavily in mortgage servicing rights that are set to increase in value in lockstep with higher interest rates.
Importantly, due to New Residential Investment's high excess dividend coverage, the company is in an excellent position to hand shareholders another dividend raise in the near term. Based on New Residential's dividend coverage ratio of 1.10x over the last five quarters, a dividend hike is, frankly, overdue. Buy for income and capital appreciation.
If you like to read more of my articles, and like to be kept up to date with the companies I cover, I kindly ask you that you scroll to the top of this page and click 'follow'. I am largely investing in dividend paying stocks, but also venture out occasionally and cover special situations that offer appealing reward-to-risk ratios and have potential for significant capital appreciation. Above all, my immediate investment goal is to achieve financial independence.
Disclosure: I am/we are long NRZ.
I wrote this article myself, and it expresses my own opinions. I am not receiving compensation for it (other than from Seeking Alpha). I have no business relationship with any company whose stock is mentioned in this article.