In a recent article, I had explained how Cheniere Energy (NYSEMKT:LNG) is on track to benefit from the completion of its LNG trains at the Sabine Pass Liquefaction project. More specifically, the completion of the first two trains at Sabine Pass will provide a big boost to Cheniere's revenue in the ongoing quarter. Additionally, investors should not ignore the fact that the expected completion of Train 3 in June next year will activate Cheniere's contract with Korean Gas Corporation, which will generate annual fixed fees of $548 million.
But, apart from the completion of the LNG trains at Sabine Pass, there is another possible catalyst for Cheniere that investors should not miss. I am talking about the Corpus Christi LNG terminal that is currently under development, which will prove to be another catalyst for the company in the long run.
Where does Corpus Christ currently stand?
Cheniere is currently developing three LNG trains at Corpus Christi, each with an annual production capacity of 4.5 million tons per annum. It started construction on the first two trains last year and the good part is that it is already ahead of schedule on this project.
In fact, Cheniere has completed 43% of the work at Trains 1 and 2 at Corpus Christi and expects to achieve substantial completion in 2019, which is when it will start recognizing revenue from this project. As far as Train 3 is concerned, Cheniere has already gained all the required regulatory approvals and is currently developing the same. More importantly, the company has penned a sale and purchase agreement already for this train for exporting 0.8 mtpa of LNG.
Once these trains, especially the first two, reach completion, Cheniere will be able to improve its top-line performance in an impressive manner. Let me tell you why.
Why Corpus Christi will be beneficial to Cheniere
Cheniere Energy has entered into a number of LNG sale and purchase agreements ((SPAs)) from Trains 1 and 2 at Corpus Christi. All in all, Cheniere has already penned contracts worth annual fixed fees of $1.5 billion from Corpus Christi, with 8.42 mtpa of its initial 9 mtpa capacity being sold under take-or-pay contracts.
This is good news for Cheniere investors as a take-or-pay agreement ensures that the company will be able to receive a fixed fee from customers even if they don't accept deliveries, as this is the advantage of take-or-pay contracts. More specifically, on completion of Trains 1 and 2, Cheniere will begin exporting a total of 398 Tbtu of LNG annually.
The good part is that Cheniere has entered into a fixed fee contract at a price of $3.50/MMBtu of natural gas, which is higher than the current pricing of the commodity. More importantly, Cheniere has also inserted inflation clauses into the SPAs. More specifically, 12.75% of the fee is subject to inflation for Pertamina; 11.5% for Woodside; and 14% for all others. This ensures that Cheniere will be able to take advantage of any increase in natural gas prices through its inflation contract.
All in all, once the Trains 1 and 2 are complete, Cheniere will be able to generate almost $1.4 billion in fixed fees from the existing sale and purchase agreements. On the other hand, if we include Train 3, Cheniere's annual revenue from Corpus Christi will come in at more than $1.5 billion. The following chart clearly shows the potential of Cheniere's Corpus Christi project and the amount of revenue that it will bring for the company post 2019: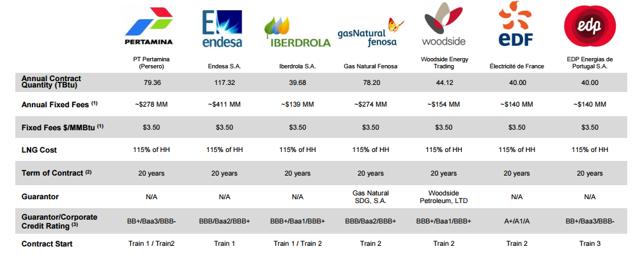 Click to enlarge
Source: Cheniere Energy
In the trailing 12 months, Cheniere Energy has generated $783 million in revenue. This means that once the Corpus Christi project starts coming online from 2019, Cheniere will be able to double the revenue that it has generated in the past year. This will prove to be a strong catalyst for the company's financial performance and help it deliver more upside in the long run.
Conclusion
Cheniere Energy is all set to report strong growth going forward on the back of the completion of its LNG infrastructure at Corpus Christi. As such, given its robust long-term prospects, it will be a good idea to stay long Cheniere Energy since it is capable of delivering strong returns in the long run.
Disclosure: I/we have no positions in any stocks mentioned, and no plans to initiate any positions within the next 72 hours.
I wrote this article myself, and it expresses my own opinions. I am not receiving compensation for it (other than from Seeking Alpha). I have no business relationship with any company whose stock is mentioned in this article.