M&T Bank (NYSE:MTB) has seen continued growth through acquisitions while its organic growth performance has been kind of overshadowed. The acquisitions of Hudson City Bancorp in 2015 and Wilmington Trust in 2011 were of prime importance as these financial institutions now constitute more than 40% of M&T's deposit base. Although the stock has enjoyed premium valuations by and large with not so big profits, we initiate with a neutral view on M&T Bank, and suggest investors to be cautious.
M&T Bank has had strong growth over the past year, but most of its growth has been through the Hudson City acquisition, which makes it very difficult to determine its organic growth. It is even very hard to make y/y comparisons for some specific metrics like net interest margin. That said, the bank's profitability decreased due to the costs associated with the acquisition, and the return on average equity dipped to 7.5% in 4Q 2015. We have seen a recovery ever since, however, M&T Bank's ROAE is still standing below 9%, which we estimate to be the cost of capital for banks, but more importantly, it lagged the peers. Still, the stock is trading in line with the peer group on a P/BV multiple basis. What is more, the bank being currently valued at 17.8 times its expected 2017 earnings makes us believe that the stock appears to be a bit overvalued. We also believe that there are some unfavorable developments that could potentially hurt earnings in the near future.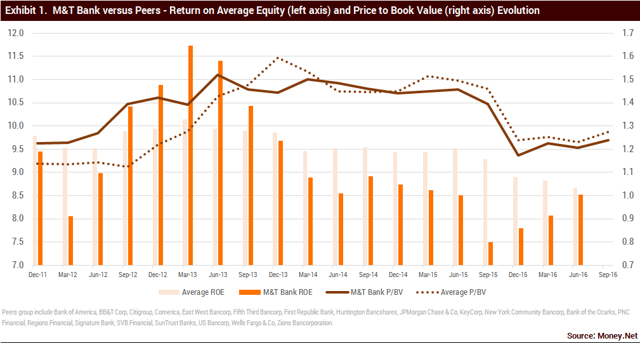 Click to enlarge
M&T Bank has been increasing its exposure to commercial real estate which was recently speculated to be approaching a bubble territory. In our view, there is nothing intrinsically wrong with the banks focused on CRE lending which has provided opportunities for the banks to be able to continue to grow. Nonetheless, banks that have amplified their concentration too quickly without strict underwriting standards are more exposed to credit risks. We believe that M&T will have no major asset quality deterioration stemming from its CRE portfolio given its sufficient risk management. On the other hand, we expect CRE loan growth to slow down system-wide in the upcoming period which would eventually have a negative impact on M&T since CRE represented as much as 35% of the bank's total loan book.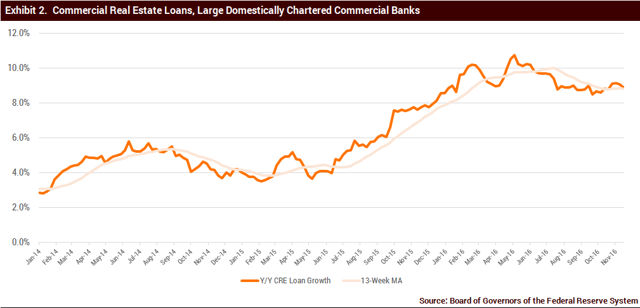 Click to enlarge
While accepting that Federal Reserve being set to hike rates at a faster than expected pace after the Trump win is a significant earnings driver due to its contribution to NIM acceleration, there are also some factors that could limit the margin expansion for M&T in our view. First, the Hudson City acquisition added a large amount of certificates of deposits, of which at least $2 billion will have matured before year-end. It is very likely that more CDs will have to be renewed the following years which would result in a pricing pressure for M&T in a macroeconomic environment where rates are broadly expected to rise. Second, M&T has some bank notes that are coming due next year that it will issue, and this also does not bode well in the sense of cost of funding. Thus, we expect the average rate that M&T liabilities carry to see a pick-up that would hinder a fast NIM improvement. Third, M&T has been experiencing mortgage run-offs, and this, coupled with the bank's intention to get focused on commercial lending, is likely to trigger a switch towards an asset mix which would yield relatively lower. Finally, the demographics of the customer base the bank obtained through Hudson City is not supportive as it tends to skew a little bit older. We see the recently strengthening demand for consumer finance products (particularly credit cards) is mostly driven by young people. We think that this creates disadvantages for M&T given the current market trends.
Considering M&T's sound asset quality and expectations of lower expenses when merger-related costs finally fade, the bank will potentially drive its ROE higher. At this point, we think the bank could post a sustainable ROE of 10% over the next two years, which translates to a target P/BV of 1.17x based on the Gordon Growth Model incorporating a cost of equity of 9% and a long-term growth rate of 3%. Our target book value multiple translates to a 12-month horizon price target of $123 assuming a 2017E PVBS of $105, which implies a 13% potential downside. Ultimately, we initiate coverage on M&T Bank with a Neutral rating and warn investors looking to build positions that a better entry point may be on the horizon.
Disclosure: I/we have no positions in any stocks mentioned, and no plans to initiate any positions within the next 72 hours.
I wrote this article myself, and it expresses my own opinions. I am not receiving compensation for it (other than from Seeking Alpha). I have no business relationship with any company whose stock is mentioned in this article.