By Doug Short
The economic mover and shaker this week is Friday's employment report from the Bureau of Labor Statistics. This monthly report contains a wealth of data for economists, the most publicized being the month-over-month change in Total Nonfarm Employment (the PAYEMS series in the FRED repository). Today, we have the ADP November estimate of 216K new nonfarm private employment jobs, a surge from October's 119K, which was a downward revision of 28K. September was revised downward by 6K.
The 147K estimate came in substantially above the Investing.com consensus of 165 for the ADP number.
The Investing.com forecast for the forthcoming BLS report is for 175K nonfarm new jobs (the actual PAYEMS number) and the unemployment rate to remain at 4.9%.
Here is an excerpt from today's ADP report:
"For the month of November 2016 we saw very strong job growth that has almost doubled in gains over October 2016," said Ahu Yildirmaz, vice president and head of the ADP Research Institute. "This growth was seen in primarily consumer-driven industries like retail and, leisure and hospitality - across all company sizes. Overall, consumers are feeling confident and are driving the strong performance we currently see in the job market."

Mark Zandi, chief economist of Moody's Analytics, said, "Businesses hired aggressively in November and there is little evidence that the uncertainty surrounding the presidential election dampened hiring. In addition, because of the tightening labor market, retailers may be accelerating seasonal hiring to secure an adequate workforce to meet holiday demand, although total expected seasonal hiring may be no higher than last year's."
Here is a visualization of the two series over the previous 12 months: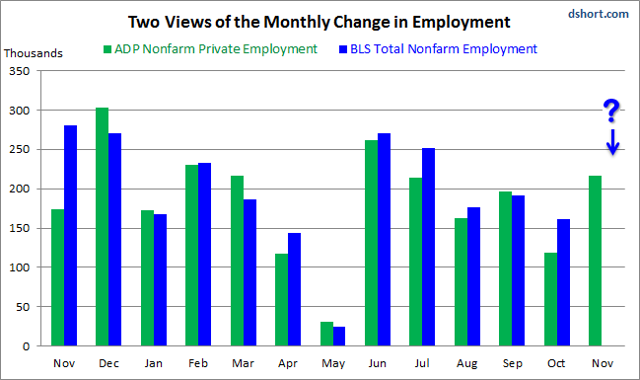 Click to enlarge
The key difference between the two series is that the BLS series is for nonfarm payrolls while ADP tracks private employment.