I have been watching the performance of TransAct Technologies Inc. (NASDAQ:TACT) for several months after having purchased several hundred shares of the company. I bought this company because it had a good yield, no debt, and the price had fallen to a point where I thought it might be a bargain. It is a small company with niche printing products for specific markets. These markets include food safety, casino, gaming and lottery, and oil & gas. They are sold under the AccuDate, EPICENTRAL, Epic, Ithaca, RESPONDER and Printrex brands. TACT also provides service, parts and supplies for these products. The company maintains it has 2.4 million printers installed around the world.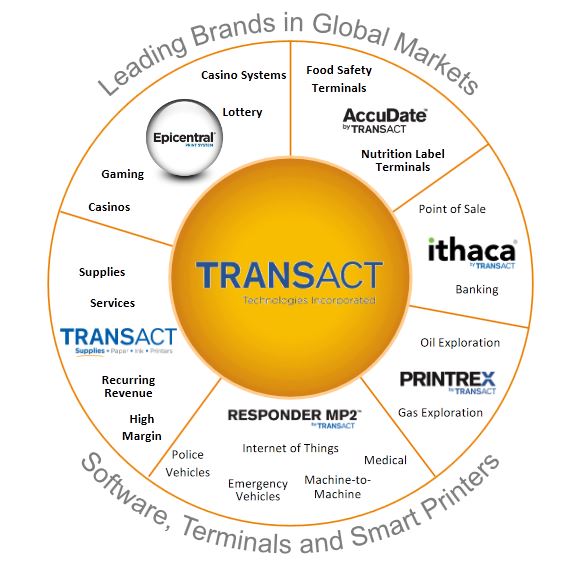 (Source: Transact Web Site)
A graph showing the selling price of the issue for the past year is shown below: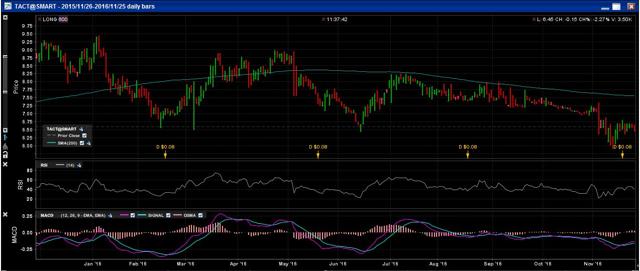 Click to enlarge
(Source: Interactive Brokers)
The graph shows the market price of TACT spiraling downward, leading to a 33% decline over the past year. The company pays $0.08 per quarter, or $0.32 annually, to offer a current yield of 5%. After watching the price continue to fall, I decided to take another look at TACT and check it out more closely. Looking at the quarterly EPS reports, the company appears to be making a turnaround from its poorer showing at the end of last year.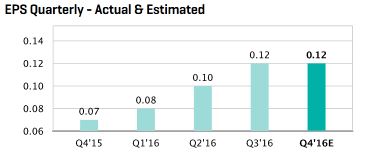 (Source: Standard & Poor's (extracted from TDAmeritrade web site))
While earnings have been growing, quarterly revenues have remained level over the past 3 quarters and are expected to do so in the fourth quarter as well.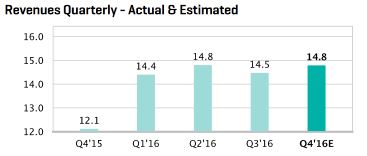 (Source: Standard & Poor's (extracted from TDAmeritrade web site))
The lack of sales growth is blamed on the weakness in the gaming and casino industry, since many of TACT's special printers are placed in its gaming machines. Management states that it hopes to regain momentum and growth by its investment into the food safety and point-of-sale offerings for the restaurant industry. If this venture proves successful, the company may start growing sales and profits again, but it remains to be seen how well this endeavor will fare.
As of September 30, 2016, TACT had approximately $2.2 million in cash and no debt. Besides paying a $0.08 dividend, it also purchased 125,000 of its own shares for about $1 million. The company has $1.7 million remaining under its share repurchase authorization.
After reading the company's latest releases and perusing the products it offers on its web site, TACT appears to have a tenuous niche in the printer and peripherals market. The market for these products is mature and does not offer an opportunity for outstanding growth. Scouting around on the web, I found a great number of competitors in the printer business with established niches serving various specialized markets. Some of the bigger players, such as Sony (NYSE:SNE) and Epson (OTCPK:SEKEF), as well as a bevy of smaller companies are moving into several of the same markets that TACT serves. For this reason, it must continue to upgrade its printers and software to fend off competitors just to maintain its current business and profit margins.
Conclusion
Since TACT's finances are strong and the 5% yield does not appear to be threatened, one could buy this stock with the hope that at some future date, a merger or buyout would take place. TACT would be a good bolt-on addition to some of the other players like Epson or Sony, but there aren't any suitors on the horizon. There is the possibility that the company's new venture into food safety printing could introduce fresh growth once again. While I applaud management for attempting to broaden its scope with these new products, it faces a daunting task of cashing in on these new product offerings.
The company will likely continue to use some of its cash flow to reduce the stock float, which will slightly increase its earnings per share over the next year. As an owner of the stock, I rate it a hold until the price reaches $7.00 per share, at which time I'll likely make an exit unless a buyout is imminent. In the event of a buyout, one could expect a 50% boost to its current price, but I don't see this occurring in the near future.
Disclosure: I am/we are long TACT.
I wrote this article myself, and it expresses my own opinions. I am not receiving compensation for it (other than from Seeking Alpha). I have no business relationship with any company whose stock is mentioned in this article.
Editor's Note: This article covers one or more stocks trading at less than $1 per share and/or with less than a $100 million market cap. Please be aware of the risks associated with these stocks.