Gilead's (NASDAQ:GILD) third quarter earnings came in below expectations, but the company grossed higher revenues than analysts had estimated. The company's shares have not reacted badly to the third quarter's results, unlike after many other quarterly releases, which shows that Gilead's shares could be forming a bottom right here.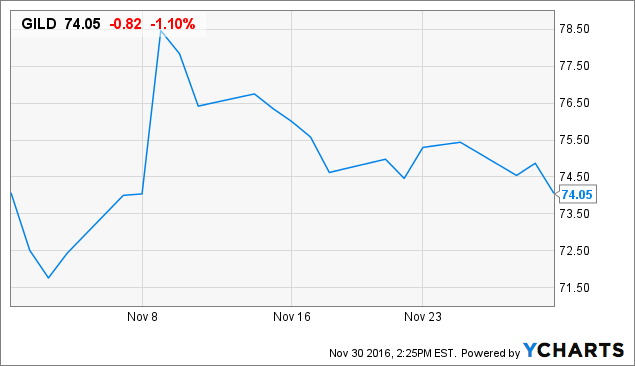 Gilead's shares trade roughly where they traded one month ago when Gilead reported its results for the third quarter, but a couple of points above the 52-week low of $71. Unlike other quarterly releases which were followed by gaps towards the downside, the latest earnings announcement saw relatively stable price reactions - one just needs to compare the share price moves at the beginning of November with the huge drops seen at the end of July (second quarter results) and at the end of April (first quarter results):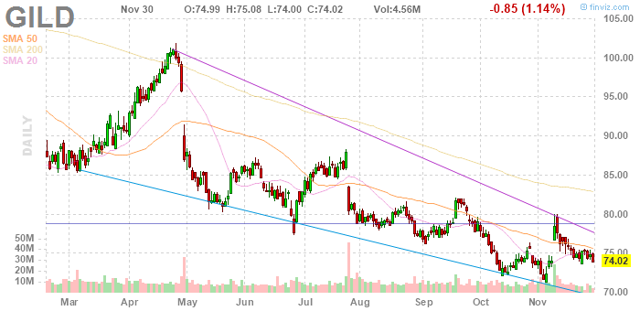 Click to enlarge
When we take a closer look at the results Gilead showed for the third quarter, it becomes clear that the fundamentals support a share price bottom at the current level:
With revenues of $7.5 billion (down 9% yoy) Gilead beat estimates slightly. The revenue declines were based on HCV sales of $3.3 billion (down by 30% yoy), which can be blamed on lower US sales (down $1.3 billion), whereas Japan revenues remained flat on a year-on-year basis. Lower patient starts (mainly in the US, but also in markets such as Italy and Spain) and lower average prices per patient were responsible for the sales declines in Europe (down $250 million yoy) and the US.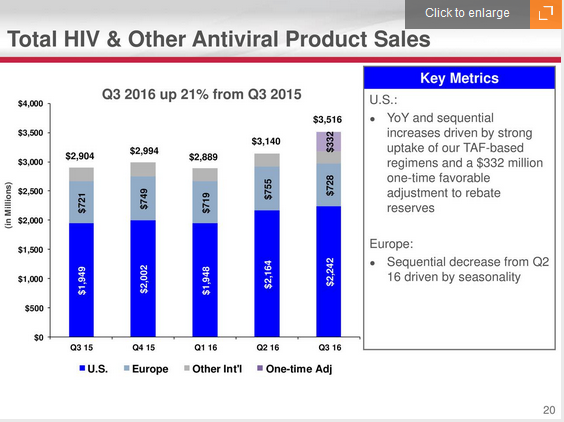 When we look at Gilead's HIV business, we see the complete opposite: Sales were up significantly on a year-on-year basis, as well as sequentially, even when we back out the one-time adjustment to rebate reserves of $330 million). Strong demand (and a very fast uptake) for Gilead's new TAF-based HIV drugs was responsible for the double-digit sales growth. The different fate of Gilead's two main franchises is not especially surprising, as HCV sales were expected to peak (and decline after that) at some point in 2016, we clearly see this trend in the company's results now. Due to new infections and more people getting treated, as well as due to a still huge patient pool in the US, in Europe and in Japan, HCV sales will not vanish though, and Gilead's newest HCV drug Epclusa is seeing a steady ramp-up. With Gilead's SOF/VEL/VOX drug for HCV coming to the market in the near future, Gilead will very likely remain the leader in this (still pretty huge) market and will continue to generate billions in revenues, earnings and cash flows with its HCV drugs.
Gilead will also remain the key player in HIV, a market that (unlike the HCV market) continues to grow. With Genvoya and Gilead's pipeline candidate Bictegravir, which will likely come to the market soon as well (right now four registrational studies are conducted), Gilead will continue to have the best HIV drugs on the market, which should allow for continuous revenue, earnings and cash flow growth from Gilead's HIV franchise.
The market seems to have liked the fact that Gilead's HIV franchise has surpassed the (shrinking) HCV business in size, and the revenue beat lead to Gilead's shares not declining further after the earnings release.
Gilead's shares are also seeing additional support from the company's share repurchase program, which becomes ever more effective the lower the company's shares drop. With a rate of $1.0 billion in buybacks per quarter Gilead can repurchase about 4.5 million shares each month, which is a much faster pace than earlier this year, when Gilead was trading at $100 per share (which equaled a buyback pace of 3.3 million shares a month). The faster buyback pace (in terms of shares repurchased per time) and the lower share count mean that the support Gilead's share repurchase program offers is increasing over time, and in a couple of weeks the effect could get even bigger: If Gilead chooses to start an accelerated share repurchase program during Q1 (as it did last year), this will mean a lot of additional demand for Gilead's shares starting in January, which would bring even more support to Gilead's shares. As companies like to front load their annual share repurchases (meaning higher amounts spent at the beginning of the year due to the bigger impact on the weighted average shares outstanding number they have to report) I believe it is not unlikely that Gilead will use an ASR again next quarter.
Overall I believe that, with the benevolent reaction to Gilead's last earnings miss, the good results of Gilead's HIV business (which is now bigger than the HCV franchise) and the growing impact of Gilead's share repurchases, a case can be made that Gilead's share price will likely not drop below $70 (unless in a huge market sell-off). It looks like the company's shares are in the process of bottoming out, and with shareholder returns at high levels and a possible entry into the NASH market coming closer shares could reverse their downtrend in the near future.
Takeaway
Gilead had a history of seeing huge share price drops after its earnings announcements, but after the third quarter results the reaction was rather benevolent. This, in addition to positive fundamentals (e.g. the huge growth of Gilead's HIV franchise) and a growing effect of the company's share repurchases could mean that Gilead's shares are finally forming a bottom around the current share price level in the low 70s.
Disclosure: I am/we are long GILD.
I wrote this article myself, and it expresses my own opinions. I am not receiving compensation for it (other than from Seeking Alpha). I have no business relationship with any company whose stock is mentioned in this article.