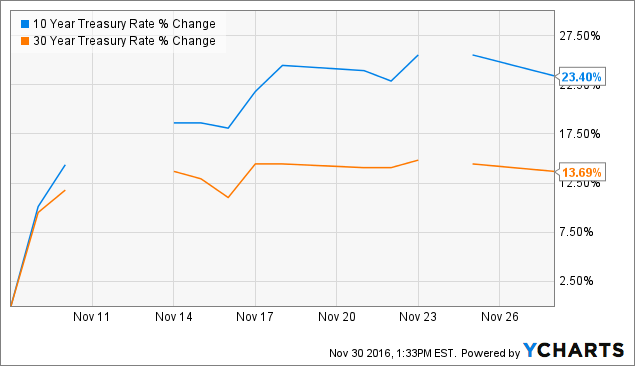 10 Year Treasury Rate data by YCharts
Since the shocking election of Donald Trump, long-term interest rates have soared to their highest levels in almost two years. This is due to market expectations that a Trump stimulus package, consisting of tax cuts and infrastructure spending, will boost economic growth, and inflation with it.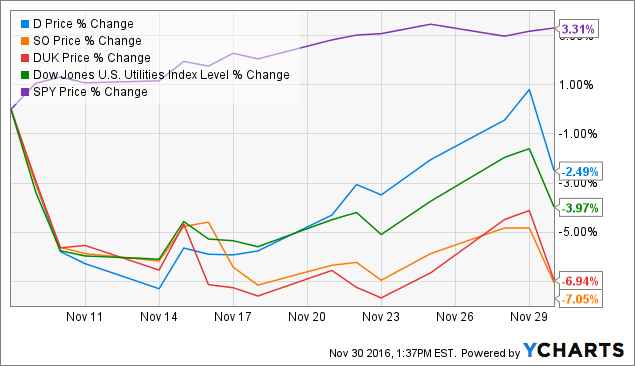 D data by YCharts
Not surprisingly, interest-rate-sensitive high-yield, ie bond alternative, stocks such as utilities Southern Company (NYSE:SO) and Duke Energy (NYSE:DUK) have suffered as a result. However, fellow utility Dominion Resources (NYSE:D) has held up much better than both its rivals and the industry at large.
Ultimately this is because, while Southern Company and Duke Energy may represent stalwart high-yield blue chips, the fact is that investors who choose Dominion are likely to make out much better in the coming years and decades.
Dominion is a superior growth machine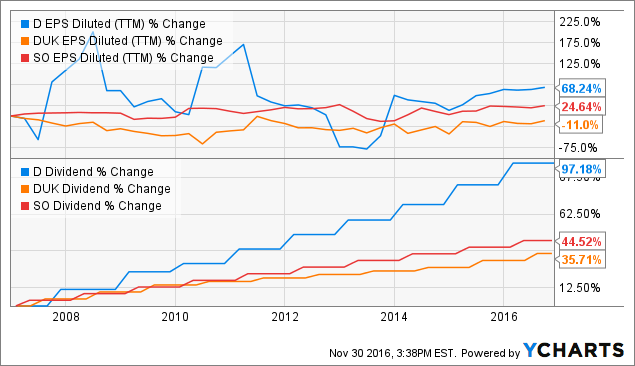 D EPS Diluted (NYSE:TTM) data by YCharts
When it comes to growing earnings and then rewarding investors with strong dividend growth, neither Duke Energy nor Southern Company can hold a candle to Dominion Resources.
That's due to several competitive advantages Dominion has over its rivals.
For one thing, Dominion's key markets, most notably Maryland and Virginia, have benefited immensely from strong growth around the DC area. That's in contrast to Duke's major markets such as Ohio and Kentucky, and Southern Company's Alabama, Georgia, and Mississippi, which haven't experienced nearly the economic boom (and thus increased demand for power).
However, we don't invest looking into the rear view mirror, and the most important thing for you to know is that Dominion Resources has several major catalysts that will help it to outgrow its rivals for years, and probably decades, to come.
That advantage is midstream natural gas infrastructure, including its major investments into the Atlantic Coast Pipeline, or ACP; Cove Point LNG export terminal; and midstream MLP, Dominion Midstream Partners (NYSE:DM).
The ACP is a $5.1 billion joint venture between Dominion (45%), Duke Energy, (40%), Piedmont Natural Gas (NYSE:PNY), (10%), and Southern Company (5%).
The pipeline will link up the Marcellus shale fields of West Virginia and run through Virginia and terminate in fast growing North Carolina.
As the owners of the pipeline, all these utilities will benefit from long-term (20 year), fixed-fee contracts, but Dominion will get the largest cash flow boost.
And let's not forget Cove Point, where Dominion is investing $3.8 billion to create an LNG export terminal so it can ship cheap US Natural Gas abroad to customers in Japan and India. Cove Point already has 100% of its capacity under 20 year contracts to the largest gas utilities in these two nations, meaning plenty of strong, predictable cash flow with which to grow the dividend.
Finally, there's Dominion's ace in the hole, Dominion Midstream.
Dominion Midstream is the recently launched midstream MLP that the utility is using to monetize its recent $6.0 billion Questar acquisition. Most of these assets will end up being dropped down to Dominion Midstream to support management's goal of 22% distribution growth through mid-2018.

Click to enlarge
Source: Dominion Resources investor presentation.
And since Dominion Resources owns a large stake in Dominion Midstream, as well as the lucrative incentive distribution rights, it gets to benefit from the cash flow from these pipelines, while at the same time raising cheap external capital with which to invest in other growth opportunities as it expands its diversifying energy empire.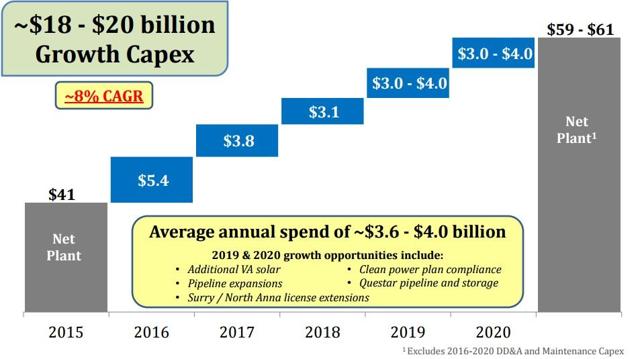 Click to enlarge
Dividend profile is among the best in the industry
| | | | | |
| --- | --- | --- | --- | --- |
| Utility | Yield | TTM Payout Ratio | Projected 10 year Dividend Growth Rate | Projected 10 Year Annual Total Return |
| Dominion Resources | 3.7% | 84.6% | 6.6% | 10.3% |
| Duke Energy | 4.5% | 82.8% | 4.3% | 8.8% |
| Southern Company | 4.6% | 84.5% | 4.1% | 8.7% |
| S&P 500 | 2.0% | 39.5% | 6.1% | 9.1% |
While true that both Duke Energy and Southern Company are offering higher yields than Dominion, at the end of the day, successful dividend investing isn't just about yield.
Payout security and long-term growth prospects are also important and as you can see from the above table, not only is Dominion's dividend on par with its rivals in terms of safety, but analysts are expecting it to far outpace its rivals in terms of future growth.
And while one must always be skeptical of long-term forecasts, given its strong growth catalysts, most notable in the recently acquired midstream assets, Dominion Resources is indeed likely to beat Southern and Duke when it comes to long-term dividend growth.
After all, management is guiding for 8% dividend growth over the next few years, thanks to such growth catalysts as its ownership of Dominion Midstream Partners.
| | | | |
| --- | --- | --- | --- |
| Utility | Yield | 13 Year Median Yield | Premium To Historic Yield |
| Dominion Resources | 3.7% | 3.7% | 0% |
| Duke Energy | 4.5% | 4.9% | 8.2% |
| Southern Company | 4.6% | 4.6% | 0% |
And when we look at the current yield, compared to its historic median value, we can see that Dominion, while currently not offering any kind of discount, (neither is Southern Company for that matter), is hardly overvalued from the perspective of the most relevant valuation metric most dividend investors care about.
Meanwhile Duke Energy continues to trade at a premium that doesn't seem justified given its lower future growth potential. Or to put another way, both Dominion Resources and Southern Company are trading at a "fair price" from a dividend yield point of view.
And as Warren Buffett famously said, "It's far better to buy a wonderful company at a fair price, than a fair company at a wonderful price."
In this case, with Duke Energy trading at a premium, and Dominion Resources and Southern Company trading at a fair price, the deciding factor when determining which utility to buy is the quality of the company - which is where I think Dominion Resources wins, hands down.
Top rate management team knows how to generate long-term shareholder wealth
| | | | | | |
| --- | --- | --- | --- | --- | --- |
| Utility | Operating Margin | Net Margin | Return On Assets | Return On Equity | Return On Invested Capital |
| Dominion Resources | 30.8% | 18.1% | 3.2% | 14.7% | 6.11% |
| Duke Energy | 23.6% | 12.3% | 2.3% | 7.1% | 4.84% |
| Southern Company | 25.3% | 13.7% | 2.8% | 11.1% | 5.61% |
| Industry Average | 15.8% | 6.0% | 1.7% | 6.9% | NA |
As you can see, all three utilities boast better-than-industry-average profitability and returns on shareholder capital, but Dominion Resources leads the pack.
This is largely due to superior leadership that has avoided the pitfalls that both Southern Company and Duke Energy have fallen into in recent years.
For example, while Southern Company's leadership is very good, in terms of a long track record of good relationships with regulators in key markets such as Alabama and Georgia, the company has stumbled in recent years with its botched attempts at expanding its clean coal and nuclear production capacity.
Now, I do want to give credit where its due, because the 2016 $12 billion acquisition of AGL Resources was a wise move in terms of diversifying its cash flow away from its traditional and slower growing markets. That being said, the price Southern paid was pretty steep, and it will likely take several years before the deal ends up being accretive to its investors.
Duke Energy similarly has done a good job integrating massive acquisitions over time, most recently the 2011 $13.7 billion purchase of Progress Energy. However, Duke, like Southern Company, also has its share of egg-on-its-face mistakes, most notably the misadventure into unregulated merchant power generation and overseas investments.

Click to enlarge
Source: Duke Energy investor presentation.
Duke has recently decided to pivot 180 degrees and refocus purely on its core regulated businesses, which is a good idea based on the company's poor track record of diversification.
On the other hand Dominion Resources' management has proven far better at the diversification and fast growth game, thanks to its strong relationship with regulators (especially in key markets like Virginia) and a well-timed expansion into midstream gas pipelines that connect it to the booming shale gas fields of Pennsylvania, and Ohio.
With gas prices now recovering nicely to levels that are likely to result in continued strong US gas production, Dominion's newest assets are likely to help give it a competitive advantage when it comes to continued growth in this highly regulated industry.
In other words, while Dominion has also made mistakes with unwise investments over the years (most notably into oil & gas exploration and production, as well as merchant power), management realized its mistakes earlier than its rivals and was able to correct course earlier.
This has helped Dominion achieve some of the highest margins and returns on investor capital in the industry, which is a key reason that the dividend profile is as strong as it is today.
Risks to consider
While I am bullish enough on Dominion Resources that I plan to add it to my own portfolio ASAP, nonetheless there are still some risks to consider before buying shares.
| | | | | | |
| --- | --- | --- | --- | --- | --- |
| Utility | Debt/EBITDA | EBITDA/Interest | Debt/Capital | Current Ratio | S&P Credit Rating |
| Dominion Resources | 6.38 | 5.77 | 56% | 0.42 | BBB+ |
| Duke Energy | 5.22 | 5.07 | 48% | 1.12 | A- |
| Southern Company | 6.05 | 6.59 | 57% | 0.91 | A- |
| Industry Average | 3.15 | NA | 46% | 0.86 | NA |
The utility industry is incredibly capital intensive and when combined with an aggressive growth plan that means a lot of debt.
Now, as you can see, none of these blue chip utilities necessarily have pristine balance sheets, since all three have far higher leverage ratios, (Debt/EBITDA), than the industry average.
That being said, while Dominion's current debt load is far from dangerous (interest coverage ratio if nearly 6 after all and it has a high investment grade credit rating), it goes without saying that investors in Dominion will want to watch the debt metrics closely in the coming years.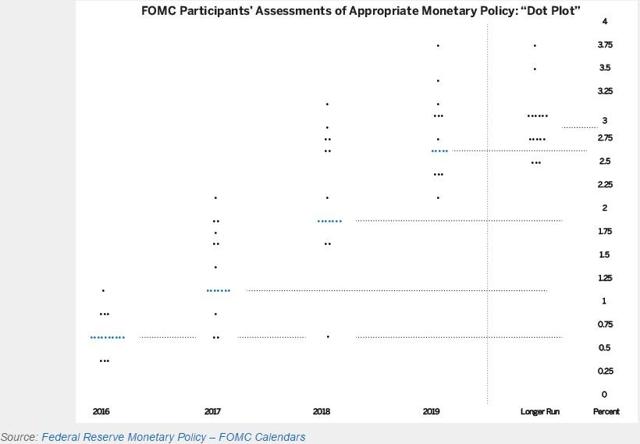 Click to enlarge
That's especially true now that economic growth seems to be picking up steam, which gives far more credence to the Federal Reserves long-term interest rate forecast of 3.25% by the end of 2020.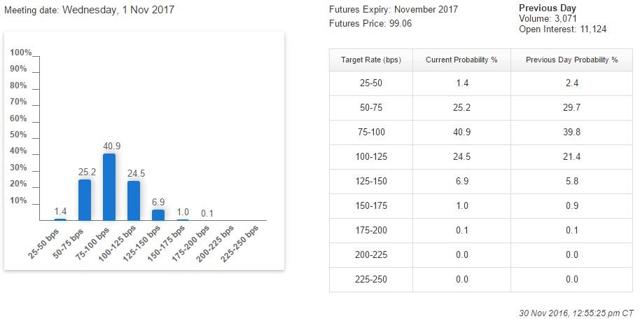 Click to enlarge
Source: CME Group
After all, while the Fed's credibility regarding interest rate hikes is certainly lacking, after years of hawkish talk that turned out to be a lot of noise, financial markets are pricing in the odds of at least one, two, and three rate hikes over the next year at 98.6%, 73.4%, and 32.5%.
If the Trump stimulus ends up happening, then it is quite possible that 10 year and 30 year Treasuries could rise to 3%, and 4%, respectively, which would make the cost of rolling over the debt for Dominion (and also Southern and Duke) higher going forward.
In addition, the longer-term potential for risk free Treasury yields as high as 5%, or even 6% would certainly make high-yield utilities far less attractive to income investors.
That could end up hurting the share price of all three utilities, however, Dominion Resources and Southern Company in particular has tapped the equity markets in recent years to raise growth capital, which might prove harder to do if their share prices end up falling.
Bottom line: Southern Co and Duke Energy are OK high-yield names, BUT Dominion Resources offers high-yield, AND superior long-term growth
Don't get me wrong, I'm not saying that Southern Company or Duke Energy are crappy stocks, nor that you need to run out and sell them in favor of Dominion Resources.
Rather my point is that, if you don't own Dominion yet, and are a fan of high-yield utilities, then you really should consider opening a position in what is likely to be one of the best dividend growth names in the industry - and the one that is likely to generate exceptional market-beating total returns in the years and decades to come.
Disclosure: I am/we are long DM.
I wrote this article myself, and it expresses my own opinions. I am not receiving compensation for it (other than from Seeking Alpha). I have no business relationship with any company whose stock is mentioned in this article.