CGG (NYSE:CGG) is a French geophysical services company providing leading geological, geophysical and reservoir capabilities to its broad base of customers. Most of its clients come from the oil and gas industry. Thus, CGG is in big trouble due to the strong decrease in crude oil prices. Customers decreased its capex for the exploration of new oil wells sharply, and CGG pulled the worst card. The high losses are mainly related to high impairment depreciation.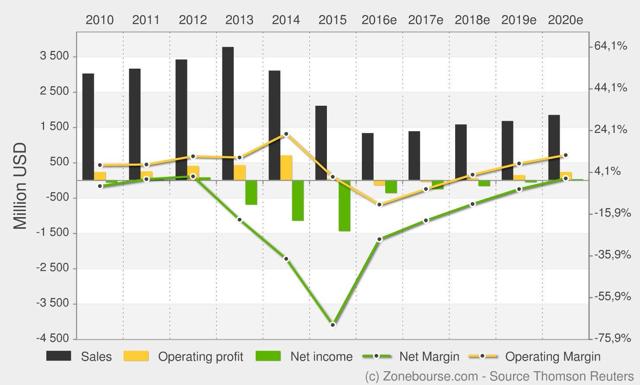 Click to enlarge
(Source: 4-traders.com)
The financial fundamentals of the company were badly affected by the impact of lower activities within the industry.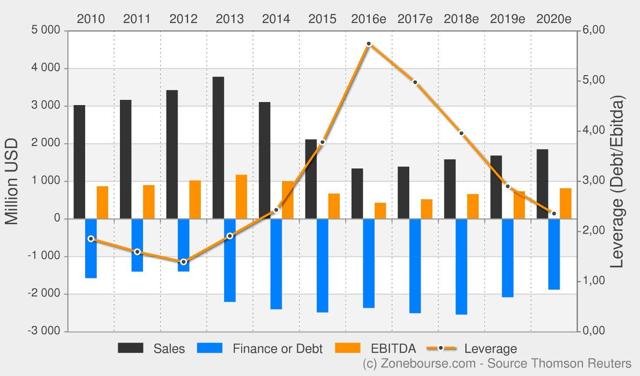 Click to enlarge
Equity investment is far too risky - fixed income delivers opportunities
Any investment in the stock is, in my opinion, currently much to risky. Nevertheless, CGG issued also a few bonds. Of particular interest is the CGG 7.75% USD bond with maturity 05/15/2017 denominated in 1.000 (ISIN: US204386AK24) with a ccc-Rating by S&P.
The issued amount was $400m, but there are only $8.3m outstanding. The current price range is between 94.5 - 98. All in all there is a yield-to-maturity (ask price) on average of almost 20%(!).
CGG is obviously highly leveraged. I'm currently not quite sure, if the company will still exist in three, five or ten years. But I'm quite sure that CGG is able to repay the $8.3m bond on May next year. The current free cash flow is positive by $280m (NYSE:TTM), and the company has more than $600m in cash & cash equivalents by the end of September. Furthermore, Total SA (NYSE:TOT) is one main partner of CGG. They consider it as a special scientific and technological partner. Total has owned a minority stake in CGG in the past and said they're ready to invest up to €35m in 2015. This might show the importance of CGG for the branch.
It might be difficult getting any bonds, because of its illiquidity. Nevertheless, it's worth a try on the basis of all given arguments.
Best regards
Andreas
If you enjoyed this article and idea, please follow me here on Seeking Alpha by clicking on the "Follow" button at the top of the article by my picture. I'm mainly focusing on event-driven stories based on both distressed securities and M&A plays.
Disclosure: I/we have no positions in any stocks mentioned, and no plans to initiate any positions within the next 72 hours.
I wrote this article myself, and it expresses my own opinions. I am not receiving compensation for it (other than from Seeking Alpha). I have no business relationship with any company whose stock is mentioned in this article.