For those who are influenced by headlines, the past week was not an easy one to navigate. The majority of financial websites said there was no hope of OPEC reaching a deal Wednesday, and even warned how it could affect stocks as well. MarketWatch released an article Tuesday titled "Here's How Ugly It Could Get For Stocks If OPEC Can't Reach A Deal." The article went on to discuss how a "no-deal" would send ripples through forex markets, in addition to equity markets. These type of headlines are of no use to anyone and in most cases, it's best to fade them.

Click to enlarge
(Source: MarketWatch.com, MarketPulse.com)
Despite all odds, OPEC did reach a deal today and crude oil (NYSEARCA:USO) prices skyrocketed. Crude oil ended the day up over 9% to just over $49.00 per barrel. According to Charlie Bilello, the 9.3% gain for crude oil today was the 23rd largest daily percentage gain for crude in 35 years.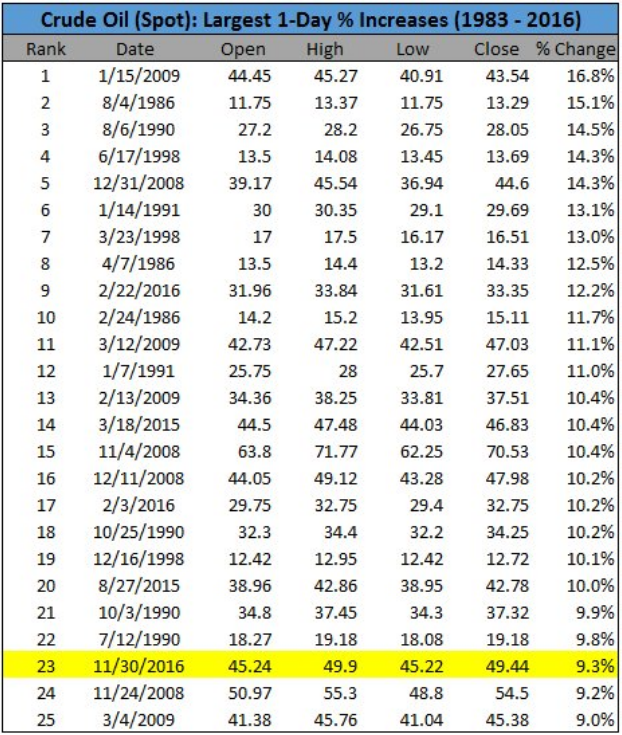 (Source: Charlie Bilello, PensionPartners.com)
Despite this being the strongest daily percentage gain for oil in nearly a year, sentiment on oil is completely divided. The current bullish sentiment reading for oil is at 50%, meaning that there are just as many bears in the market as there are bulls. While bullish sentiment did explode higher in the past 24 hours from its 33% reading yesterday, sentiment is nowhere near exuberant.
In the hopes of seeing what might be next for oil prices, I decided to look at what happened next during the past largest daily percentage gains for oil. In this study, I chose to only look at occurrences when oil was trading above its 40-week moving average. I have controlled for this factor, as I believe oil to currently be in a bull market. Due to the fact that oil is currently above its 40-week moving average, I only wanted to look at similar instances in this study.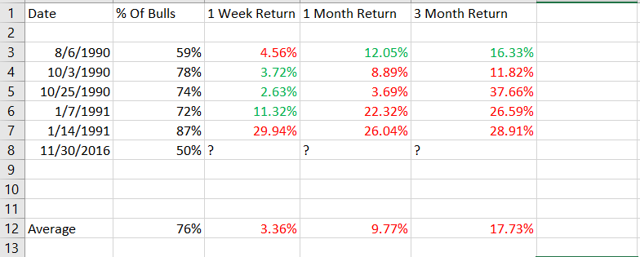 Click to enlarge
(Source: Author's Table, Microsoft Excel)
Out of the 24 instances over the past 35 years, the majority of these record days for crude oil occurred while the commodity was in a bear market. Of the 24 instances I tested, there were only 5 occurrences where crude oil had a record percentage gain while above its 200-day moving average. Taking a quick look at the above table, the results are certainly not encouraging. The average return for every single time-frame is absolutely appalling. Having said that, today's daily gain for crude oil made a new record that is worth noting. Today's massive daily percentage gain above the 200-day moving average had the lowest sentiment reading ever recorded. I believe this to be significant as the average daily sentiment reading during these occurrences was 76% bulls. This means that on the back of these record percentage gains for crude, the market had already turned predominantly bullish. Today's occurrence marks the only time that sentiment is not in the bullish territory and is also above its 200-day moving average.
Due to the extreme rarity of this current signal, I do not believe the above table to be a very useful guideline. As we can see from the above table, the only signal that occurred while bullish sentiment was under the 60% level was actually quite positive going forward for crude. In summary, while the above table looks very ominous for crude going forward, I do not believe the sample to be very representative of the current signal.
Sentiment
I have built sentiment charts with data from the past 20 years in order to help readers better visualize what sentiment on different asset classes currently looks like. Taking a look at the below chart of crude oil sentiment, we can see it has been a roller-coaster ride for the bulls. Bullish sentiment on crude oil started the year at 4% bulls and enjoyed a massive rally off of this oversold reading. Bullish sentiment on crude oil topped out at 91% bulls in June of this year, and has been trading in a range between $40.00 and $52.00 since.

Click to enlarge
(Source: Daily Sentiment Index, Author's Chart)
Chart Legend - White Line: Crude Bullish Sentiment, Blue Line: 5-day moving average, Green Line: 10-day moving average, Red Line: 21-day moving average.
There are two things I am looking for when I look at the Daily Sentiment Index charts I have built:
1) How many bulls are currently in the market?
2) What are the sentiment moving averages telling us?
Taking a look at the current sentiment chart for crude oil, we can see that bulls and bears are currently enduring a tug of war. There is a complete divide between bulls and bears at this juncture, but sentiment is trending higher and should begin to drift to the bull's camp. As we can see the moving averages are all sloping positively, and even the 21-day moving average has now flattened out. This sentiment moving average setup is supportive of higher prices, as most pullbacks should find support at these moving averages. The fact that crude oil has catapulted itself back above its 50-day moving average and is only at a reading of 50% bulls, tells me that this sentiment is nowhere near exuberant yet. This is a very positive sign for the oil bulls as this means that the market can continue higher without excessive optimism weighing on it. I believe that oil should have no problem getting through the psychological $50.00 level, and would not be surprised if this rally can get crude through the $55.00 level. The fact that bullish sentiment on oil is trending higher and nowhere near overbought yet tells me that there is more gas left in the tank for this renewed uptrend.
Technical Outlook & Summary
Taking a look at the daily chart of crude oil, today was a massive win for the bulls. Not only did the bulls defend the 200-day moving average and bounce strongly off this level, they also regained the 50-day moving average. The 200-day moving average which was very strong resistance for all of 2015, has now become support this year.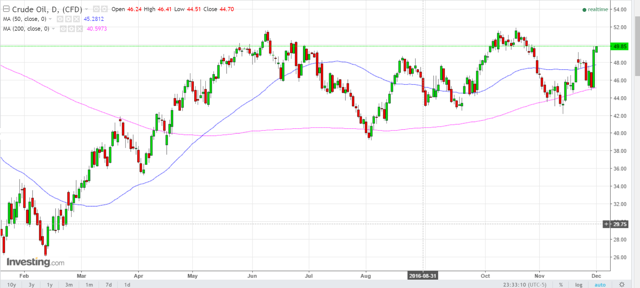 Click to enlarge
(Source: Investing.com)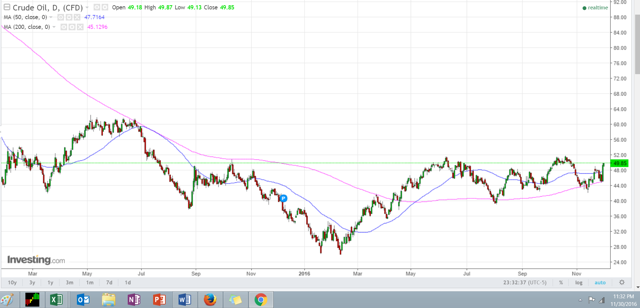 Click to enlarge
(Source: Investing.com)
As we can see in the above chart, oil was rejected by its 200-day moving average in June of last year, and once again in October. Thus far this year, the 200-day moving average has provided support in August, and twice thus far this month. The fact that the 200-day moving average is trending up is a very positive, and the fact that it has provided such strong support is a tell-tale sign of a bull market. Bull markets tend to find support at their rising 200-day moving average, while bear markets tend to find resistance at their 200-day moving average.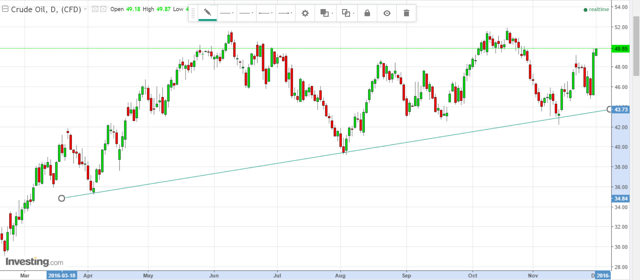 Click to enlarge
(Source: Investing.com)
In addition to crude oil being back above its key moving averages, crude oil is also making higher lows. Taking a look at the above chart, we can see that despite crude having resistance at $52.00, the price continues to march higher. Crude oil continues to make higher lows over the past 7 months and looks like it wants to break out of its current base.
Due to the resiliency of crude oil this year, I got long crude oil this morning at $48.45. My stop on this trade is on a close below $41.80. I purchased a long position in crude oil this morning for 2 different reasons:
1) Price just made a new 20-day high, a Turtle Trading buy signal.
2) Sentiment on crude oil was still more bearish than bullish, at the time of the new 20-day high.
I believe it is only a matter of time before crude oil takes out resistance at $52.00 and would not be surprised to see this happen before the end of the year. Market Wizard Mark Minervini said something recently which I could not agree more with.
Markets and stocks that are "hard to buy" usually go higher. A persistently overbought condition is a sign of strength longer term."
I believe this to be very true of crude oil at this juncture as no one really wants to chase crude oil after today's massive gap-up. Even though that are long crude oil are likely taking profits into this move, despite the fact that there is an even split between bulls and bears. The former part of the quote applies more to crude oil than the latter, and I believe crude oil is "hard to buy" for those who are not in. The fact that crude oil continues to make higher lows and inch closer to its resistance at $52.00 makes me confident that we should inevitably see it break above this level. I've found that the third time is often the charm with range breakouts, as the pattern at this point has become obvious. Once a market has made a double top at a certain level, it's often the third time it touches this level that people think they have spotted the pattern. This leads to those who didn't short $52.00 the 2nd time around telling themselves that they absolutely cannot miss the next short opportunity. On the flip side of the market, the bulls who are still holding and did not sell at $52.00 the second time now feel like idiots and have promised that they will not make this mistake a 3rd time.
In my opinion, most market participants do not expect crude oil to break above its $52.00 resistance and this precisely is why I believe it will happen. I am currently bullish on crude oil and expect more bears should be converted to bulls in the coming weeks. Bullish sentiment on crude oil is nowhere near overbought and has lots of room to move high from its current 50% reading. Due to the fact that I primarily trend follow, I have no interest in trying to predict the next 2-3% move in crude oil. Instead, I am positioning myself for the "big swings" and the next 5-10% move. I believe the next 5-10% move on crude oil is higher and I would not be surprised to see $60.00 oil within the next 6 months.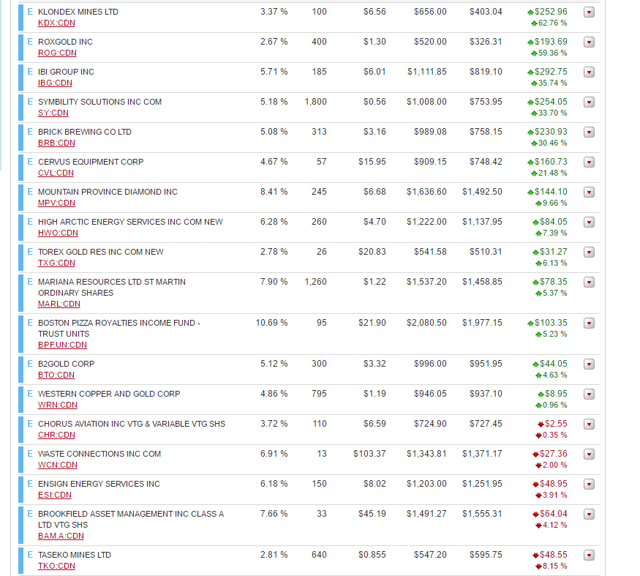 Click to enlarge
(Source: CIBC Investors Edge Account)
For full transparency, I have shown my main trading account so that readers can see my positions. I am currently long High Arctic Energy Services (OTC:HGHAF) and Ensign Energy Services (OTCPK:ESVIF) on the Canadian market. I have supplemented these positions by getting long crude oil in my futures account today.
Disclosure: I am/we are long USO, HGHAF, ESVIF.
I wrote this article myself, and it expresses my own opinions. I am not receiving compensation for it (other than from Seeking Alpha). I have no business relationship with any company whose stock is mentioned in this article.
Additional disclosure: If you liked this article and found it useful, please feel free to follow me by clicking on my name next to my avatar at the top of this article. I also invite you to follow me at www.twitter.com/TaylorDart01 where I routinely share my entries, exits, and stops on new positions, as well as updating followers on sentiment data on markets I am following.