The Dividend Champions spreadsheet and PDF have been updated through 11/30/16 and are available here. Note that all references to Champions mean companies that have paid higher dividends for at least 25 straight years; Contenders have streaks of 10-24 years; Challengers have streaks of 5-9 years. "CCC" refers to the universe of Champions, Contenders and Challengers.
The Big Freeze Ends
As I reported last month, the annual phenomenon of dividend "freezes" had taken center stage, with companies that paid the same in total dividends in 2016 as in 2015 being deleted. I'm happy to report that the last of those freezes was announced on November 23, the day before Thanksgiving, so the entire month of December will be freeze-free. The last company to save (and extend) its streak with a last-minute increase was Union Pacific (NYSE:UNP), which paid higher dividends for the 10th straight year, earning a promotion to Contender status. For December, I'm expected only a handful of deletions or additions, so the CCC should finish the year very close to the current number of companies.
After the CCC universe shrank to 771 companies in October, it contracted further to 764 on November 30, with the latest month accounting for 10 new Challengers, 17 deletions and two promotions. The Near-Challengers listing picked up 7 "NEW" notations (in Appendix B on the Notes tab), bringing the number of Near-Challengers to 119, down from 127 last month, and still well below the record of 281 companies in September 2014. After October's action saw the average price of CCC stocks decline by $1.21, that figure rose by $4.21 in November. The average "age" of the dividend streaks edged up from 13.8 to 13.9 years, the average yield decreased from 2.84% to 2.68% and the average of the Most Recent Increases moved to 8.27% from 8.58%.
As always, please use the CCC only as a starting point for more in-depth research. Feel free to leave any suggestions in the comment section below.
Quick Summary
The Summary tab includes a table comparing the composite numbers from the latest update to those from the previous month and the end of the previous year. Below that is a summary of the latest month's activity in terms of companies added, deleted or promoted. That is reflected below:
Quick Summary:

11/30/16

Champions

Contenders

Challengers

Total

No. of Companies

107

226

431

764

Ave. No. of Years

41.4

15.5

6.1

13.9

Average Price

80.96

71.62

57.19

64.79

Average % Yield

2.40

2.71

2.73

2.68

Ave. MR % Increase

6.06

7.47

9.66

8.27

10/31/16

Champions

Contenders

Challengers

Total

No. of Companies

108

228

435

771

Ave. No. of Years

41.1

15.5

6.1

13.8

Average Price

76.77

67.81

52.77

60.58

Average % Yield

2.55

2.79

2.95

2.84

Ave. MR % Increase

5.95

7.66

10.23

8.58

12/31/15

Champions

Contenders

Challengers

Total

No. of Companies

107

250

396

753

Ave. No. of Years

41.0

14.9

5.8

13.8

Average Price

69.72

63.23

50.28

57.34

Average % Yield

2.76

3.21

3.37

3.23

Ave. MR % Increase

6.76

7.81

11.96

9.44

MR = Most Recent

Additions:

Chase Corp. (NYSEMKT:CCF) to Challenger s

Cogent Communications Holdings Inc. (NASDAQ:CCOI) to Challengers

Exchange Bank (Santa Rosa, CA) (OTCPK:EXSR) to Challengers

Fidelity National Financial Inc. (NYSE:FNF) to Challengers

Hartford Financial Services Group Inc. (NYSE:HIG) to Challengers

Huntington Ingalls Industries, Inc. (NYSE:HII) to Challengers

KAR Auction Services Inc. (NYSE:KAR) to Challengers

La-Z-Boy Inc. (NYSE:LZB) to Challengers

NVIDIA Corp. (NASDAQ:NVDA) to Challengers

State Bank Financial Corp. (NASDAQ:STBZ) to Challengers

Deletions:

Ametek Inc. (NYSE:AME) from Challengers

Barrett Business Services Inc. (NASDAQ:BBSI) from Challengers

BP plc (NYSE:BP) from Challengers

CECO Environmental Corp. (NASDAQ:CECE) from Challengers

Crawford & Company (NYSE:CRD.B) from Challengers

DeVry Education Group Inc. (NYSE:DV) from Contenders

DSW Inc. (NYSE:DSW) from Challengers

First Keystone Corp. (OTCPK:FKYS) from Contenders

HCP Inc. (NYSE:HCP) from Champions

HSN Inc. (NASDAQ:HSNI) from Challengers

Lexmark International, Inc. (NYSE:LXK) from Challengers

National Interstate Corp. (NASDAQ:NATL) from Contenders

Newell Brands Inc. (NYSE:NWL) from Challengers

Nordstrom Inc. (NYSE:JWN) from Challengers

PacWest Bancorp (NASDAQ:PACW) from Challengers

Pardee Resources Co. Inc. (OTCPK:PDER) from Contenders

Safety Insurance Group Inc. (NASDAQ:SAFT) from Challengers

Promotions:

Enbridge Energy Partners LP (NYSE:EEP) from Challenger to Contender

Union Pacific from Challenger to Contender
(Table from author; may include underlying data from Finviz)
Every Picture Tells a Story
As a bonus, I'm inserting one of Chuck Carnevale's F.A.S.T. Graphs below, highlighting one of the companies listed above. When the price line is in the green area, it suggests possible undervaluation.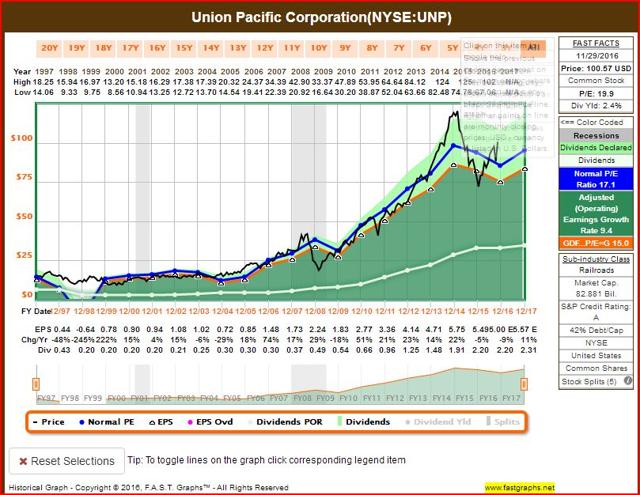 Click to enlarge
Disclosure: I am/we are long UNP.
I wrote this article myself, and it expresses my own opinions. I am not receiving compensation for it (other than from Seeking Alpha). I have no business relationship with any company whose stock is mentioned in this article.
Editor's Note: This article discusses one or more securities that do not trade on a major U.S. exchange. Please be aware of the risks associated with these stocks.