The last year or so has been the warmest globally, brought on by a combination of global warming and El Nino. Without getting into a heated argument with so-called climate change deniers, the fact remains that more than 95% of all scientists (not politicians) agree that our planet is warming. Yes, weather is cyclical, and one can go back millions of years to see similar patterns of warming and cooling, but that was prior to anthropogenic (man-made) warming. Can the earth balance itself by some incredible high-altitude volcanic eruption or prolonged solar maximum? Perhaps temporarily, but not in the longer-term picture. Did the warming planet influence my forecasts for a warm early winter this year? Perhaps a bit.
Eight months ago, I called for a warm U.S. summer and higher natural gas (NYSEARCA:UNG) prices, and most recently in October, predicted a potential collapse in prices on my expectation for one of the warmest falls on record. The record warm summer, fall and 1998 analog (which was accurately used to forecast the spiral in sugar (NYSEARCA:CANE) and Robusta coffee (NYSEARCA:JO) prices over the last year) probably influenced my forecast for a warm early winter this year in the U.S.
However, using one analog year to predict weather consistently is extremely dangerous, and the post-1998 El Nino has run its course.
Ag Commodities and Global Weather
Now, with a weak La Nina forming and a negative Indian Dipole, a rebound in global Robusta coffee, cocoa (NYSEARCA:NIB) and sugar (NYSEARCA:SGG) production is contributing to the recent sell-off in prices. The rising dollar and worries over trade policies with Latin America and China, given the recent elections, are not helping either. Upcoming short-term weather issues have been limited to slight a reduction in China's cotton crop from wet weather. I also see renewed harvest delays to Vietnam's Robusta coffee harvest in about a week with unusually heavy rains.
Traders will also be paying close attention to potential Argentina dryness for soybeans (SOYB) later this winter (their summer); otherwise, the world is awash in grains and upcoming snow cover in the Plains wheat regions, and the largest amount of exportable wheat from the Southern Hemisphere since 2011 helped wheat (NYSEARCA:WEAT) prices make new lows today.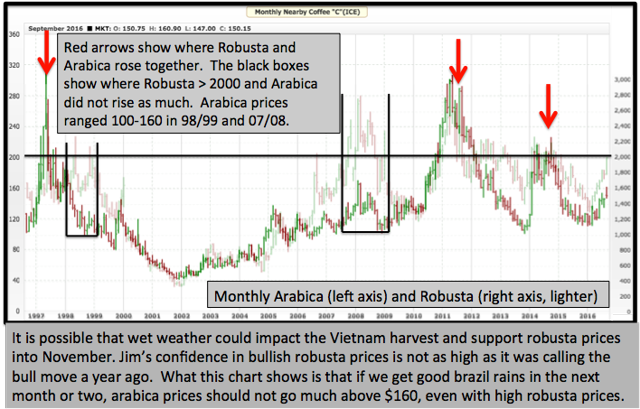 Click to enlarge
The image above was sent to specific clients a month ago as to why Robusta coffee should continue to outperform Arabica coffee. The stronger dollar and improved weather situation in Brazil has pressured coffee. Renewed harvest delays to Robusta in Vietnam could resume over the next week or two. Robusta production dropped some 20% from a year ago due to El Nino last year and was responsible for the recent move up in prices earlier this spring, summer and fall. Longer term, I expect a rebound in global production for most soft commodities. Cotton (NYSEARCA:BAL) is one of the softs that typically goes higher into the new year.
Winter Forecast Update
Following a massive 15-20% collapse in natural gas prices during October and the first part of November, prices have rallied back smartly. I was dead wrong this time about the continued downtrend, thinking maybe we would see a similar situation to what happened a year ago with a warm early winter. However, twelve days ago, we began telling clients about what appeared to be a negative NAO index (a warm block over Greenland) that may alter the weather pattern and psychology of the natural gas market more than we initially anticipated.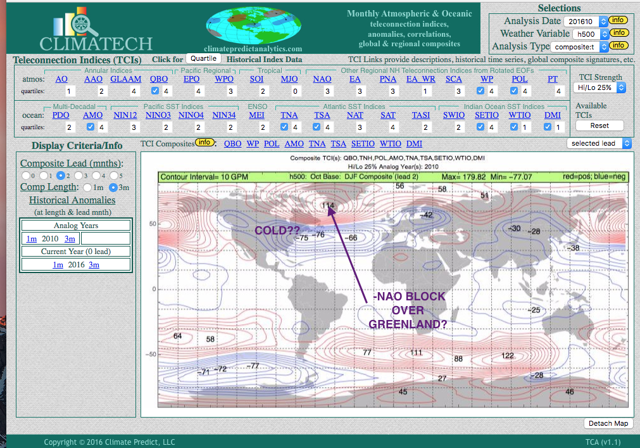 Click to enlarge
Teleconnections for months have suggested either 1998 or 2010 as a possible analog this winter. We do not like looking strictly at analogs, but the teleconnections of global ocean temperatures, etc., above are pointing to more blocking and a negative NAO this winter. The odds now favor a colder winter nationally. If so, a floor in natural gas prices will occur.
While the winter could be a volatile one, a developing weak La Nina Modoki (west-based La Nina), changes in what we call the Pacific Decadal Oscillation (PDO) and stratospheric warming brought on by decreased solar activity and above-normal snow cover in Eurasia during October have altered our winter forecast. The graphic above shows the potential jet stream configuration for winter.
If We Have a Cold Winter, What Are the Implications?
Ski Industry
First of all, one of my favorite ski resorts (which happens to be our client) - Snowbird/Alta - has been buried under 4 feet of snow for the last 10 days. This trend will continue for much of the west. While many folks are worried about yet another season of lower snow cover and hydro power and irrigation concerns for millions of California farmers, etc., a -PDO (cooling in the eastern Pacific near California) should tend to offset weak La Nina conditions. Most La Nino Modoki years with a -PDO resulted in Snowbird/Alta seeing over 425 inches of snow. In other words, a great ski season out west is expected with drought easing rains possible. Also look for the New England ski industry to get a shot in the arm in December, as the NAO/AO trend is a bit negative
Water - Some dent in the western drought
Water is our planet's most important commodity. Recently, Global Water Resources (NASDAQ:GWRS) had about a 10% rally in prices - not saying much considering the rest of the stock market. The Guggenheim S&P Global Water Index ETF (NYSEARCA:CGW) has also chopped around for 2 years. Regardless, even if the California drought eases, there is still a need for clean water, desalination and proper water treatment. A stock such as American Water Works (NYSE:AWK) has been a clear leader in the industry and has just announced a 3% increase in its dividend. This may be a safer longer-term play.
Ample snowpack this winter will translate into a multi-billion dollar shot in the arm for western municipalities and for almond and produce farmers in California, who have been raked over the coals by several years of incessant droughts.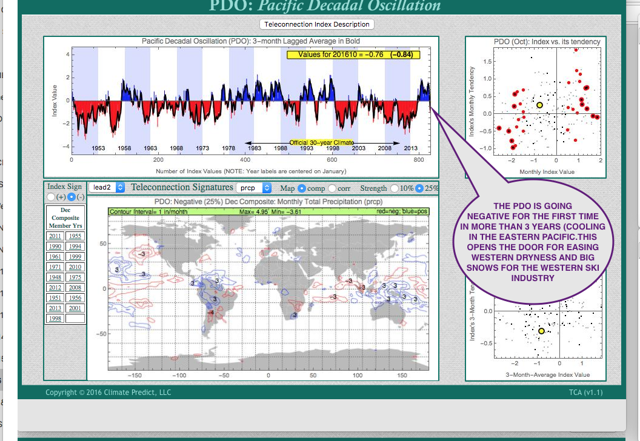 Click to enlarge
Energy Markets
While weather is normally only a background factor in the crude oil market, it remains to be seen if any cut by OPEC producers will be serious and long lasting. The earth is awash in oil (NYSEARCA:OIL), and longer term, the warming North Pole will allow greater access to greater oil reserves. Also China (or, as SNL's recent hilarious Alec Baldwin skit imitation of Trump said, "ginaaaaaaaaa") will step up measures for a cleaner environment, possibly reducing their need for as much crude oil and coal. A cold winter, however, could offer some crack spread opportunities in heating oil, gasoline, etc. later.
As far as natural gas trading goes, the market is already getting geared up for winter. There are some bullish arguments with respect to lower rigs and lower domestic production, and the possibility of greater LNG exports later. However, 2 years ago was one of the coldest winters on record in the northeast with record snows, and natural gas prices yawned due to the onset of Marcellus pipeline in the east and domestic shale production. Unlike ag commodities, cold winter weather does not result in supply disruptions, and only the demand side of the equation is affected - except, of course, if the wells in Texas and the Gulf freeze. This winter, it will take a cold regime - not just in the east, but out in the midwest and producing areas - to get the market excited. That is more typical during a La Nina Modoki. But will it last? This winter is more complicated than most of the last 4 years.
Unfortunately, due to client privacy and obligations, I will not be able to comment on Seeking Alpha very often about these markets and if there are any changes, and probably will not have another update for at least a month or so.
Disclosure: I/we have no positions in any stocks mentioned, and no plans to initiate any positions within the next 72 hours.
I wrote this article myself, and it expresses my own opinions. I am not receiving compensation for it (other than from Seeking Alpha). I have no business relationship with any company whose stock is mentioned in this article.