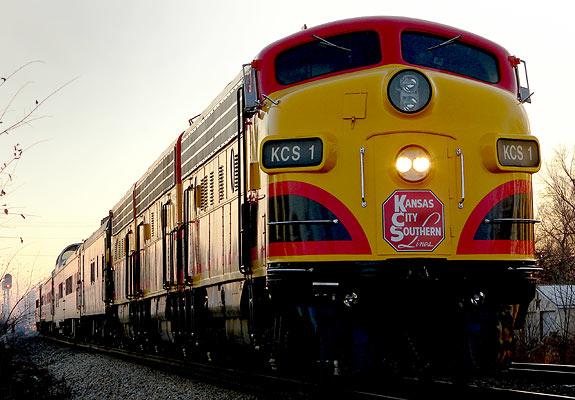 Source: thelope.com
U.S. GDP grew 4.3% in Q3, up from 2.9% in Q2. Given the strong performance, why doesn't it feel like the country has a bright future? Signs exist that we are in the midst of a recession. That said, recession watchers are keenly focused on rail traffic. For the first 45 weeks of the year, total U.S. carloads fell by 9.6% versus the same period last year. Fewer materials being shipped cross-country means less revenue for railroads like Kansas City Southern (NYSE:KSU).
The company's Q3 freight revenue fell 4% Y/Y. Energy (11% of freight revenue) fell 15% due to falling demand for frac sand. Industrial (24% of freight revenue) fell 6% due to competition from trucking and a weakening global economy. Energy shipments could pick up in Q4 due to rising oil prices. However, Industrial could be a headwind going forward.
KSU Is 25% Overvalued
KSU has been flat over the past year, versus a 7% appreciation for the S&P 500 (NYSEARCA:SPY). Based on a bottom-up analysis, the stock is worth $65, or about 25% below its current price of $89.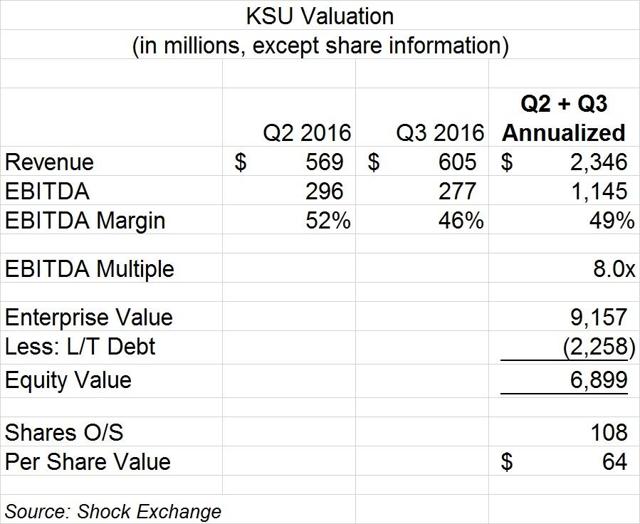 Click to enlarge
Revenue
Run rate revenue of $2.3 billion equates to Q2 and Q3 revenue annualized. I expect rail traffic to continue to slow, which could tamp down top line growth.
EBITDA
Run rate EBITDA is EBITDA for Q2 plus Q3 annualized. It equates to a 49% EBITDA margin, slightly higher than the 46% achieved in Q2. Cost cuts have defined the narrative for railroad companies this year. There might be pressure for Kansas City Southern to improve margins if revenue remains stagnant. There might be more levers to pull, as Canadian Pacific Railway (NYSE:CP) and Canadian National Railway (NYSE:CNI) both have margins north of 50%.
EBITDA Multiple
Railroads are cyclical businesses. They have high barriers to entry - land rights, regulatory approval - so an 8x multiple seems appropriate.
Enterprise Value
The company's enterprise value (equity and debt) is $9.2 billion. This could be slightly optimistic given the potential for a decline in future revenues.
Equity Value
After subtracting net debt (debt less cash and equivalents) of $2.3 billion, I derived an equity value of $6.9 billion, or $64 per share.
Per Share Price
I assumed 108 million shares outstanding, as sourced from Yahoo Finance.
Conclusion
Based on a bottom-up analysis, KSU is overvalued by about 25%. I expect the economy to continue to slow, which will not help rail traffic or the company's top line. If the Fed raises rates in December, the stock could pull back. Any financial impact from Donald Trump's infrastructure investing will likely not take effect until the second half of 2017, if at all. KSU could trade on sentiment until then. However, investors would do well to avoid the stock.
Disclosure: I/we have no positions in any stocks mentioned, and no plans to initiate any positions within the next 72 hours.
I wrote this article myself, and it expresses my own opinions. I am not receiving compensation for it. I have no business relationship with any company whose stock is mentioned in this article.