In Aaron Sorkin's television show The West Wing, President Bartlet, played by Martin Sheen, regularly asked "what's next?" when he's ready to move onto other things. After a tumultuous few weeks of playing "will they/won't they," that response more than any other captures our view of the OPEC agreement out of Vienna yesterday.
For the past two months, we've written on the myriad of reasons OPEC member would be willing to cut. Some of them include:
1. OPEC
· OPEC's Journey To Higher Oil Prices: Are We There Yet?
· Oil Is Headed Higher: When Sentiment And Reality Converge
2. Iran
· Iran is Negotiating for Tomorrow
3. Iraq
· Iraq's Tall Tales: OPEC And Oil Production Figures
4. Saudi Arabia
· Saudi Arabia's Vision 2030: We Want It... We Need It
5. Russia
· OPEC Is 'Russian' To Rebalance The Oil Market
· OPEC And Russia's Interests Align: Why We Believe A Production Cap/Freeze Is Inevitable
Assisted by other insightful SA contributors such as HFI, our research led us to conclude that an OPEC decision to reduce oil production was far likelier than a continuation of the failed two-year strategy; that a shared "paper cut" was far better than another year of shared misery. Yet, even as we wrote, we knew that confirmation and consistency bias was/is ever present, and until OPEC actually agreed, uncertainty exists. So it's great to see our analysis was on the right track and our conclusions proven true (we also thank the SA bears for challenging our assumptions as they keep the SA authors honest with their commentary and articles).
The Agreement
As a quick recap, most of you likely know that OPEC decided to reduce overall OPEC production by 1.2M barrels per day to 32.5M bpd. The agreement is scheduled to start in January 2017 and hold for six months. Non-OPEC members, led by Russia, have also agreed to reduce production by an additional 600K bpd. Here's an OPEC schedule of how the cut/freeze was allocated: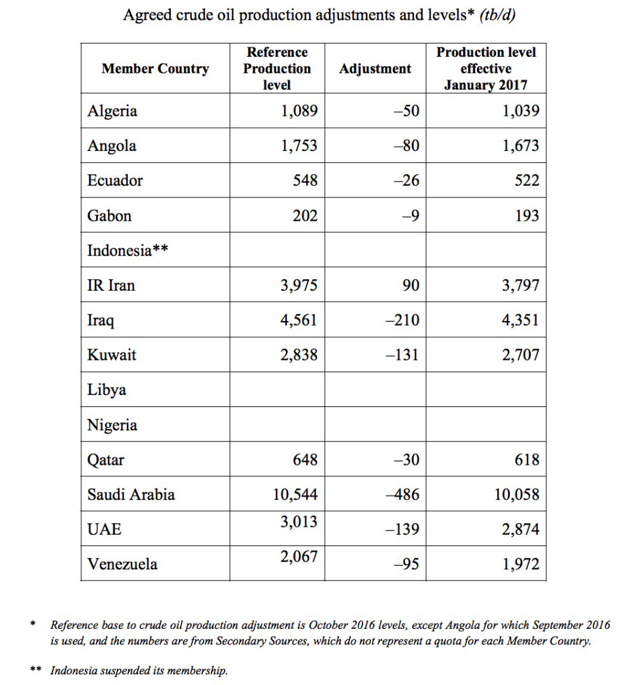 So now that an agreement has come to fruition, we're turning our attention to analyzing what's to come... asking the question what's next? Our preliminary thoughts focus on a few things that we'll want to flesh out in the coming days:
1. Non-OPEC Meeting: The December 9th meeting between OPEC and non-OPEC members will hammer out the details of the non-OPEC cuts. If Russia will cut 300K bpd out of the 600K bpd, who will bear the remaining cuts and will it hold? Will a failure to agree in this meeting throw a wrench into what came out of the Vienna meeting? We don't believe so, but something to ponder.
2. Longer-term Oil Prices: For all the hoopla of an OPEC cut, WTI/Brent is still only approximately $50/barrel. Sure the goal of the OPEC cut is to have oil move gradually higher as supply/demand rebalances by 2017, but we'll have three years of capital underinvestment by then... good luck arresting the decline rates and meeting increased demand at $50-60/barrel.
3. Deal Monitoring/Extension: The OPEC deal is for six months, what's the likelihood it will work and producers will actually cut? What's the likelihood it will be extended? While some members will no doubt violate their production quotas, we believe having a deal at least stifles production more than if a cap didn't exist. So although commentators have said that the actual implementation/enforcement of the deal is what's important, we think the change in overall sentiment and the reduction in supply (or perhaps the "restraint" in supply) is still bullish for prices.
4. Increasing Service Costs: As oil prices rise, service costs will re-inflate, which erodes some of the capital and operating efficiency gains producers have enjoyed the past few years. Case in point, sand is beginning to become more expensive. The rise of service costs will vary depending on location, as the resources and workforce near or in every play are different (e.g., demand for services in the Permian basin outstrips those of the Bakken). Yet, the increase is something to watch out for.
5. Inventory and Demand: Don't lose sight of oil inventories as we go forward. Amidst the noise of the Vienna meeting, did anyone notice this week's EIA report that showed a draw (yes, we know EIA's numbers are based on a model and largely inaccurate on a week-to-week basis)? The trend has been clear the past few months, and inventory levels are starting to decline because of lower production and higher demand. We think this will continue.
6. Permian Bubble and Bubble Wrap: As oil prices increase, will investors shift their capital from the Permian basin to other less economical plays? Certainly yesterday's increase in the shares of Whiting Petroleum (NYSE:WLL), Oasis Petroleum (NYSE:OAS) and Continental Resources (NYSE:CLR), which are either Bakken-focused or heavily so, seems to indicate that capital will start returning to the neglected areas of the oil patch. Who will benefit and who will lose? We don't think the multiples for Permian players will deflate, but we also think they may not expand as much as non-Permian players.
So you see, many questions remain. We hold the view that the OPEC agreement accelerates a rebalancing that has already started. We believe that the world is sleep-walking into a shortage, but with the OPEC and non-OPEC member agreement now in place, we think the world is starting to jog towards one. For now, though, the agreement simply raises different questions for investors to examine; and with your help, we plan on doing that in the next few months.
As always, we welcome your comments. If you would like to read more of our articles, please be sure to hit the "Follow" button above.
Disclosure: I am/we are long WLL.
I wrote this article myself, and it expresses my own opinions. I am not receiving compensation for it (other than from Seeking Alpha). I have no business relationship with any company whose stock is mentioned in this article.