Procter and Gamble (NYSE:PG), a dividend aristocrat with an uninterrupted 59-years-long streak of dividend increases has seen rather meager dividend growth over the last 3 years.
While the company has increased its dividend by more than 7.5% every year since 1995, this impressive growth has slowed down to 3.6% over the last three years with the latest dividend increase representing a 1% rise roughly in line with inflation.
The main reason for this are declining revenues: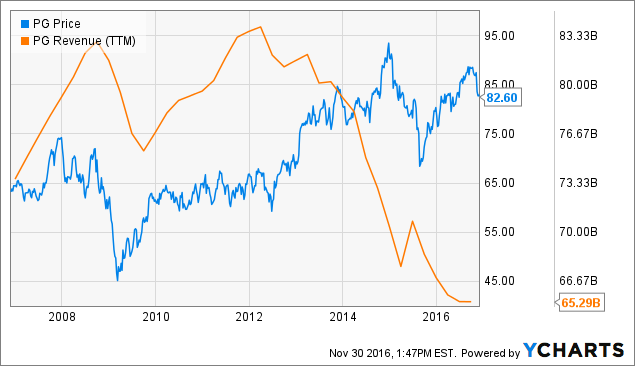 Interestingly, with revenues sharply declining from their 2012-high, although a lot of this is due to multi-billion divestitures of brands such as Wella and Clairol to Coty In.c (NYSE:COTY), the share price has been very bullish and easily recovered from its financial-crisis high.
Understanding real revenue of the company and its drivers is important to make projections about the future. Let's take a look at PG's recent guidance for FY2017 at its FY2017-Q1 earnings call: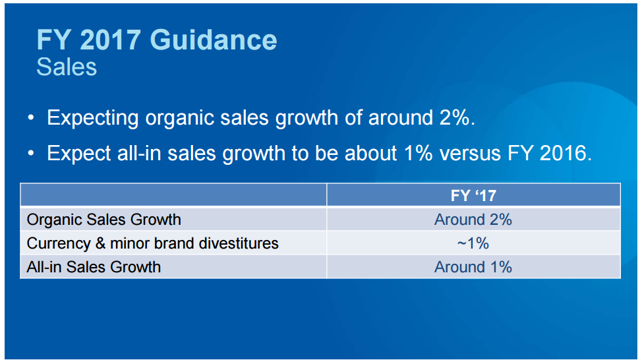 Click to enlarge
Source: Q1 2017 Earnings Presentation Procter and Gamble
The company is guiding for organic sales growth of 2% compared to FY 2016 and -1% impact due to currency movements leaving overall virtually flat sales guidance of around +1%.
Following Trump's victory we have seen an even stronger USD against virtually all currencies. As PG is doing global business but reporting results in USD a stronger USD means less revenue from foreign sales if converted back to USD.
Building up on my statement from this article (Doing The Kansas City Shuffle - When All Goes Up, Something Must Come Down)...
In its most recent FY 2017 guidance the company expects -1% impact of currency and divestitures on organic sales growth. This however came at a time when the euro was hovering 6% stronger and other major operating currencies relevant for PG as well. While one can expect the company to have at least partly hedged this exposure, the wild and erratic currency movements are very likely to negatively impact the company's guidance should they persist longer
... let's examine how recent currency movements, should they persist, may manifest themselves on bottom-line sales for the company's upcoming FY 2017/Q2 results. Here is a snapshot of crucial FX developments from my: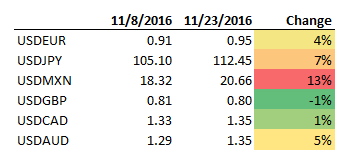 Within just 15 days the greenback has strongly appreciated against major currencies relevant for Procter & Gamble's business. To fully understand these FX effects I have developed a model which I will now introduce.
1) Derive a representative currency basket
As the company does not report specific sales figures by country the only reference point we have is a breakdown of sales by geographic region from its recent FY 2016 annual report. This looks as follows: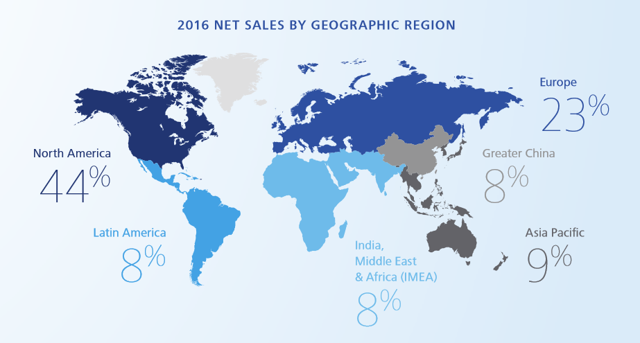 Click to enlarge
Source: PG Annual Report FY 2016
Based on this geographic breakdown I have derived a representative currency basked for PG in order to analyze the estimated impact of FX fluctuations on sales. Allocated by geographic region this looks as follows:
North America: USD (we can ignore this here), CAD
Latin America: MXN, BRL
IMEA: INR
Greater China: CNY
Asia Pacific: JPY, AUD, KRW
Europe: EUR, GBP, RUB
Next, I have analyzed the developments of these currencies individually for different periods in the past, one of these is this:
Development of FX developments for FY 2017/Q1 vs. FY 2016/Q1 (Figure 1)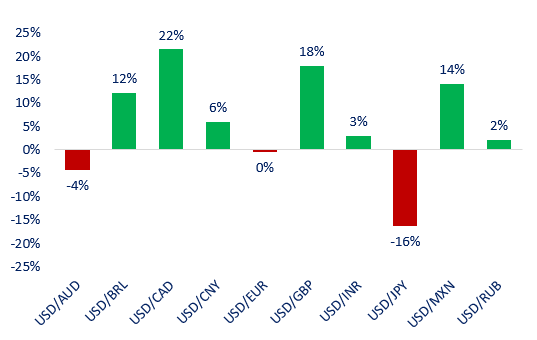 During this period (Jul-Sep 2016 = FY 2017/Q1 vs. Jul-Sep 2015 = FY 2016/Q1) the dollar has strongly appreciated against all major currencies apart from JPY and AUD.
2) Apply weighting to the currency basket
However, this doesn't tell us the impact on net sales for PG as the company is not generating equal amounts of sales in these currency regions. Hence, we need some sort of weighting here to calculate a currency basket of these 10 currencies in order to derive the development of this currency basket during that period.
To do so we start with the company's overall geographic breakdown of sales and then recalculate sales shares by region once we have taken the North America region out of the equation. This simplifies a bit as it implies that the CAD plays no major role here but suffices for the moment. This leaves us with the following shares:
Latin America: 14%
IMEA: 14%
Greater China: 14%
Asia Pacific: 16%
Europe: 41%
Other, due to rounding: 1% (negligible)
Now we need to break down the territory shares into estimated shares for our 10 currencies. This mapping is achieved by aggregating yearly GDP shares for these territories and then breaking it down by country.
3) Calculate estimated foreign exchange impact for FY2017/Q1
Applying this to the currency movements depicted in Figure 1 leaves us with a weighted currency basket development vs. the USD of +4%, or, to put differently, compared the FY2016/Q1 the dollar has appreciated by 4% in FY2017/Q1 against the modeled currency basket.
4) Backtesting the model with actual reporting
So, according to this analysis the maximum negative effect of currency development on PG's sales is -4%. However, this assumes that PG has no derivatives in place to hedge currency risk. Let's compare our model to what actually happened. Again, PG's earnings presentation sheds light on this: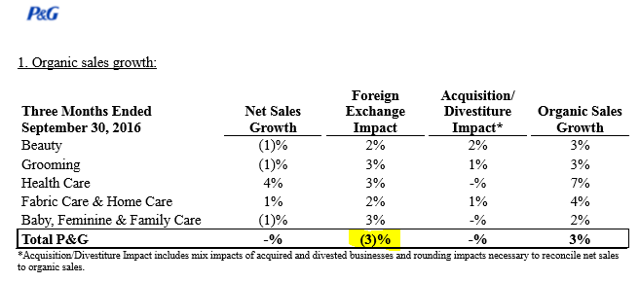 Click to enlarge
So, across all its businesses the company is reporting a net foreign exchange impact of -3% which is pleasantly close to the calculated -4% above. Assuming a heading ratio of 25% would yield us exactly the -3% reported by the company.
5) Calculate estimated foreign exchange impact for FY2017/Q2
Based on this let us now use this model to check how the company's -1% foreign exchange impact guidance for FY2017 may be impacted by recent currency movements. Ultimately, this allows us to project foreign exchange impact for the company's upcoming FY2017/Q2 reporting.
As of November 28, 2016 the individual currency changes of our currency basket compared to the corresponding period in FY2016 look as follows:
Development of FX developments for FY 2017/Q2 YTD vs. FY2016/Q2 (Figure 2)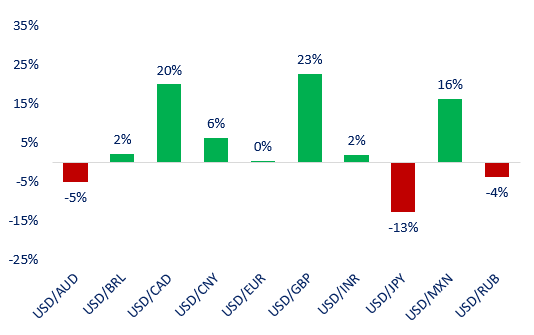 Weighted with different hedging ratios this results in the following estimated foreign exchange impacts:
Unhedged: -4%
Hedged (25%): -3%
Hedged (50%): -2%
Results:
Applying the above-used weighting to these currencies results in an average appreciation of the USD against the currency basket of around 4%.
Assuming a hedge ratio of 25% this leaves us with a negative impact of -3%.
Assuming further that the company has stepped up its hedging efforts and doubled the ratio leaves us with 2%.
In all of these cases the actual development is at least twice as high as the company's -1% guidance for total FY2017.
However, the picture is not complete as we only have data until November 28.
Thus, assuming that current exchange rates persist for the remainder of FY2017/Q2, the situation would now look like this:
Development of FX developments for FY 2017/Q2 YTD vs. FY2016/Q2 (Figure 3)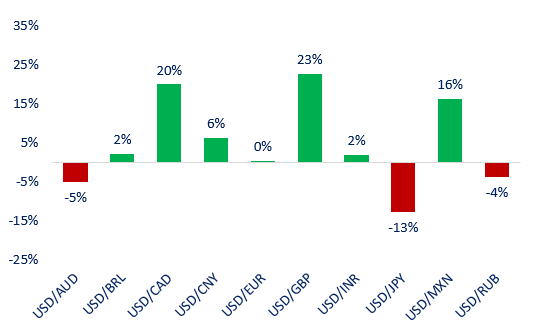 Weighted with different hedging ratios this results in the following estimated foreign exchange impacts:
Unhedged: -5%
Hedged (25%): -3.7%
Hedged (50%): -2.5%
Compared to Figure 2 the distance to PG's guidance widens further.
Thus, assuming PG's guidance of +2% organic sales growth holds, the company is expected to miss on sales when it reports its FY2017/Q2 figures given that estimated foreign exchange impacts are between -2.0 to -3.7%. Based on this model it becomes blatantly obvious that unless the company has considerably raised its hedging ratio or the dollar suddenly depreciates, that the odds are high for PG to miss on sales, at least for the quarter.
What does all this mean for Dividend Investors?
All this (complex) analysis was meant to show that recent developments in the foreign exchange space will affect the company's sales significantly stronger than expected. Should this fulfill and even jeopardize full year guidance due to an appreciating dollar the stock will very likely take a dive and offer new and better entry opportunities for dividend investors.
The stock currently boasts a dividend yield of 3.2% and so far does not reflect intensifying currency headwinds for the company having only dropped 6% since Trump's triumph and the resulting rally in the dollar.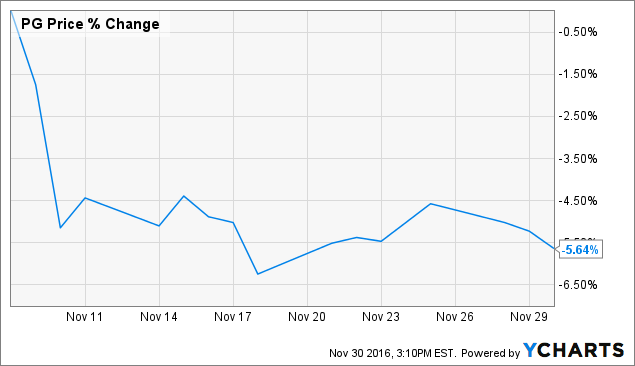 While the company cannot influence how exchange rates are moving and apparently does not want to increase its hedging (we will have to wait for the Q2 earnings call to verify this) what it can do is respond to declining revenues.
To do so management is following a threefold strategy consisting of portfolio transformations (reduce brand portfolio to core brands where the company has leading market positions and significant growth potential), large-scale cost cutting and relentless innovation.
So far, it is too early to judge whether this 3-step strategy is working and can propel P&G back into its previous growth path. However, what becomes blatantly obvious is that the company is very committed in sticking to its strategy as the current sale of brands to COTY demonstrates.
Investor take-away
P&G has seen disappointing dividend growth over the last three years as sales have been declining sharply. The company responds to that by focusing on core brands and launching another multi-billion dollar cost cutting program.
Still, the company should belong into every dividend investor's portfolio who believes that the transformation will work out well. Given the company's most current guidance, we have shown that the odds to miss on sales due to stronger than expected/guided foreign exchange impacts are very high. In case the company will not only miss on sales but potentially reduce full year guidance as well, as its hedging efforts are not enough to compensate for the appreciating, the stock may take a dive offering long-term dividend investors better entry opportunities.
The main risks here, apart from the model itself, are a sudden reversal in exchange rates and the, to my mind, still not priced-in positive effects of a reduction in corporate tax rates in America under the new Trump government. Given that PG is generating the bulk of its sales in North America, and potentially its profits as well, such a move may easily offset foreign exchange impacts bottom-line.
This is not a recommendation to sell the stock. Instead, it was meant to show that the stock is a BUY and may offer enticing opportunities in early 2017 once the FY2017/Q1 figures are reported.
If you like this content please hit the "follow" button. Let me know in the comments section what your thoughts on the model are. Also, do you believe in the company's turnaround strategy. Would you invest into PG right now?
Disclosure: I am/we are long PG.
I wrote this article myself, and it expresses my own opinions. I am not receiving compensation for it (other than from Seeking Alpha). I have no business relationship with any company whose stock is mentioned in this article.