Cerner Corporation (NASDAQ:CERN) is a provider of health information technology (hit), devices, hardware and especially after-sales services around its products. The company profits from the big fundamental trend of digitization in combination with an improving health care system. Normally, I prefer distressed stories like already published before, but CERN is offering from my point of view a really attractive opportunity based on short-term irrational behavior.
Let's have a look on the industry itself
A lot of users are already using "FitBits" or have an application on their smartphone to monitor the daily footsteps, pulse, nutrition and sports. CERN might connect these data in the future with your family doctor or health insurance. Of course, it's a really sensitive issue of data protection but nevertheless an continuous trend. The strongly growing mHealth-market underlines the general growth within the digitization of healthcare.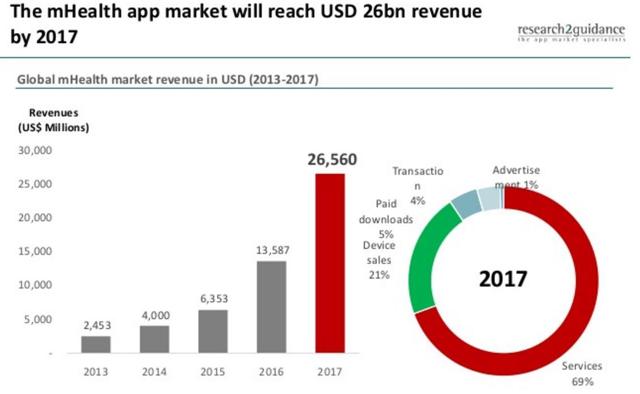 Click to enlarge(Source: research2guidance, mHelath App Market Report 2013-2017)
The fundamentals
From my point of view, the management converts the company more and more into an attractive cash cow. The after-sales services are generating calculable recurring revenues which are more stable, bind customers and create a nice moat against new competitors. After the latest decline, the stock seems to be a nice contrarian opportunity. It is, from my point of view, at the moment only a temporary weaker period (maybe) based on uncertainty of clients. Because of the mentioned decline, the stock is at the present time favorably valued. An discounted cash flow model with a discount rate of 12% generates a low safety-margin of 2%. The median P/S value prices the stock at roughly $60. That would be an upside of more than 21%.
It's needless to say that there are bigger players in the market like SAP (NYSE: SAP), Oracle (NASDAQ: ORCL) or even Alphabet (NASDAQ: GOOG), who want to enter the HIT industry and are really cash rich. Nevertheless, CERN is currently much more specialized. Thus, it is conceivable that CERN (market cap: $16.9bn) becomes a takeover target in the future.
CERN goes on by increasing its cap spending on and on to currently $740m and invest in future growth. Foreign markets offers huge potential. CERN increased its sales out of the US last year about 36%. Analysts expect revenues to increase continuously within the next years.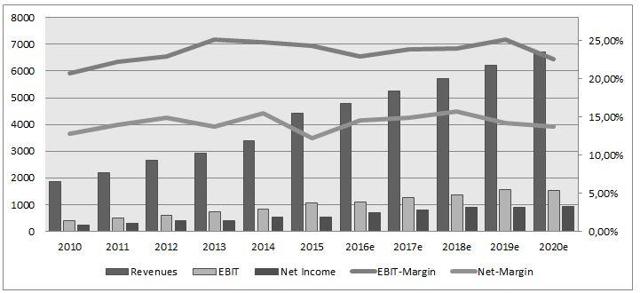 Click to enlarge(Source: Thomson Reuters)
Weaker than expected Q3 generates short-term opportunities for long-term cash cow
Normally, CERN is a growing company with a high quality business model. After Q3 we can see cracks in this facade. CERN reported in the beginning of November weaker than expected results for Q3 after years of steady growth in both revenues and profits.
| | | | | | |
| --- | --- | --- | --- | --- | --- |
| in thousands $ | Q3 2016 | Q3 2015 | Growth | Nine months ended 2016 | Nine months ended 2015 |
| System sales | 301.252 | 325.084 | -7.33% | 913.710 | 899.762 |
| Services | 861.085 | 783.878 | 9.85% | 2.561.474 | 2.295.075 |
| Total | 1.184.557 | 1.127.887 | 5.02% | 3.538.654 | 3.249.973 |
It's mainly the segment "System sales" which decrease in the 3rd quarter (due to lower-than-expected technology resale and software bookings) and leaded to miss the expectations. The other segment "Services" continues to increase its revenues in a really sustainable matter. Furthermore, the service segment is much more profitable than system sales.
Is uncertainty the main reason for decreasing sales?
But the most important questions seems to be: "What is the reason for decreasing system sales?" It is - as with so many things in life - just an assumption. The system sales decreased about 7.3% compared to Q3/2015. One main reason might be the uncertainty of potential clients to invest in its IT-infrastructure. The presidential election came in the viewpoint of market participants. CFOs and treasurers might have been unsure about the outcome and postpone investments to a time after the election. CERN has seen such a similar observation in the last quarter of 2009. In the first quarter of 2010 Obama signed the Patient Protection and Affordable Care Act (PPACA). After this was fixed, revenues started to return to the previous growth rates.
Cerner president Zane Burke commented the decrease within the latest market call unfortunately not deeper in detail. He described it as follows:
"So it's not a question of if they are going to do it; it's a when. And without the challenges of -- or without the regulatory elements behind it, the regulatory mandate times behind it, some of those clients are moving a little bit slower than they have in the past. So the budgets are there. The activity is there, and we are"
Stock is technically oversold
CERN stock performed very well since the beginning of the year. The stock outperformed the NASDAQ at its peak with about 8 percentage points. After Q3 results came out, the stock declined sharply until its lowest level since September 2013. The price of $50 per share seems to be a really strong and psychological sticky resistance. It was the turning point in march 2016 and in May and July 2014 as well as it was in September 2013. Furthermore, there is an open Gap at $57,34 (upside of 15.21%). CERN just published its share buyback program of another $500m, which will support stock performance.
per share (click to enlarge)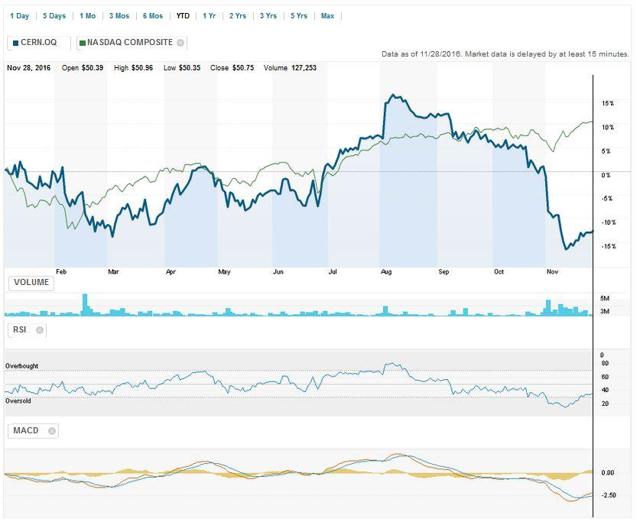 Click to enlarge
(Source: Thomson Reuters)
All in all
I'm further bullish for this stock. The latest decline in stock prices seems to be a temporary effect of weaker than expected Q3 results. The quality of its business model is still living and a high level of uncertainty might be the reason for lower system sales. Nevertheless, I'd guess that the fundamental trend of digitization is a great trigger for further growth. The stock is currently oversold. For the stock $50 is an important resistance. If the stock will establish above this price, there is further potential for a price jump.
If you enjoyed this article, please click the "Follow-Button" next to my profile to receive dashboard and real-time notification. I'm mainly focused on event-driven strategies including both distressed securities and M&A plays. Furthermore, I'm trying to identify short-term problems, which lead to irrational opportunities for long-term investors.
Disclosure: I/we have no positions in any stocks mentioned, and no plans to initiate any positions within the next 72 hours.
I wrote this article myself, and it expresses my own opinions. I am not receiving compensation for it (other than from Seeking Alpha). I have no business relationship with any company whose stock is mentioned in this article.