As an investor with a long term approach, I tend to shy away from companies that can be threatened by innovation. A company that provides a product or service born from innovation, must continually reinvent itself to keep up with the very driving force that conceived it. Some companies succeed such as Microsoft (NYSE: MSFT) with its continued push into cloud based services. Other companies are slower to adapt, such as IBM (NYSE: IBM) whose slow reaction to changing markets, has left it scrambling to reinvent itself as its legacy businesses deteriorate. Because of the premium value society places on "cutting edge" technology, succeeding to reinvent can prove very lucrative for companies that can do it.
The world's largest consumer of ever-improving technology is the United States government, which is serviced by a trio of defense contractors. The largest of which is Lockheed Martin (NYSE: LMT), followed by Northrop Grumman Corporation (NYSE: NOC), and The Boeing Company (NYSE:BA). The fabulous aspect of this market, is that government defense is perpetually spending in order to keep defenses on the cutting edge against new threats that are constantly emerging. While competition is fierce between the three, the threat from outsiders joining the mix is quite low. The up front capital investments these projects demand, combined with the relationships these contractors have established over time with the defense sector, make it very tough for an outsider to jump into the mix.
The United States currently spends a little more than half of its entire discretionary budget on the military. This figure has continually risen over time.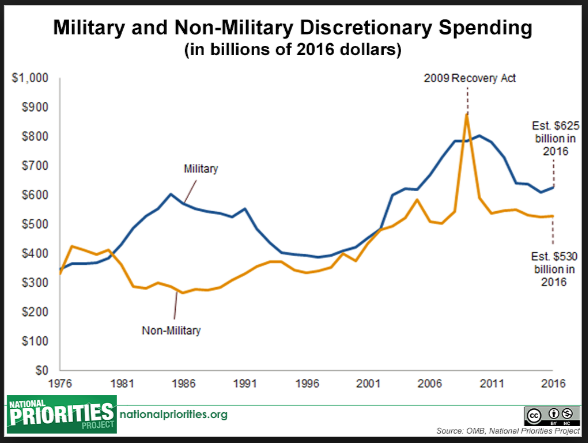 This upward trend continues to feed Lockheed Martin. Of its roughly $50B in annual sales, about 60% comes from the US Department of Defense, another 20% comes from other US departments such as Civil, Intelligence, and NASA. The balance is via international markets.
This growing pie of potential revenues, enables Lockheed Martin to continually grow revenues, and earnings per share. This has also allowed Lockheed Martin to grow its dividend at 19% rate over 10 years, while maintaining its payout ratio.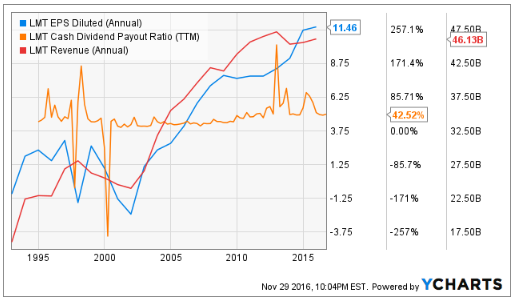 What does this sustained increase in earnings equate to? Lockheed Martin averaging robust shareholder returns of 13% over the past two decades, while the market has followed at between 8-9%. The future is set up well for these trends to continue. Lockheed's order backlog ended last year at just under $100B (a record high).
It continues to expand international presence with recent orders from Israel, South Korea, Canada, and Denmark among others. Within the next few years, Lockheed should expand its international exposure to 30% of sales according to management.
Lockheed Martin continues to progress through testing and production ramp up of the newest iteration of its massive F-35 fighter jet program, with the F-35 Lightning II. By the year 2035, the total units purchased by the United States and allies should total more than 3,000 units. Throughout the decade, the project has been hit with various mechanical issues that have led to higher than anticipated production costs, and delays. However, in early August the United States Air Force declared the F-35 "ready for war". With this endorsement, the F-35 program should be moving forward more smoothly. This program will be the company's largest growth opportunity over the next five years. About 50% of units will be sold outside of the United States, helping Lockheed reach that 30% goal of international exposure.

Click to enlarge
In addition to the F-35 program, Lockheed operates five business segments in total:
Aeronautics (34% of sales)
Information Systems & Global Solutions (12% of sales)
Missiles & Fire Control (14% of sales)
Mission Systems & Training (20% of sales)
Space Systems (20% of sales)
While the Aeronautics division will carry the day due to the F-35 program, the other segments will see continued work as management is confident of bi-partisan support for increased government spending. Although currently reliant on the US Govt., the company's five segments ensure that Lockheed Martin is pretty diversified throughout many departments. As they continue to expand internationally, this will enhance their efforts to spread revenues out further. In addition to safety, this diversification will present growth opportunity as the rest of the world constantly chases the United States' technology curve.
Shares have been on a run over the past few years, as the share price has essentially doubled. Does this make shares expensive? Well it depends where you side.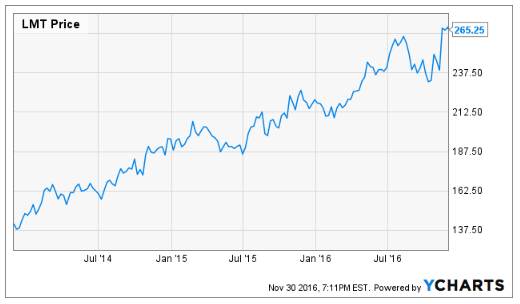 On one hand, for a number of years after the financial crisis, shares traded between 9-12X earnings because a sequester scare threatened military spending which would have decimated Lockheed's business. Shares proceeded to recover over the past couple of years, bringing the P/E up to about 19X earnings. Lockheed Martin was swept up in the ongoing "Trump Rally" which has further expanded its earnings multiple. The share price has shot up to the $265 neighborhood since the election, a quick 10% gain for a current P/E of almost 22X earnings.
On the other hand, Lockheed Martin is forecasting a nice year for 2017, with a planned revenue uptick of 7%. Analysts are bullish as well, with Wells Fargo eying earnings of $20 per share, in the year 2020 (a forward P/E of 13X). To accomplish this, Lockheed would be compounding earnings at 20% over the next four years. For this type of growth, the current stock price isn't a bad shake.
I fall somewhat in between. I think 20% earnings growth is very ambitious. I see growth more in the 10-12% range. I think a good price based on where I see earnings growth, would be about 17X earnings. If Lockheed makes between $13-$14 per share in 2017, a target point would be $220-$238.
The markets are at all time highs right now, built up upon the euphoria of political catalysts that have not yet materialized. Things in Washington are never smooth sailing, so I expect we will see some political volatility - and a market correction at some point after Mr. Trump is sworn in, and the time comes to walk the walk. Here's hoping for a chance to buy into this defense stalwart.
If you liked this article, please find my profile icon at the top of this page, and hit the "Follow" button. I enjoy engaging with those who comment, and am always looking for feedback that allows me to improve on the content I provide. By following, you can receive thorough insight on additional dividend growth stocks. As always, thanks for reading.
Disclosure: I/we have no positions in any stocks mentioned, and no plans to initiate any positions within the next 72 hours.
I wrote this article myself, and it expresses my own opinions. I am not receiving compensation for it (other than from Seeking Alpha). I have no business relationship with any company whose stock is mentioned in this article.