Since the start of 2014, REIT stock prices have performed almost the same as the S&P, with REITs up 22% and the S&P up 20%.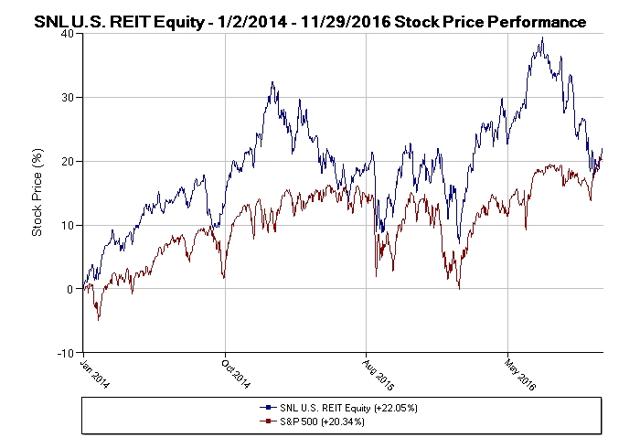 Click to enlarge
I fear this relatively similar pricing performance hides the fundamental outperformance of REITs.
Over this same time period in which REIT prices have moved basically the same as the S&P, REITs have absolutely crushed the benchmark index fundamentally.
S&P earnings growth has been spotty at best, with the last 6 quarters solidly negative. In contrast, REITs have seen strong FFO growth every quarter, with most quarters posting double-digit growth.

Click to enlarge
So what does this mean?
Well, with the S&P up 20%+ despite mostly negative growth, valuations have gotten dangerously high.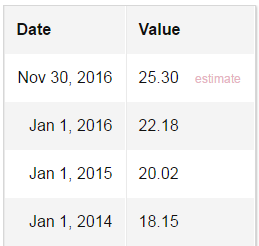 (Source: Multpl.com)
The P/E ratio of the S&P is now up to 25.30 from only 18.15 at the start of 2014.
Over this same time period, the P/FFO of REITs has been nearly flat, up only 1%.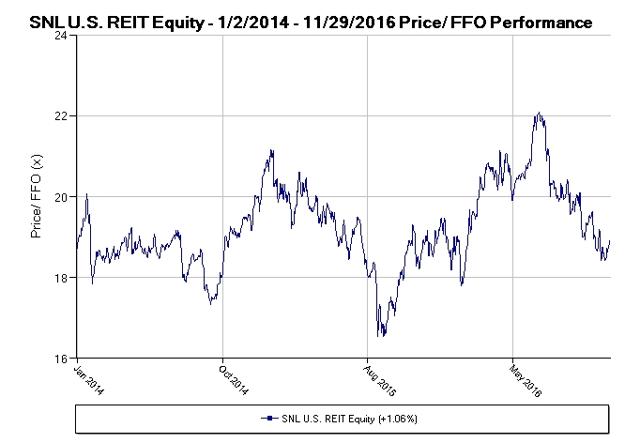 Click to enlarge
Nearly every day, I hear market commentators and various pundits talking about how stretched valuations are becoming with the market rally, so I want to correct the record.
This stretched valuation may apply to the other 10 GICS sectors, but it is not true of Real Estate. REITs are just as cheap as they were 3 years ago.
I get the impression that most people who participate primarily in the broader market are not aware of how much REITs are outperforming fundamentally, because the price performance has been so similar. However, given the stronger growth and now cheaper relative valuation, I would encourage those who are not traditionally REIT investors to give these stocks some thought. Consider swapping out some of that SPY for a little VNQ.
The market consensus seems to be that REITs are bond substitutes, but I don't think those who hold this view realize how fast REITs have been growing. With high-single digit or even double-digit growth in every period for the last 3 years, REITs are more than just dividends.
Disclosure: This article is for informational purposes only. It is not a recommendation to buy or sell any security and is strictly the opinion of the writer. Investing in publicly held securities is speculative and involves risk, including the possible loss of principal. The reader must determine whether any investment is suitable and accepts responsibility for their investment decisions.
Disclosure: I/we have no positions in any stocks mentioned, and no plans to initiate any positions within the next 72 hours.
I wrote this article myself, and it expresses my own opinions. I am not receiving compensation for it (other than from Seeking Alpha). I have no business relationship with any company whose stock is mentioned in this article.