In less than a month, the S&P500 (NYSEARCA:SPY) rallied more than 5% as a result of Trump's victory. This entire rally is based on two things "fiscal stimulus", and promises of "less banking regulation". In this article, I will give my reasons for why I think that this rally is still at its beginning, and has much room to grow.
Fiscal Stimulus
The latest fiscal stimulus was implemented by President Obama in 2009, with a plan called "American Recovery and Reinvestment Act", made as a response to the 2008 recession.
In trying to give an approximate valuation of the S&P500, I will assume that Trump's plan will be implemented in the same way as Obama's plan, by having 90% of the plan's funds going into effect in the first three years and the rest distributed into a 7 year period.
On different occasions, President-elect Trump promised a $1 trillion fiscal stimulus package. However, I expect that only $700 billion of the promised package will be approved by Congress. That's because Obama's package was $831 billion, and the economy at that time was suffering from a deep recession. Thus, I don't think that the Republicans will approve for $1 trillion massive stimulus when there is no urgent need for it.
This means that in the first year of Trump's presidency, the package will pump $210 billion into the economy. These funds will, in one way or another, be transformed into US companies' sales. Even if a big chunk of these funds will be allocated to indirect sales for companies, like increasing salaries and services for veterans and other social aids, the funds will eventually be transformed into companies' sales when spent (given the low saving rate in the US).
The S&P 500 represents 80% of the market value of all US companies, giving the same share for revenues; this means that 80% of the $180 billion ($168 billion) sales in Trump's first year in office will be transferred into S&P 500 companies' sales.
The sales of the S&P 500 in 2016 are currently standing at the $1,113.21 billion mark. Adding $144 billion to that, the overall sales in 2017 will be at $1,281.21 billion (assuming no increase or decrease in other sales).
The S&P 500 is currently trading at 1.95 price/sales ratio. However, this ratio takes partially into account Trump's expected fiscal stimulus. Thus, it's better to use December 2015 ratio, since that ratio doesn't take into account either Hillary or Trump's promised fiscal policies.
At December 2015, the price/sales ratio was at 1.81. Multiplying this number by the expected total sales in 2017, and the S&P 500 should be trading at the 2,318 once the stimulus takes its effect. This means that the S&P 500 has 5.4% pace to run from its current level of 2,200.
However,if the entire $1 trillion package is approved, the S&P 500 will have ~11% pace to rally from its current level.
Promising less regulations.
After Trump's victory, the Financials rallied the most, with major banks rallying between 15%-20%.
However, I still believe there is still room for this sector to grow. After all, the next couple of years might be carrying the strongest catalysts for a Financials' rally, rate hikes and less regulation.
But by how much this sector can increase?
Regarding the Financials, its effect on the whole market is negligible from this point (unless the sector returned to its 2007 glory). Let's see why.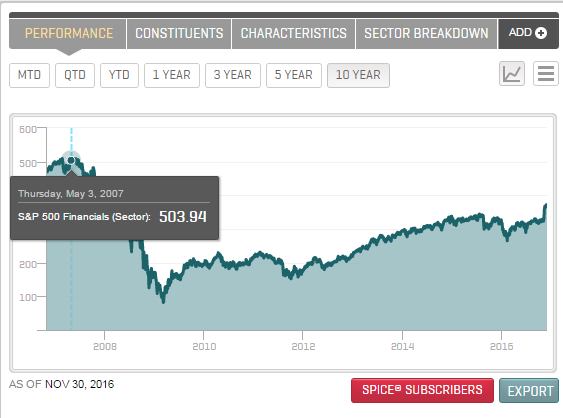 The S&P Financial is trading at the 372 level, 130 points less than the 2007 peak.
If the S&P Financial returned to the 500 points peak, it will add 6% to the rally of the S&P 500 from the current level.
But is that possible? President-elect Trump promised to eliminate two old regulations for every new one regulation implemented. However, this doesn't assure that banks can return to their old reckless ways in performing shady practices. That's because regulators, the public, and the media are now much aware of these practices and won't accept the existence of the same time-bomb.
In addition, rate hikes will not be severe in the long term; I discussed the reasons in this article. This means even if the bank will have the ability to behave like the past, the Fed won't give them the privilege of higher interest rates, which means a return to the 2007 levels has a very low probability.
The "Trump Rally" hasn't ended yet. There is still room for the S&P 500 to grow. My most probable scenario is that the congress will approve a $700 billion fiscal stimulus, at most, and the banks will rally to the low 400 level.
These two predictions if happened, the S&P 500 will have a chance to rally 7.2% from its current level of 2,200.
Thus, I recommend waiting for any minor pullback and buying 1-year call options for the SPY.
But be careful, the major risk lies in Congress not approving for a huge stimulus package proposed by the president. And instead, only approve for a smaller package. That has a good chance of happening, especially after worries about the deficit that this package will cause. There are also reports that one third of Republican senators said that they won't support Trump's stimulus package. In my view, that is still probable, especially that President-elect Trump doesn't have much love from his fellow Republicans.
Disclosure: I/we have no positions in any stocks mentioned, but may initiate a long position in SPY over the next 72 hours.
I wrote this article myself, and it expresses my own opinions. I am not receiving compensation for it (other than from Seeking Alpha). I have no business relationship with any company whose stock is mentioned in this article.