This article is principally to update the trio of charts I've been using to follow the DRAM price explosion. But let me also cite some news and Micron Technology (NASDAQ:MU) sell side research. First the charts.
Here's Bernstein from 11/30/2016 with spot vs. contract prices: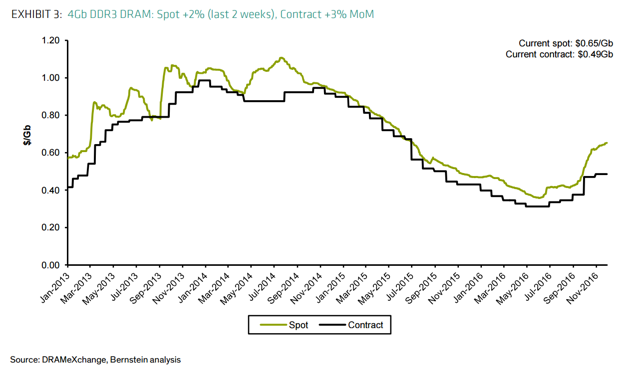 Click to enlarge
And here's my little short term chart of the average price of the DRAM chips reported nightly vs. Micron's stock price. Note that this is not price per Gb as my other charts show: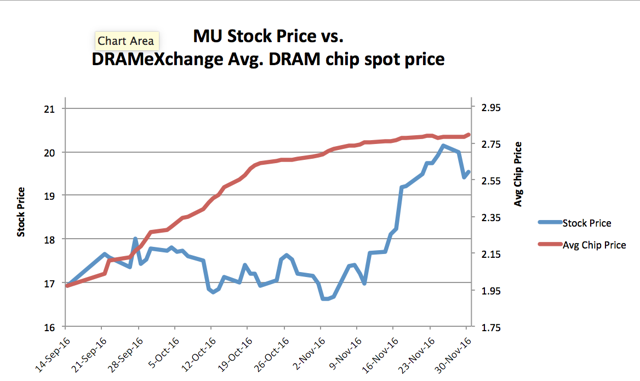 Click to enlarge
And here is the much longer term chart showing DRAMeXchange's DXI index vs the Micron stock price: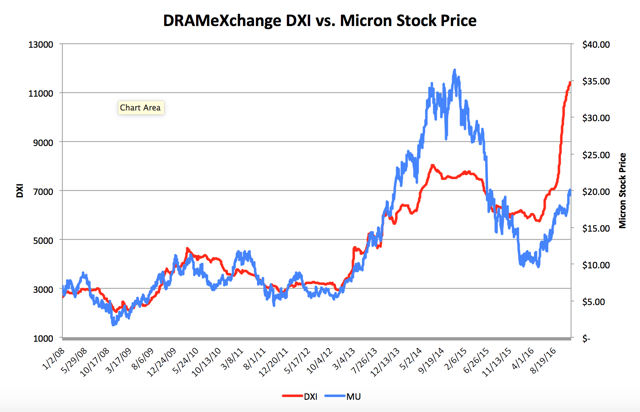 Click to enlarge
So what's going on? How long will the good times last? Well here's DRAMeXchange on the topic:
The latest research from DRAMeXchange, a division of TrendForce, finds that the global DRAM market in the first quarter of 2017 will benefit from the stock-up activities ahead of the Chinese New Year holidays and the widespread expectations of tight supply. The average contract price of PC DRAM 4GB modules is estimated to rise by around 15% sequentially in next year's first quarter to reach US$20.
And here's a grumpy sounding Joe Moore at Morgan Stanley talking about the upgraded guidance:
Guiding to revenues and EPS with minimal forward looking context around bits shipped, pricing expectations, or indications of costs, and then pre- announcing better numbers in mid-day near quarter end for two consecutive quarters, is adding to volatility, causing longer term investors to fear the earnings events. Further, that practice is limiting management's ability to provide context over the course of a quarter, since pricing is obviously an element of forecasting, but nobody has any insight into what pricing assumptions drive the forecast. These discrete preannouncement events are nearly as inscrutable as the original guidance.
Gee, I can remember grumbling, and listening to sell side research analysts grumble that the company should give us an eps range to work with!
Conclusion. Micron has never made it easy for the analysts. I think analysts need to pull a page out of Russ Fischer's book, as he used to write on this site in 2013 and 2014. Build a model from the ground up with dollars per chip, dies per wafer, wafers per fab, etc. and opine on the overall trend. I've not updated my models along those lines. I don't feel I need to with this strong spot pricing and the lag between contract and spot pricing which underlies 60% of Micron's business. DRAM Spot and Contract prices are up and continue to move higher. So will Micron's stock price.
Disclosure: I am/we are long MU.
I wrote this article myself, and it expresses my own opinions. I am not receiving compensation for it (other than from Seeking Alpha). I have no business relationship with any company whose stock is mentioned in this article.