GameStop (NYSE:GME) has proven to be a falling knife over the past year, with institutional investors dumping the shares on unsuspecting retail investors in search of what appears to be a good deal. There has plenty of discussion on quality versus valuation here on Seeking Alpha, and what constitutes a fair price for the company. Most investors are aware of the headwinds: digital downloads, declining foot traffic, and a console refresh cycle that is likely two years away. The company's answer to a secular shift in its core business - becoming the largest authorized AT&T mobility retailer - has not been taken well by most investors. Given management's continued emphasis on growing this business, those raising those concerns will only grow louder with time.
Reconciling The Business
GameStop is about as volatile a business as you'll find. Roughly two thirds of annual operating income is earned in fiscal Q4 (November-January), as the company relies heavily on holiday sales to drive profitability. From a cash flow perspective, GameStop frequently runs negative operating cash flow heading into Q4 as it builds inventory and accounts payable. Inevitably, like clockwork, the heavy game release schedule heading into holidays (Battlefield 1 in late October, Call of Duty: Infinite Warfare in early November, Final Fantasy XV late November to highlight some key releases this year), coupled with gamers flush with holiday funds, always seems to drive significant sales. Sadly, those sales always seem to never meet inflated expectations, particularly from retail investors that seem to pour into the company ahead of Christmas. If you've held in those periods, you've been dealt some terrible losses.
Given the unpredictability, management can be especially careful when giving guidance, particularly long-term. Because of that, I found the below slide from the most recent quarterly earnings release quite interesting: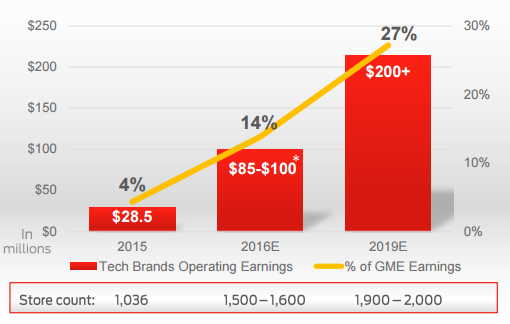 What is most interesting about this slide is that it basically gives pseudo-guidance for fiscal 2019. Perhaps guidance is a poor word choice; we'll call it "management expectations". Reading the tea leaves here gives investors an opportunity to look at management's expectations for their business.
This slide is meant to be a roadmap for the Tech Brands segment. In order for the above chart to make sense ($200M in annual operating income contribution from Tech Brands to make up 27% of consolidated operating earnings in fiscal 2019), GameStop is essentially guiding for $740M in consolidated operating income in that year ($740M * 27% contribution = $200M segment earnings). Remember that fiscal 2016 (reminder that GameStop's fiscal 2016 ended on January 30, 2016) resulted in operating income of $648M, and current fiscal 2017 expectations heading into the final quarter are for roughly $670M in operating income. As a sanity check, you can see those numbers make sense for 2017 given management guidance: $670M in consolidated operating income with a 14% contribution from Tech Brands would mean $93.8M in overall contribution from that segment - smack dab in the middle of the $85-100M guidance listed above.
As a base, that means management is guiding for roughly 5% operating income growth over the next two years. This runs directly against current Street consensus; the Street has drastically cut expectations for fiscal 2018 over the past several months, pushing consensus towards $3.88/share. At the mid-point of fiscal 2017 management guidance ($3.71/share), this represents just 4.5% growth.
Seems in-line with 5% growth expectations, right? Not so fast. Remember, GameStop has historically been retiring more than 5% of its outstanding share count annually. Admittedly, share repurchases were light through the first half of this fiscal year, likely due to larger than normal working capital issues (GAAP operational cash flow was a $436M loss through fiscal Q2, driven by a massive $634M negative impact from working capital related to accounts payable). That trend has shifted in fiscal Q3, with the company spending $38M on buybacks. While the 10-Q has not yet been filed with the SEC (no Q3 GAAP cash flow statement disclosure just yet), I expect that these cash flow issues have moderated somewhat given the disclosed balance sheet activity from Q3, and no doubt we will see the usual massive shift in working capital in Q4 as the company sells through inventory and settles accounts payable with net income. As the company swings to generating full year positive cash flow, this cash infusion will give GameStop ample firepower heading into year-end to really drive meaningful retirement of share count.
Risk
Unsurprisingly, the risk here is related to execution in Tech Brands. Remember, management needs nearly 50% growth annually within Tech Brands over the next two years to reach its target. This could be a case of biting off more than the company can chew. The leadership team is sorely lacking in experience in technology retail operations, and while things appear to be on track currently, things could quickly derail. If the company doesn't execute, the expected declines in the secularly out-of-favor video game market will begin to take hold. Using the very same guidance above, management is expecting nearly $20M in annual operating income declines from within the core Video Game Brands segments; likely primarily within domestic sales, over the next two years.
Given that management has never been one to under-promise and over-deliver (the words "guidance cut" are not new to long-term GameStop shareholders), the company's fate seems to be tied to the success of the company's venture into essentially being an AT&T reseller. This, to me as a gamer, is unfortunate. Rather than actively making moves to cement its place in the gaming industry, particularly by highlighting the value of physical versus digital copies to gamers, or by developing its PowerUp rewards program, the company has instead made this move. Investors should be dismayed that paid PowerUp Rewards membership rates continue to fall, as perhaps by developing a stronger loyalty program, or by sacrificing some of its margins on used games, GameStop could have built a stronger niche for itself. Despite being tech-savvy, many gamers can be acutely price-conscious, and if you give them a valid monetary reason to do so (trade-in value, which is non-existent with digital), what was assumed to be a death knell for the industry may not have come to pass.
For deep dive research on asymmetric risk/reward plays in the Industrial and Basic Materials sectors (particularly small and mid-caps), consider investing alongside me and other subscribers within Industrial Insights. Get cutting-edge information with proven results.
This new offering doesn't mean I will be cutting down on quality or my allocated time towards my free offerings on Seeking Alpha. Follow me (by clicking the "Follow" button at the top of this article next to my name) to receive general stock market research and commentary, especially on under-followed small/mid-caps across a wide variety of sectors and industries.
Disclosure: I/we have no positions in any stocks mentioned, and no plans to initiate any positions within the next 72 hours.
I wrote this article myself, and it expresses my own opinions. I am not receiving compensation for it (other than from Seeking Alpha). I have no business relationship with any company whose stock is mentioned in this article.