Overview
The Lean Short-Term Growth Portfolio, or LSGP, was created in late March 2016. The objective of this portfolio is for opportunistic near-term capital appreciation and most likely will not include companies that pay dividends. Companies ought after will typically have higher volatility versus the Long-Term Growth Portfolio, or LLGP.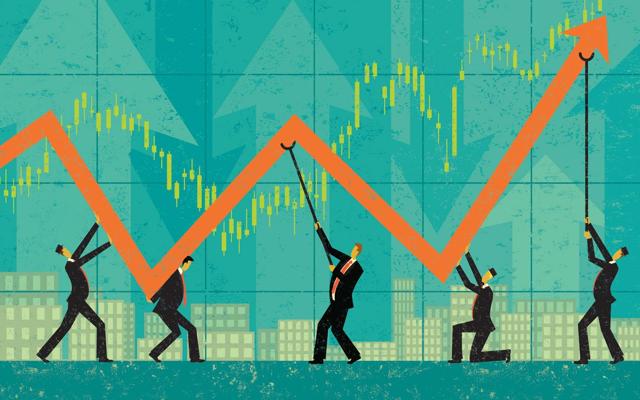 Click to enlarge
Like the LLGP, the LSGP will remain lean for the foreseeable future. Due to the potential of holdings being liquidated on a shorter timeframe, there is no immediate threshold for the number of holdings. Additionally, if a company performs well and the business fundamentals become stronger, consideration to be moved to the LLGP may occur. Like the LLGP, all holdings in the portfolio have transferred from Scottrade to Motif. The primary reason is lower trade fees.
As of November 30, 2016, the fund currently comprises three companies including:
The stance for managing the portfolio will look to strategically maximize appreciation by liquidating positions in the event substantial gains occur within a 12-month timeframe. However, my stance as an investor is highly biased towards holding companies over long-term periods of time for capital appreciation. As such, some companies may be considered for inclusion into the LLGP; in the event this occurs, all performance will transition over as well. This will only occur annually so as not to mix performance between funds.
Current Holdings Performance - Initial Update
As of November 30, 2016, the table below provides the initial date of purchase and stock price paid, including transaction fees, for each of the current seven holdings.

Source: Personal Database
*All asterisked positions have been fully liquidated.
The position in Mobileye was completely liquidated in November. The 2.5 percent total realized gain is nothing to get excited about, but Mobileye's visibility as a long-term leader for autonomous vehicles is cloudy. For this primary reason, the position was liquidated; competition is heating up for the future of autonomous vehicles and Mobileye's methodical ramp-up seems like it will enable these competitors to gain traction.
Both XPO and YRC Worldwide road the coattails of Donald Trump's presidential election victory. Not all transports responded as strongly. The trucking and rail industries reflected some of the best performers as a decrease in regulations and increase in infrastructure investments were speculated as strong positive enablers for further growth.
During the month, partial positions in both XPO and YRC Worldwide were liquidated for realized gains of 59 and 33 percent respectively. I still believe that YRC Worldwide has more room for upside over the next year, but XPO has likely peaked. XPO is much closer to fair valuation, even for the next twelve months or so.
The remaining position in XPO will likely be transferred to the LLGP as of January 1st, next year. YRC Worldwide will continue to be held into next year, with the objective of liquidating the entire position at or above the mid-teens level.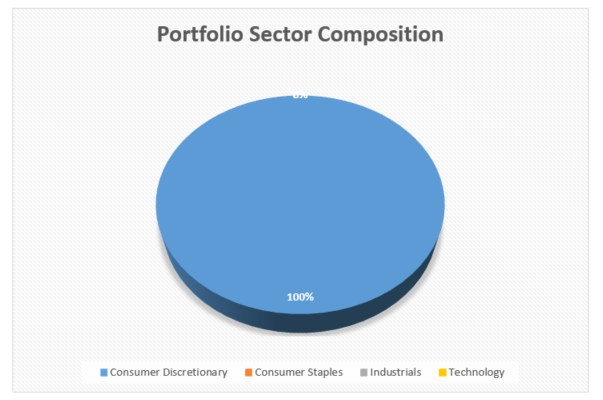 Source: Personal Database
One-hundred percent of the portfolio's composition is within consumer discretionary. Since the portfolio is focused on remaining lean, it should be expected that consumer discretionary will continue to represent a substantial proportion moving forward.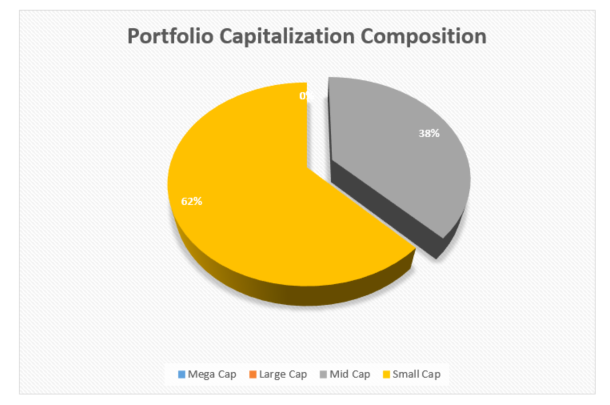 Source: Personal Database
The shift in reduced mid cap weighting was the result liquidation actions. It is unlikely that large or mega cap companies will be considered in the LSGP.
Benchmark Comparison and Performance
As noted, the portfolio was developed in March 2016; as such, the benchmark performance below is as of March 24, 2016 to provide a comparable review.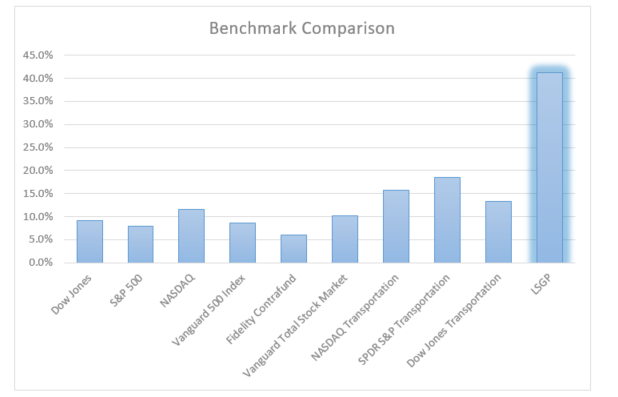 Source: Yahoo! Finance and Personal Database
To date, the portfolio has a return of 41 percent, outperforming all benchmark indices. The most telling aspect of this chart is that the transportation indices have done a one-eighty and now are doing better than their broader peers as of November. With one hundred percent exposure to transports, despite a limited number of companies, the LSGP has greatly outperformed the LLGP.
The LSGP expense ratio increased to 1.7 percent from all transactions for the year. It should be noted that all performance includes transaction costs, so the six percent performance is the pure return to date of the portfolio. No dividends are paid by the current holdings.
Conclusion
XPO will be considered for transition to the LLGP next year. While an assessment will occur at year-end, the decision is nearly guaranteed. Based upon the company's current valuation, it is unlikely that a position will be added anytime soon.
YRC Worldwide will be held into 2017. Over the long-term, the stock may witness strong gains. However, the company's significant exposure to pension liabilities via unionized labor is a deterrent for consideration into the LLGP. It is highly likely that the entire position will be liquidated at some point next year.
Disclosure: I am/we are long XPO, YRCW.
I wrote this article myself, and it expresses my own opinions. I am not receiving compensation for it (other than from Seeking Alpha). I have no business relationship with any company whose stock is mentioned in this article.