By Parke Shall
Mallcinkrodt (NYSE:MNK) shares were up briefly in premarket trading on Tuesday after the company reported better than expected earnings. But that optimism quickly faded and the company found itself down as much as 10% at one time during the trading day. We think this is indicative of the market giving up on the MNK story, fundamentally losing trust in management and finally putting on the skeptical hat it should have been wearing for months when analysing this company.
First off, let's review the company's earnings. The company came out and beat most expectations. Seeking Alpha reported,
FQ4 EPS of $2.04
Revenue of $887.2M (+13.9% Y/Y) beats by $7.1M.
Operating Income: $147.7M (+58.8%); Net Income: $110M (+50.5%); EPS: $1.01 (+62.9%); Non-GAAP EPS: $2.04 (+21.4%).
FY2016 results: Revenues: $3,380.8M (+15.7%); Operating Income: $617.3M (+74.5%); Net Income: $489M (+106.7%); EPS: $4.39 (+119.5%); Non-GAAP EPS: $7.85 (+15.6%); Quick Assets: $280.5M (-23.3%); CF Ops: $1,184.6M (+32.2%).
While the numbers certainly seem to beat expectations handily, there were a couple things that the market took its time latching onto and ultimately had doubts about. First, the company had an additional week in November to benefit from which helped it meet some of its goals for the quarter. The company talked about this in their press release,
Fiscal 2016 net sales were $3.381 billion, up 15.7% compared with $2.923 billion. The increase came primarily from continued strength across the Specialty Brands segment, and was partially offset by decreased net sales from the Specialty Generics segment. Management believes the additional selling week positively affected the company's annual growth rate by approximately 1 to 3 percentage points.
Net sales were $887.2 million in the fourth quarter fiscal 2016, up 13.9%, or 14.2% on a constant-currency basis. Net sales growth rates benefited from an additional selling week in the fourth quarter fiscal 2016. Management believes this additional selling week positively affected reported growth rates by approximately 6 to 9 percentage points for the quarter.
Second, the company failed to issue guidance. The market didn't seem to like that the company was not specific about its visibility for the future and shares it began to sell off right at the open; it continued throughout the rest of the day. You can see this in the chart below.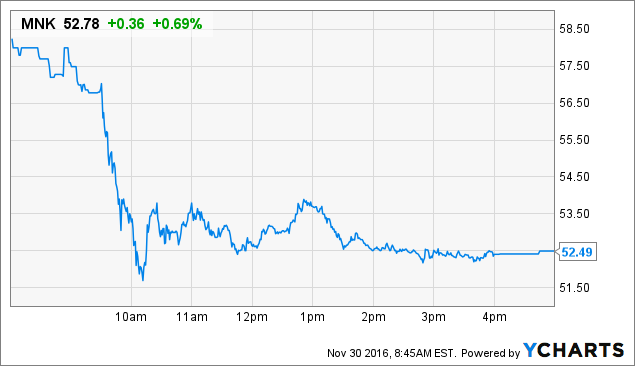 According to what was said on the conference call, it seems that Acthar is still a significant contributor to the company's bottom line. While they stated that they are hoping to get this down to less than a third of operating income, they also make the statement that it seems they aren't really close to hitting that metric it all,
So while our long-term objective is to have no single product account for more than a third of our operating income, currently our concentration has increased a bit and certainly Acthar now represents a significantly greater proportion of our operating income than a third.
And so the skeptical thesis continues. The company still relies heavily on a drug that has very little clinical testing, has been accused of ripping off Medicare and Medicaid, and remains one of the only price gouging stories in the pharmaceutical industry that has yet to come under fire by means of formal investigation. We think that such an investigation is still a reasonable scenario and for us, this is one of several factors that continues to make the company on investable, despite the results that it has published.
The company is also looking to produce a study that examines Acthar for Lou Gehrig's disease and on the conference call they harped about this as proof that the company is legitimately interested in what the clinical data is behind their key drug.
However, such a study takes a significant amount of time and it will likely be years before we get results. We believe that MNK shareholders don't really have this much time to wait, as any interruption in Acthar sales could be a significant negative for the company's cash flow stream and could be a prompt for investors to start looking at the balance sheet a little closer and examining how the company is going to deal with its tremendous debt load.
The selloff on earnings on Tuesday told us a lot. Aside from the basics of "the stock sold off because there was no guidance", we also simply got to feel that a long awaited loss of confidence and trust in the company is finally starting to take place.
The market sentiment on MNK simply seems to have shifted here over the last week. Prior to this, the company would have simply traded higher on the results. Now, it looks as though the armor around the company has worn off. There was also increased scrutiny on the conference call, with numerous analysts asking pointed questions about Acthar, a road that we think could lead to some answers at the market may not want to hear in the future.
It was only weeks ago that we wrote an article talking about why upside in MNK could be limited after its prior quarter results. We stated,
At a PE of 10x, the market is assuming that these results will (at least) be able to be replicated for the next 10 years. Most investors bank on growth, not just consistency.

This is important because one of MNK's core drugs continues to come under fire, and that could have an impact on future cash flows going forward. We believe 10x is a best-case multiple that takes into account the risk of potentially losing or having to alter a major revenue stream (which may not ever happen - we are just trying to assess the risk).
We followed that with a recent article talking about why investors should be skeptical about MNK and why the company's multiples may not actually be as appealing as they look. We continue to have our concerns, not only about the companies primary breadwinner in Acthar, but also about the amount of leverage that the company has, how it will execute future acquisitions that it is talking about, and what will happen when interest rates and the cost of capital rises.
While at face value the company's earnings report looked good, the extra week in November combined with lack of guidance and lack of visibility into the future for the company's primary profit driver remain giant risks for the company. On top of this, there is always the continued risk of regulatory examination. We continue to believe that MNK upside may be limited and would direct investors to consider companies like Allergan (NYSE:AGN), and Mylan (NASDAQ:MYL) if they are looking to get exposure in the pharmaceutical space.
Disclosure: I am/we are long AGN, MYL.
I wrote this article myself, and it expresses my own opinions. I am not receiving compensation for it (other than from Seeking Alpha). I have no business relationship with any company whose stock is mentioned in this article.