Over the past few quarters it appears Snap-on (NYSE:SNA) has been increasingly relying on credit sales and profits from its financing division to drive sales growth.
Before we get into the details let's get an important point out of the way first. Buying tools on credit is normal for those working in the automotive repair industry. It's pretty much always been done this way and we see no issues with the practice and are not criticizing the general business model of technicians using credit to buy tools. What we are concerned about is whether Snap-on is loosening its credit standards and pulling demand forward in order to increase sales now at the cost of lower sales in the future and higher credit charge-offs later.
The table below shows Snap-on's net sales and financial services revenues for the first three quarters of this year and the same three quarters from FY2015.

Click to enlarge
As we can see revenues from financial services are growing much faster than sales and financial services as a percent of net sales have grown from 6.93% as of April of last year to 8.58% as of the company's latest quarter.
Seeing credit sales consistently grow faster than overall sales is a warning flag but could have an innocuous reason. Perhaps more young people are becoming automotive technicians and are buying the tools they need to get into the business and thus credit sales are higher? Maybe the company is running a special(s) on large items typically sold on credit for the whole year? While we haven't seen evidence either of those reasons are true there could be another legitimate reason credit sales rising.
What would be worrying is if there was evidence of declining credit quality that went along with growing credit sales. This would likely indicate that the company is relaxing it's credit standards in order to encourage its customers to spend more money. Snap-on would in effect be drawing future sales forward.
When looking at the company's past due accounts we can start to see some problems. We analyzed Snap-on's finance receivables since those relate to Snap-on's largest division Snap-on Tools Group which accounts for approximately 40% of the company's sales and is the division that contains the iconic Snap-on tool trucks which visit shops all over the country to sell tools and equipment on credit to technicians. Contract receivables primarily relate to sales to shop owners and Snap-on franchisees for large capital expenditures.
Snap-on's latest 10-Q says this about how the company's receivables are categorized (emphasis ours).
Snap-on's finance receivables are comprised of extended-term installment payment contracts to both technicians and independent shop owners (i.e., franchisees' customers) to enable them to purchase tools and diagnostic and equipment products on an extended-term payment plan, generally with expected average payment terms of approximately three years. Contract receivables, with payment terms of up to 10 years, are comprised of extended-term installment payment contracts to a broad base of customers worldwide, including shop owners, both independents and national chains, for their purchase of tools and diagnostic and equipment products. Contract receivables also include extended-term installment loans to franchisees to meet a number of financing needs, including working capital loans, loans to enable new franchisees to fund the purchase of the franchise and van leases. Finance and contract receivables are generally secured by the underlying tools and/or diagnostic or equipment products financed and, for installment loans to franchisees, other franchisee assets.
We also focused on finance receivables since they are much larger then contract receivables and as you expect far fewer non-performing loans.

When analyzing the finance receivables we decided to look at the total amount of receivables that were past due. We believe this is the best measure of analyzing how many borrowers are having trouble paying. It's cut and dried and doesn't leave room for management to make judgments on how to account for something. If you don't pay your bill on time your bill gets counted as past due, simple as that.
We can see that past due bills as percent of total finance receivables have risen steadily over the past nine months.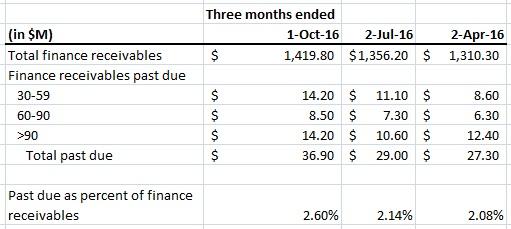 In April only about 2% of finance receivables were past due. Over the next six months past due finance receivables have risen by more than 50 basis points.
It would appear, based on the numbers so far for this year, that Snap-on may be loosening its credit standards and encouraging more of its customers to buy tools and equipment on credit. This has the effect of pulling demand forward and increasing the likelihood of having to write down receivables in the future due to non-performing debt.
Disclosure: I/we have no positions in any stocks mentioned, and no plans to initiate any positions within the next 72 hours.
I wrote this article myself, and it expresses my own opinions. I am not receiving compensation for it (other than from Seeking Alpha). I have no business relationship with any company whose stock is mentioned in this article.