This review updates my initial look at Costamare Inc. (NYSE:CMRE), from my September 16, 2016, article, "Costamare Inc.: Another Preferred Dividend Opportunity Revisited"
Though I hope you will read the original linked article in full, my bottom-line assessment and buy recommendation at the time were as follows:
This press release, reporting the financial results of the last quarter and half year, was issued July 22, yet it demonstrates, as far as I'm concerned, a company that's built to last. Because I believe bankruptcy is the only way I can ultimately lose as a cumulative preferred investor, a company's long-term viability outlook is always my primary concern.
Hanjin's recently declared bankruptcy will, to some extent, affect CMRE. However, it's a double-edged sword because a number of pundits and analysts are predicting the Hanjin bankruptcy will lead to carrier cargo rate increases. Bottom line: I'm sticking with Costamare and envision no existential threat on the horizon. As usual, alternative viewpoints are invited and much appreciated.
Let's see how CMRE's commons have performed over the past quarter since I wrote the previous articles. Because of the greater volume of common shares traded as opposed to the limited liquidity of most preferreds, I find the commons to be a better indicator of a company's overall performance.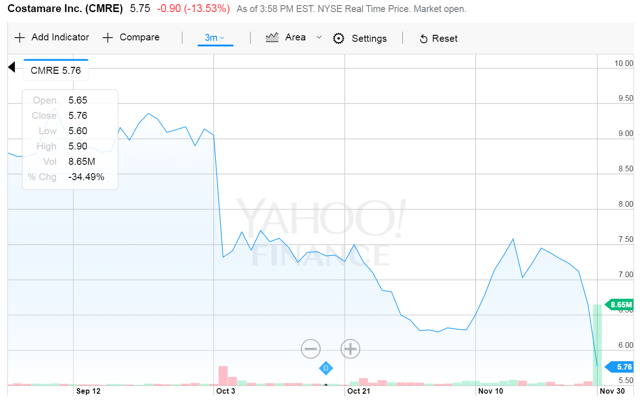 Click to enlarge
It appears that over the past three months, CMRE's share price movement has been on a rollercoaster ride, ending considerably below where it began the quarter. On August 31, it traded at $8.80, now it's priced at $5.76. That's a $3.04 drop. Not surprising considering the container shipping sector still faces stiff headwinds.
Now let's compare CMRE's share performance, over the past three months, in relation to a number of its peers. Chart provided by Yahoo Finance: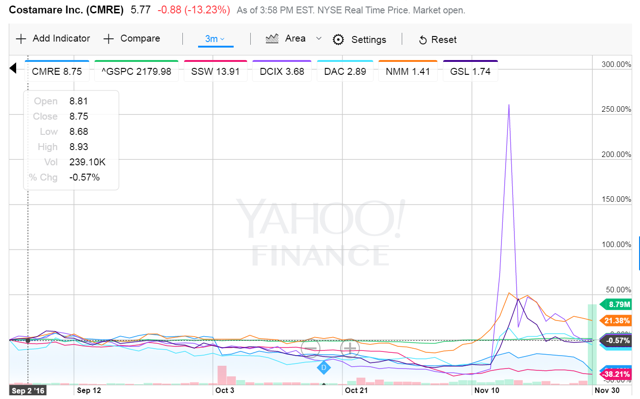 Click to enlarge
Frankly, not great because it performed near the bottom of the pack, a notch above SSW again, which performed at the very bottom. However, as far as I'm concerned, from a preferred perspective, both these companies are built to last and face no existential threat, the only way I feel I can lose. The above chart includes the following container shipping CMRE peers: Seaspan (NYSE:SSW), Diana Containerships (NASDAQ:DCIX), Danaos Corporation (NYSE:DAC), Navios Maritime Partners (NYSE:NMM) and Global Ship Lease (NYSE:GSL).
Before we discuss CMRE's future prospects, let's see how its preferreds have fared during the past three months. The following charts are provided by MarketWatch: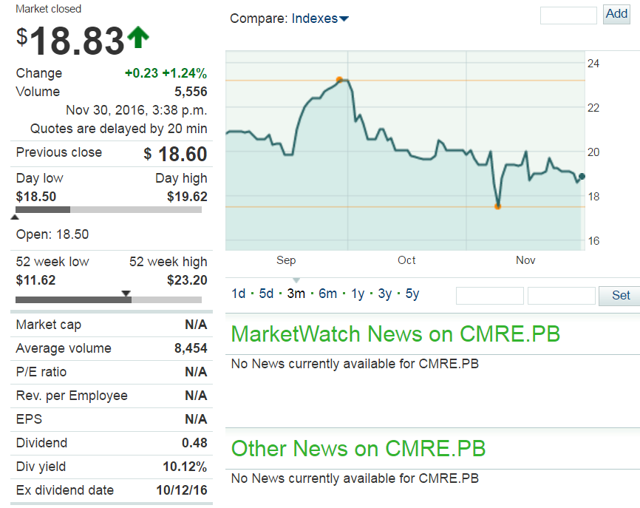 Click to enlarge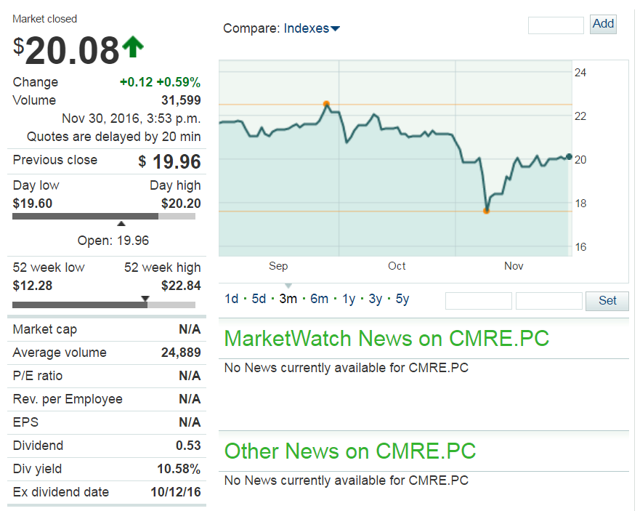 Click to enlarge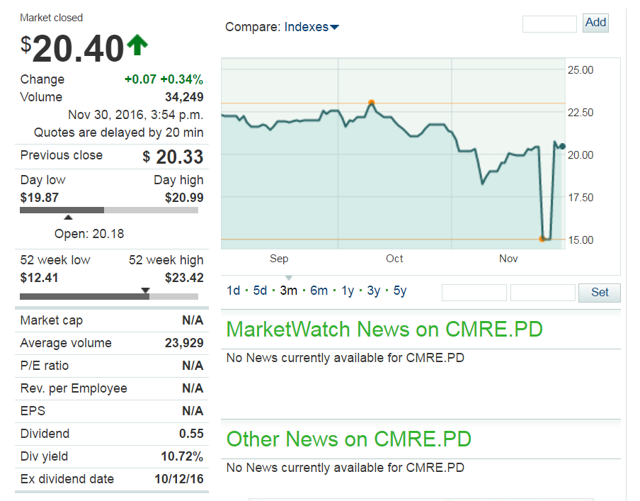 Click to enlarge
Contrary to the performance of its commons, CMRE's preferreds performed somewhat better in relation to them, yet not well at all.
Now let's compare and contrast those preferred figures I first reported on March 7, then as they were at the close of trading on September 15, 2016, and where they are currently.
CMRE Preferred Prices 3/7, 9/15, & 11/30.
| | | | | |
| --- | --- | --- | --- | --- |
| Symbol | 3/7 | 9/15 | 11/30 | Difference from 9/15 |
| CMRE-B | 17.54 | 20.32 | 18.83 | -1.49 |
| CMRE-C | 17.92 | 21.22 | 20.08 | -1.14 |
| CMRE-D | 17.75 | 21.57 | 20.40 | -1.17 |
One further note at this time. All the preferreds virtually across the boards came down from their unrealistic Olympian heights, which in a small way cushions the blow of CMRE's preferreds fall as far as I'm concerned, yet it is still troubling. Furthermore, all remain priced higher than they were on March 7, as I search for the silver lining peeking out from behind this dark cloud.
CMRE Preferreds 11/30/16
| | | | | | |
| --- | --- | --- | --- | --- | --- |
| Symbol | Yearly Dividend | Price | Dividend/Price | Yield | Best |
| CMRE-B | 1.90625 | 18.83 | 1.90625/18.83 | 10.12% | |
| CMRE-C | 2.125 | 20.08 | 2.125/20.08 | 10.58% | |
| CMRE-D | 2.1875 | 20.40 | 2.1875/20.40 | 10.72% | Best |
Yes, D is still the best.
Now for a little forward guidance:
Taken from recent news concerning CMRE and reported by SA:
Costamare (NYSE:CMRE) is offering 11M shares of common stock, with the majority-owner Konstantakopoulos family indicating their intention to take down about $10M of the offering (roughly 15%)
Although the common shareholders will suffer the hit of dilution, I and my fellow preferred shareholders don't mind this in the slightest, in fact, it solidifies our positions somewhat. I continue to believe in the long-term viability of Costamare, consequently, I have maintained my preferred position in this company. However, I have been wrong before and would not be overly surprised if I am wrong again. Consequently, as before. I invite my followers, especially those knowledgeable about container shipping, to weigh in with their thoughts and opinions concerning CMRE and the sector in particular.
Disclosure: I am/we are long CMRE-C CMRE-D, SSW-G, GSL-B.
I wrote this article myself, and it expresses my own opinions. I am not receiving compensation for it (other than from Seeking Alpha). I have no business relationship with any company whose stock is mentioned in this article.