Diageo (NYSE:DEO) (OTCPK:DGEAF) is a global leader in beverage alcohol, with a diverse collection of brands across spirits, beer and wine. Their products are sold in more than 180 countries around the world. The key categories for Diageo, which include spirits, beer and ready-to-drink, together account for 90% of its net sales. According to our estimates, the company has an over 20% upside potential. The key reasons for the same have been highlighted below.
Emerging Markets Of Africa To Fuel Growth
An emerging and thirsty middle class has made Africa one of the most lucrative markets for the wine and spirits industry, as the market has been expanding at five times the global average, in 24 sub-Saharan African countries, according to IWSR, a British wine consultancy. The favorable consumer demographics will be the backbone of the growth in the continent, which is expected to make it the fastest growing alcohol market in the next five years. The rate of population growth is faster than any other continent, and in the next 20 years, Africa is expected to have the largest working-age population. Furthermore, the LPA (Legal Purchasing Age) population is expected to grow by 35% over the next decade. An increase in the proportion of the working age population, relative to the total population, is potentially beneficial for consumer spending. Countries in sub-Saharan Africa are also experiencing significant rates of urbanization, with the U.N. forecasting the urbanization rate to reach 45.9% by 2030.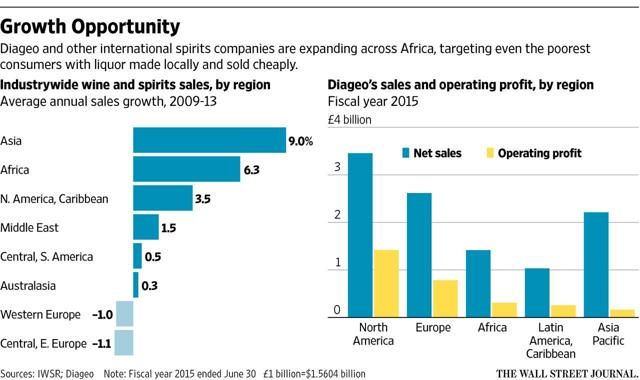 Click to enlarge
An increasing level of disposable income will be to the advantage of liquor companies, as moving into the middle class allows consumers to go for more quality. For example, consumers will start shifting from unbranded beers to branded ones. Ultimately, with a further increase in income, there will be a shift towards products that are viewed as more sophisticated, such as brandy, whiskey and wine. With the entry of international brands, a sharp uptake of mobile phones and an increasing internet penetration, there has been a greater exposure to the Western culture and social media has played a great role in shaping the tastes of younger consumers. Diageo's strong beer network will help to drive spirits growth, as the company can utilize the same trucks to deliver beer and spirits, to the same distributors and wholesalers, using common warehouses.
Turnaround Of North American Operations
North America is the largest premium drinks market in the world and accounts for about one-third of Diageo's net sales, and one-half of its operating profit. It comprises US Spirits, Diageo Guinness USA (DGUSA) and Diageo Canada. During the first half of its FY 2016 (six months ended December 2015), the company reported a decline in net sales and volumes for the North American region. This was primarily a result of a fall in US spirits, due to late launches in the half and the implementation of the replenishment model for innovations, which reduced the shipment level, when compared to the first half of FY 2015. However, a recovery was already seen in the second quarter (three months ended December 2015) of the company's performance in North America, with the quarterly growth rates improving from a negative 10.4% to a positive 4.7%. For the full financial year, North America delivered net sales growth of 3%, after a strong performance of a 10% increase in the second half of the year in US Spirits. This was driven by growth in North American whiskey, scotch and tequila, which resulted in a positive mix. North American whiskey was the standout performer, accounting for half of the overall net sales growth, with net sales up 6%, due to share gains by Crown Royal and Bulleit.
The Distilled Spirits Council of the United States (DISCUS) divides all spirit categories into four segments: Value, Premium, High End and Super Premium. Across all spirits, Value sales have dropped while that of High End and Super Premium has increased. This shows a growing interest in the top tier of the marketplace. Super premium whiskeys were particularly popular with American consumers, with luxury Bourbon, Scotch, Canadian and Irish whiskeys all recording double-digit growth. Millennials of legal drinking age have been driving innovation and premiumization. The Council also noted that five states authorized spirits tastings in 2015, taking the total number of states supporting some form of spirits tastings to 46. This has been an important marketing tool, enabling consumers to sample numerous innovative and premium products available in the distilled spirits sector. Moreover, according to Technavio, the alcoholic beverage market in the U.S. is projected to reach over $250B by 2020, with the trend of premiumization across product categories continuing to drive growth in the market. This will ensure growth for Diageo in this market in the long run.

Click to enlarge
Increased Market Volatility
Volatile markets sometimes fuel a return to defensive stocks. After the recent US elections, investors were warned for sharp moves in the financial markets due to the uncertainty surrounding whether Trump's campaign rhetoric will be translated into policies. The stock market, as well as the polls, had expected a victory for Hillary Clinton and an unexpected win for Trump created uncertainty in the market.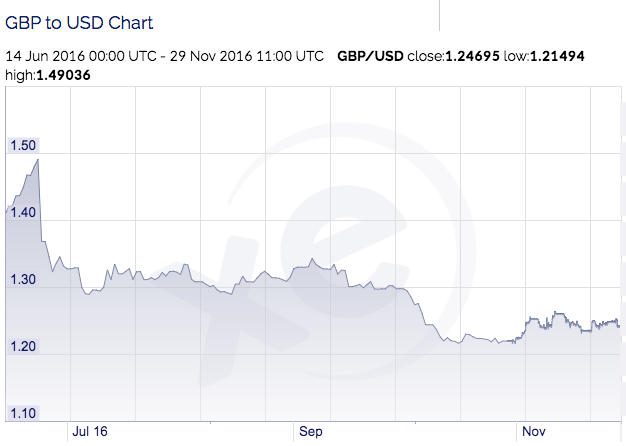 Moreover, in the aftermath of the Brexit, the pound has also fallen considerably against the dollar. Analysts at Credit Suisse noted that the positive impact of a falling pound could "more than offset the potential underlying business risks" faced by Diageo. They further stated that such a scenario, of a weaker sterling, could result in a 9% to 17% rise to the company's earnings per share. Furthermore, since alcohol is a resilient business during economic crises, reflecting consumers' inherent need to drink and also greater loyalty among its customers, it may further result in an upside to Diageo's stock. The company could see a significant currency benefit, as a result of a falling Sterling. Since a majority of Diageo's revenues, almost 90%, come from regions outside of Britain, a weaker pound is bound to benefit its top line. This is because their goods will command more competitive prices overseas.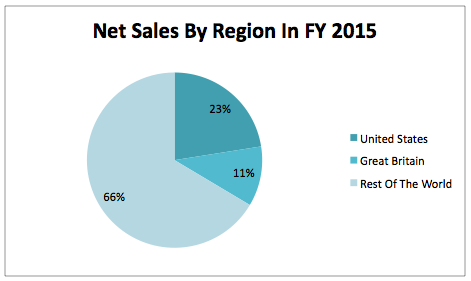 Disclosure: No positions
Editor's Note: This article discusses one or more securities that do not trade on a major U.S. exchange. Please be aware of the risks associated with these stocks.