Yesterday was a historic day. Cooperation heading into yesterday's meetings in Vienna seemed like a far-fetched idea, but somehow OPEC and non-OPEC nations found a way to decrease production and provide stability to the price of oil. If you're sitting at home, you saw Chesapeake Energy (NYSE:CHK) increase over 10% and it will likely increase further today, as crude futures are up about 2% right now. These higher commodity prices create a bounty of opportunities for Chesapeake, which means that its viability as an investment has just increased. Therefore, it is advised that investors be long in the stock for not just the short-term, but the long-term as well.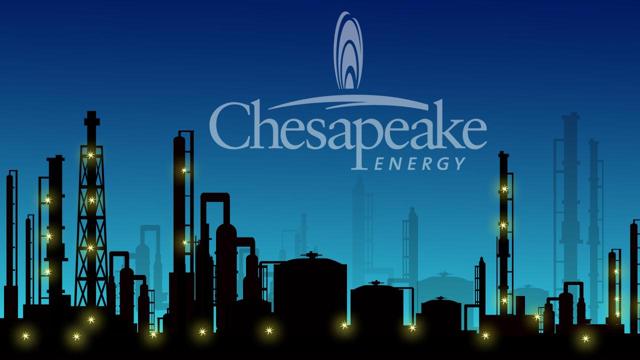 Click to enlarge
Source: The Country Caller
OPEC And What This Means For Chesapeake
It's obvious that Chesapeake needs higher natural gas and crude oil prices in order to garner enough liquidity to pay down its obligations. Should it see that operational efficacy, the company will do well and the stock will be warranted a higher trading price.
So, here's the recap. OPEC is going to cut 1.2 million barrels of oil production per day, which represents about a 4.5% decrease in global oil production. Russia and Iran are cooperating, although Iran's cooperation is next to nothing, as this nation would not have struck an agreement should they had been required to rollback some of their substantial 2016 production progress.
You know who benefits the most from a deal like this? The marginal producer who didn't make the deal. American producers had no say in this deal and, as a result, don't have to agree to any sort of production cut over the near-term. So, while global crude inventories retract and prices gain heavy support at $50/barrel, companies like Chesapeake Energy are going to be the big winners.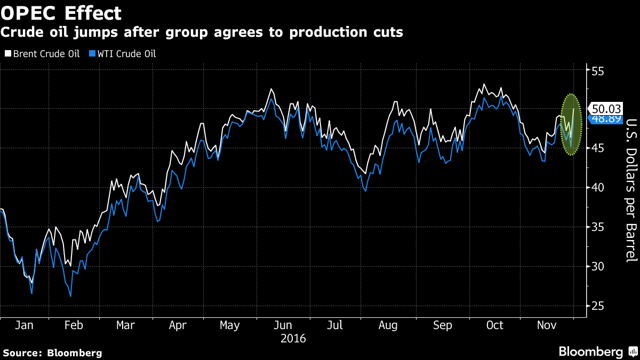 Click to enlarge
Source: Bloomberg
So, let's think about what this means for Chesapeake. At the beginning of the year, I analyzed several scenarios as they relate to CHK's cash flow possibilities given different levels of commodity prices with the help of Seeking Alpha contributors Scott Anderson and Ian Bezek. So, right now, Chesapeake is actually situated between two sensitivities, the breakeven case and the survival case.
The breakeven case shows $45/barrel WTI and $2.25/MMBtu natural gas on the Henry Hub. We've surpassed both of these levels, so it's likely, that on top of operational efficiencies developed since the beginning of the year and a substantial pay down in debt, that this company will have a profitable EBIT and potentially a profitable EBITDA. It's entirely possible that they positive a positive bottom line, although investors can't notch up their expectations too high.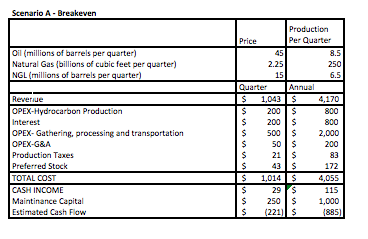 Source: Scott Anderson
Since those prices have been passed significantly, the survival scenario is now within sight. Actually, one of the requirements for survival has already been passed in a big way. Natural gas, at last check, is $3.35/MMBtu, which means that the cash flows attributable to natural gas production will be quite lucrative to Chesapeake. The next target is $60/barrel on the WTI and while CHK is more focused on natural gas than anything, the crude level must be hit over the next-twelve months to keep investor attraction online and to finally generate consecutive quarters of free cash flow and not have daily leverage concerns.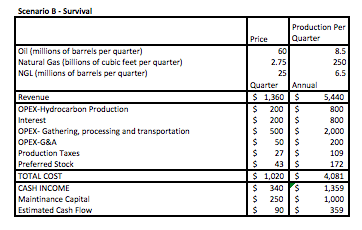 Source: Scott Anderson
Future Performance For Chesapeake
Chesapeake, coming into Tuesday's Vienna meeting, had a substantial risk/reward scenario. On a long-term chart of the past five years, should crude oil and natural gas prices continue to see strength. On a 5Y chart, CHK is still off its all time highs by 3x-5x, which means that the potential long-term reward is substantial. This is a moonshot type of investment with multiple tangible catalysts spread out over different horizons. I'd be surprised to see CHK trade at anything less than $10 by the end of Q1 2017.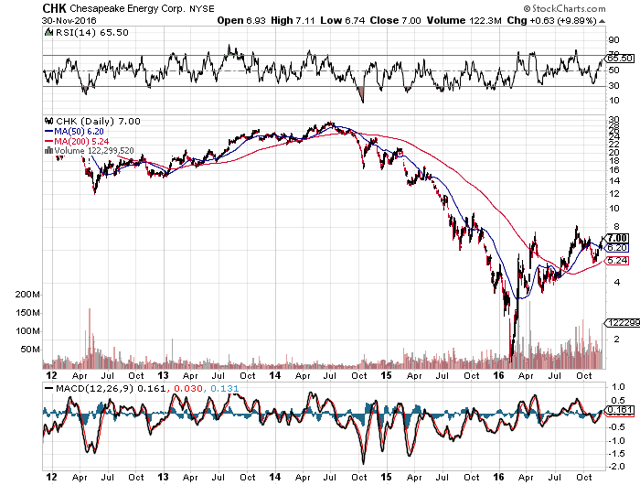 Click to enlarge
Source: StockCharts
So, just in the short-term, we really have to look at what might happen in December. The stock is arguably not a tax loss candidate as it has now put up decent YTD gains (but more so triple-digit gains since mid-February when the company almost went bankrupt). So, that means that there's room to marginally grow in December should crude retain its current level and even appreciate $1 or $2 per barrel.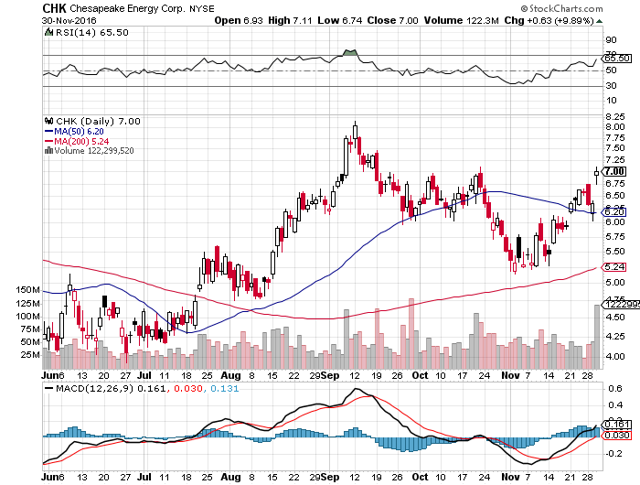 Click to enlarge
Source: StockCharts
As you can see from the above chart, CHK went on a two month decline in September and October as crude weakness and the optimism behind an OPEC deal faded. However, the deal yesterday caused the stock to drastically pop up and, now, the stock stands to break past $7.25 and head towards $8.00. Should it hit that latter level, then December is really going to be a great month for shareholders as there is minimal resistance until we get to about $8.75 per share. The near-term outlook for Chesapeake, in terms of pricing, seems to be positive.
Conclusion
Watching futures trade right now, we can see that both the Brent and WTI are up about 2%. That brings the two-day total to nearly 10%, which is going to make the world of difference for a company like Chesapeake. I personally put in another limit order to up my stake in Chesapeake last night as the fundamentals are showing that this company will be able to meet all of its obligations and will see higher near-term levels. I am confident that this stock will outperform the broader market in the short-term, as well.
Disclosure: I am/we are long CHK.
I wrote this article myself, and it expresses my own opinions. I am not receiving compensation for it (other than from Seeking Alpha). I have no business relationship with any company whose stock is mentioned in this article.