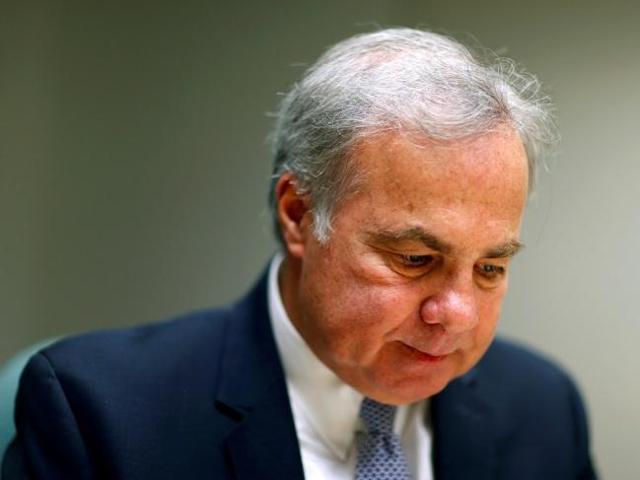 Click to enlarge
Valeant CEO Joe Papa. Source: Yahoo Finance
Valeant (NYSE:VRX) took investors on a wild ride yesterday. Rumors surfaced that talks to sell Salix to Takeda (OTCPK:TKPHF) (OTCPK:TKPYY) broke down:
Valeant abandoned attempts to sell its gastrointestinal division to Japan's Takeda for $10bn after negotiations between the drugmakers broke down, dashing one of the company's best hopes of reducing its crippling debt burden.

... One person briefed on the negotiations said Valeant had struggled to keep up with Takeda's demands for information about the business during the negotiations and had taken insufficient steps to prepare the unit for sale ... The two companies also disagreed on the value of the business, according to another person.
VRX fell as much as 11% Wednesday's before closing down about 8%.
The Situation
Valeant built its business by rolling-up pharmaceutical companies and raising prices on the targets' drugs. After parting ways with specialty pharma, Philidor, management placed a moratorium on acquisitions and decided to sell properties to pare debt. Nearly a year later no asset sales have taken place.
In early November rumors surfaced that the company was in talks to sell Salix to Takeda for $10 billion; VRX soared 33% on the news. According to Barrons, Takeda was valuing Salix at 10x - 12x EBITDA. Last week Spain's Intereconomia reported that Takeda was cutting its alleged purchase price to $9.3 billion -- about 9.1x EBITDA. My initial reaction was, "Takeda has Valeant a little bit pregnant."
Takeda Has Valeant "A Little Bit Pregnant"
Deal negotiations have ebbs and flows. According to the book, Shock Exchange: How Inner-City Kids From Brooklyn Predicted the Great Recession and the Pain Ahead, which party (buyer/sellers) has the most leverage depends on the deal's stage:
At that point, the government had TARP recipients "a lil' bit pregnant." In M&A parlance, that is the period that the market knows a company is "in play" or for sale, yet the transaction has yet to be completed. Once the transaction is completed, the leverage in the relationship is reversed. And that is the relationship President Obama inherited from Paulson and President Bush - 21 banks with $700 billion in taxpayer money, with no control over how they could spend it.
Valeant bought Salix for $15.8 billion in March of last year in a bidding war. The fact that it hasn't sold a property in a year could connote that it is no longer a seller's market. Intereconomia's report that Takeda could have the gall to cut Salix's purchase price to 9.1x EBITDA implied Takeda had all the leverage. Yesterday's rumors that it was walking away due to price and lack of financial information all but confirmed it.
Valeant is in dire straits. In addition to temporarily stopping acquisitions it has cut prices for certain key drugs. Price cuts will likely crimp future revenue and earnings. Ex-Salix, total revenue for Q3 was off 12% Y/Y. It will likely worsen due to lower pricing and added competition for U.S. Diversified in 2017.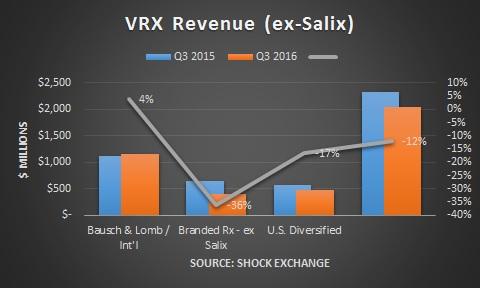 Nonetheless, the company still has to service its $30 billion debt load at 7.2x debt/EBITDA. A Salix sale even -- at $9.3 billion -- would reduce Valeant's debt/EBITDA to 6.6x and increase its probability of survival.
Window Is Closing On Capital-Raising Ability
It might behoove Valeant to go to pains to cut a deal with Takeda. Smelling blood in the water, another potential buyer could request a lower purchase price or even more onerous terms than Takeda has. That said, I am on record that the company should consider using its inflated share price to raise equity. The window of opportunity for an equity raise or asset sale could be closing. If the Fed raises interest rates in mid-December Valeant's shares could fall, making a share sale prohibitively expensive. Moreover, potential buyers of Salix could take a more dismal outlook on U.S. economic growth and/or Salix's growth potential and ask for a steeper discount or walk altogether.
Conclusion
The leverage in Salix talks lies with Takeda. Valeant might not have any choice but to succumb to Takeda's demands for further due diligence or a steeper discount on price. If the Fed hikes rates in December -- sending global markets lower -- this could all be a moot point. VRX's sum-of-the parts is less than $1. Avoid the stock.
Disclosure: I am/we are short VRX.
I wrote this article myself, and it expresses my own opinions. I am not receiving compensation for it. I have no business relationship with any company whose stock is mentioned in this article.
Editor's Note: This article discusses one or more securities that do not trade on a major U.S. exchange. Please be aware of the risks associated with these stocks.