Halliburton (NYSE: HAL) is the world's 2nd largest oilfield services company in the world and a sector leader, possessing much innovative technology that has assisted with unconventional oil production worldwide for many years. An S&P Energy Sector constituent, it has taken on a new identity during this two-year downturn in the industry. If you look at the two-year chart, the price action has taken to following the WTI price itself very closely, until recently, when enthusiasm for Halliburton jumped ahead of crude itself: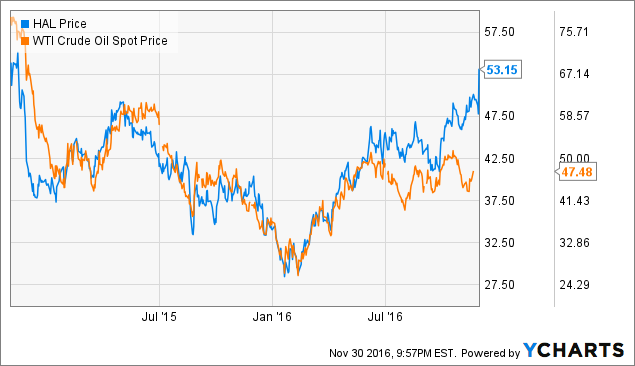 While this may seem logical, I believe the stock price has over time become completely divorced from the company's financials. Looking further back, there was a much healthier correlation between the two. What I am interested in doing is evaluating the case for investing in Halliburton right now, since I hold shares that I strongly suspect are overvalued.
Several analysts on Seeking Alpha have recently weighed in on the latest quarterly earnings, in which Halliburton shocked the Street by posting a one cent per share profit instead of the expected third straight quarterly loss. Relentless cost-cutting and rebounding US shale drilling activity off annual lows did the trick, as North America revenue grew 9% and other regions declined or stayed flat.
The consensus in the articles was that this is a reason to be near-term optimist/long-term bullish. But to put it in perspective, if this performance continues for 3 more quarters in a row, Halliburton will have a P/E of 1400 at current prices - more than the 4 FANGS combined.
Of course, any positive P/E in the oil and gas sector these days is positive, as a rash of bankruptcies has already taken place and fingers remain crossed for that recovery "just around the corner" two years after the mess started. Investors are looking for a rebound in the sector. This morning's blow-the-doors-off rally over OPEC deciding to finally do what it said it was going to do in September confirms it.
I remember the 2014 crash very well because I bought some overpriced shares in Halliburton at that time thinking it was going to be over in a few weeks. Times sure have changed. This February, I averaged down to my current cost base of about $39.
I have also read several analyses making bullish calls for oil in general in 2017 but after today's news, Halliburton and several other bellwether energy securities such as the E&P SPDR (NYSEARCA: XOP), Transocean Ltd. (NYSE: RIG) and the United States Oil Fund (NYSEARCA: USO) are already up between 70 and 100% from their early 2016 lows.
Are we really popping champagne for $50 oil? Can these securities rally further in hopes of adding even more to these already spectacular gains while the commodity remains at a price that was unthinkable only 2 years ago? Seems like oil was the trade of 2016 and expecting more of the same for 2017 might be too obvious or, I don't know, greedy?
If you have only been following Halliburton for a year or two, you might think that it has always had this strong correlation with the price of crude oil. But when you look at its historical price action and longer-term financials, its current valuation no longer makes sense.
When we look at the long-term chart of Halliburton, we see that it was only able to sustain levels above $50 for brief periods of time: in 2008, 2011, and 2014. However, this was when the company was banking billions in net income. People will point to today's OPEC cut, recovering oil prices, and increased shale activity in the US as reasons to be bullish, but even with today's surprise event, there is no indication that the global oversupply problem has been addressed in any meaningful way: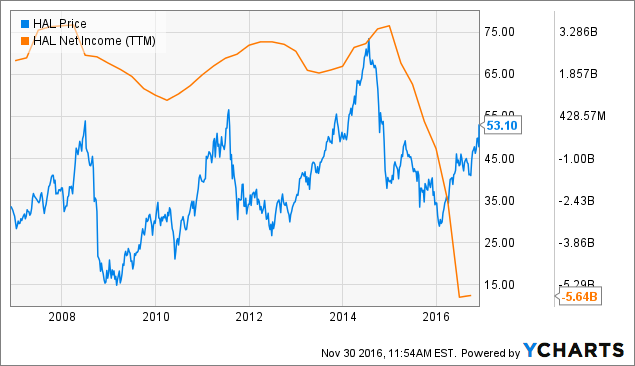 HAL data by YCharts
The chasm between Halliburton's gross revenue vs. the value the market assigns the business has also never been so wide. This company's revenue has fallen by 50% in 2 years, yet the stock has stormed up nearly 100% from its lows on the back of higher crude prices. Granted, crude has made a move of about the same magnitude from peak to trough, but calling this leading market sentiment would be an understatement.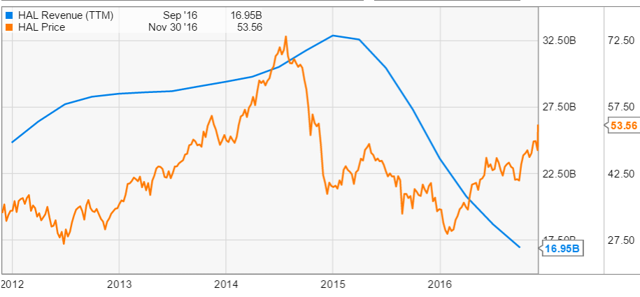 Click to enlarge
Overvaluation has nothing to do with what's going on at the company itself. The company, apart from deciding to blow an amount equal to 10% of its equity paying its 2nd biggest competitor, Baker Hughes (NYSE: BHI) to not be acquired by it earlier this year, is exceptionally well managed. 2016 has been a lesson in management prowess. And CEO Dave Lesar struck a prudent tone when he spoke of how revenue might begin to recover:
"As we predicted, the North America unconventional market has responded the quickest demonstrated by the increase in recent rig count activity. However, we continue to believe meaningful activity increases from our customers will not start until we see sustainable commodity prices above $50 per barrel. And while the international markets will take a little more time to rebound, we are maintaining our integrated global services footprint, managing costs and continuing to fight for market share. We expect to see the bottom for activity in this market to occur in the first half of 2017."
Source: Q3 earnings call transcript
Not his fault that the market is already pricing in a 100% increase in revenue that has yet to occur based on oil managing to stay over $50 (which, remember, it hasn't). It is also true that although revenue is down 50% from 2014's record, this coincided with the stock's all-time high. Looking at the financial snapshot below, the company will impress even if it manages to come within striking distance of 2015 revenue in 2017. This amount is only 21% below the 2012-2013 period, when the company was operating in a much better oil price environment: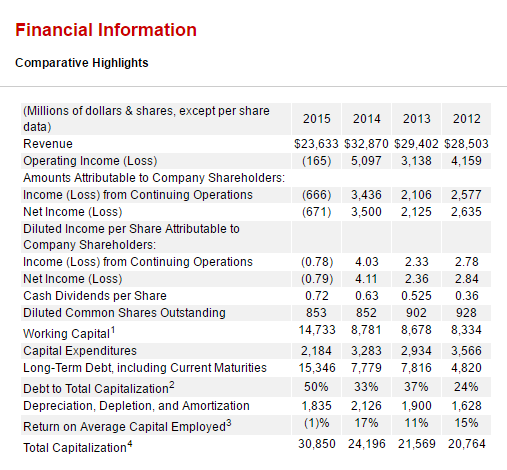 (Source: company website)
The company will likely be fine long term, but how long can it stay ahead of the current valuation? I believe the real explanation that Halliburton, and energy services companies in general, have performed so strongly is because of leverage. When the downturn arrived, E&P companies kept their reserves and were guaranteed at least a certain amount of revenue from production. But services fell off a cliff because demand for services collapsed. When the world didn't end for the industry, which it arguably would have at $27 WTI, the snap-back for services was that much more violent. And the irony is that it was more so for the more leveraged players.
Here is an example: Three much smaller Canadian oilfield service companies, Calfrac Well Services (OTC: OTCPK:CFWFF), Trican Well Service (OTC: TOLWF) and PHX Energy Services (OTC: OTC:PHXHF), which I have included in the comparison below, are among the best performers in all North American markets this year. Why? Because at the start of the year, they were basically written off. Down 90-95% from their highs, there was just no expectation that they would survive the low-price environment.
Between the debt on their balance sheets and losses per share that equaled or were higher than their share prices, they were (and are) considered extremely high risk investments. With high risk comes high reward. PHX and Trican may not look like they have high debt levels but they have been seriously hemorrhaging cash since the downturn hit.
Halliburton obviously has a much stronger and diverse client base and capital position than these companies, but remember that it also carries a significant amount of debt. At the time of its lows, it was dealing with the uncertainty around the merger with Baker Hughes and the hefty breakup fee it was on the hook for. This made its risk/reward significantly higher than its peers:

Click to enlarge
(Source: my excel table using data from ycharts.com)
This explains why the companies on this spreadsheet with poorest returns on equity ended up generating the highest returns for investors this year, even surpassing the Direxion 3x Energy Bull ETF (NYSEARCA:ERX). Halliburton, having a higher debt to equity and poorer returns on equity than its two rivals, Baker Hughes and Schlumberger (NYSE: SLB), delivered a higher return due to leverage.
Meanwhile, its rivals' returns YTD are more in line with unleveraged products like USO or XLE. The most indebted American company on the list, Pioneer Energy Services (NYSE: PES), achieved the highest return among the US firms on the list, with the worst return on equity and highest debt of the bunch.
Another telling indicator of Halliburton's price action is its book value. Three times in the last ten years it sat between 1.5 and 2.2, and each time the stock moved much higher. On the other hand, when the book value rose above four, it usually preceded a significant drawdown: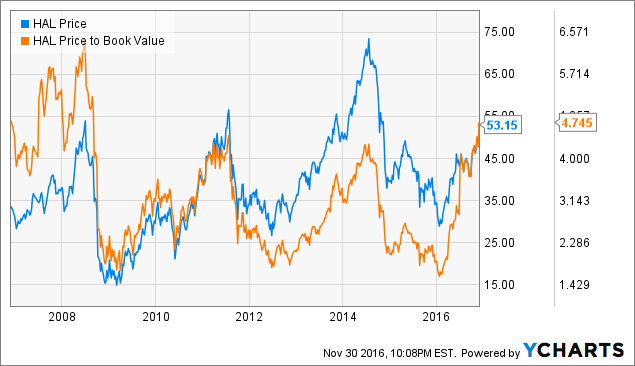 What is the takeaway? In the near term, sentiment will continue to drive the stock. But after these gains, some smart money will likely be headed for the exits. The valuation has clearly overshot the fundamentals and if it makes it to $60, it will be stretched like it has never been stretched before. It already is. The other thing to remember is that leverage cuts both ways. If you have ridden this company up, you may find yourself much more complacent than someone looking at the company as an investment right now.
Disclosure: I am/we are long HAL.
I wrote this article myself, and it expresses my own opinions. I am not receiving compensation for it (other than from Seeking Alpha). I have no business relationship with any company whose stock is mentioned in this article.
Editor's Note: This article discusses one or more securities that do not trade on a major U.S. exchange. Please be aware of the risks associated with these stocks.