The Extent Of Dilution
In Part 1, I listed in chronological order the series of events leading up to, and subsequent to a highly dilutive Preferred Stock Offer on October 31, 2016. TABLE 1 below is a summary of actual and potential shareholdings following this stock offer.
TABLE 1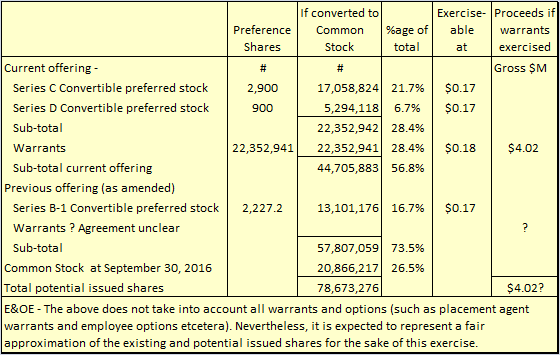 It can be seen from TABLE 1, the Sunshine Heart (NASDAQ:SSH) Common Stock shareholders have gone from owning 100% of the company in June 2016, to potentially being reduced to a 26.5% share with funding still totally inadequate. The Warrants have a 5 year exercise period, so without those, the Preference Stock, if converted to Common Stock, would hold 63.0 % and the Common stock 37.0%.
Sunshine Heart Is Like A Truck With a Flat Battery And Running Out Of Fuel
Pardon the analogy in the heading, but the failure to disclose the first-in-man test of the neuromodulation therapy may have been due to just that type of situation. Let me explain. We now know that at September 30, 2016, Sunshine Heart had $792K in cash and a monthly burn rate of over $800K per month, meaning cash would run out around October 31, 2016. The difficulty is, if you shut down the neuromodulation project and let the staff go, then quite apart from not having the cash to make separation payments, like the truck with the flat battery, you will not be able to re-start. But you can conserve cash by putting the neuromodulation acute trial on pause (leaving the truck idling), to gain some time to raise capital (more fuel). So how do you explain the inconsistency of a pause in the trial, at the same time as announcing a successful first-in-man test, without broadcasting to potential investors you are about to run out of cash? Withholding the announcement of the successful test at that time would be one solution, and not a very good solution given the price at which the necessary cash was eventually raised. Now, I am not saying this is what happened, nor that it would have been okay for the company to allow itself to get into such a situation, but I do believe it is a plausible possibility. I have gone into some detail on this subject because it is important to believe the company is not just abandoning its Common Stock shareholders. It is noted there are some protections in the Preferred Stock documents preventing the holders from converting to more than 4.99% of the Common stock, with an increase to 9.99% possible with 61 days notice (see here).
What Is Behind The Share Turnover Of 11.5M Shares Over The Last Five Trading Days?
I do not believe the limitation on conversion of Preferred Stock would prevent the direct purchase of Common Stock. So, the 11.5M shares traded over the last 5 trading days could be parties buying to block the issuance of the Common Stock shares underlying the Preferred Stock or Preferred Stock holders buying to support the resolution to issue. However, the prices at which these shares have traded do not support such a theory. If the company has used its ATM facility to raise ~ $2.0M, then referring to the analogy above, it might enable the company to shift out of idle and potentially complete the acute trial in December or January.
The Potential Further Dilution Of Common Stock Holders, Leaving aside The Possibility Of A Joint Venture Or Partnership
The company has indicated a cash burn rate of $800K per month for 4 th quarter 2016. It has also projected a chronic trial could be completed, reviewed and CE Mark obtained by June 2018. At $800K per month October 2016 to June 2018, total cash burn would be $17M, to which should be added say an increment of $5M for the 20 patient acute and 30 patient chronic trial costs. With $800K cash at end of 3 rd quarter 2016 and $3.2M from the recent Preferred Stock offer, that leaves an additional $18.0M to be raised. I will assume the amount is higher at $20.0M and is all raised at an average of 18 cents per share net of costs. That would require an additional 111 million shares to be issued. Including the Warrants, though not yet exercised, that would take total potential share count to 190 million which I will round up to 200 million shares on issue.
The Potential Market Price Per Share Incorporating Potential Dilution
It is arguable the neuromodulation therapy, if it achieves a successful 20 patient acute trial by December/January, will have a far easier and faster path to approval than could be contemplated for the C-Pulse at a similar stage. Following the successful C-Pulse Feasibility study and before commencing its Pivotal trial, Sunshine Heart had a market cap of over $160M at the end of December 2013. After deducting the $40M cash raised in late 2013, the market was effectively attributing a value of over $120M to the C-Pulse technology. Apply that same valuation to the neuromodulation therapy and project issued shares of 200 million and the result is a value of $0.60 per share, ~3 times the current share price. But that is an incredibly conservative projection. It does not include the Aquadex business, which I explain in Part 4 can be transformed in the near term into an extraordinarily valuable asset. It does not take into account that success in an acute trial of the neuromodulation therapy In December/January will likely allow most of that estimated $20M capital requirement to be raised at a far better price than $0.18 per share. And it does not take into account $4.0M cash receivable from exercise of the Warrants. Let us assume a higher valuation of the combined neuromodulation and Aquadex projects of between $200M and $400M and a lower share count of 160 million shares. That puts a future value on the shares of $1.25 to $2.50 each.
It Is The Potential Super Profits I Am Holding Out For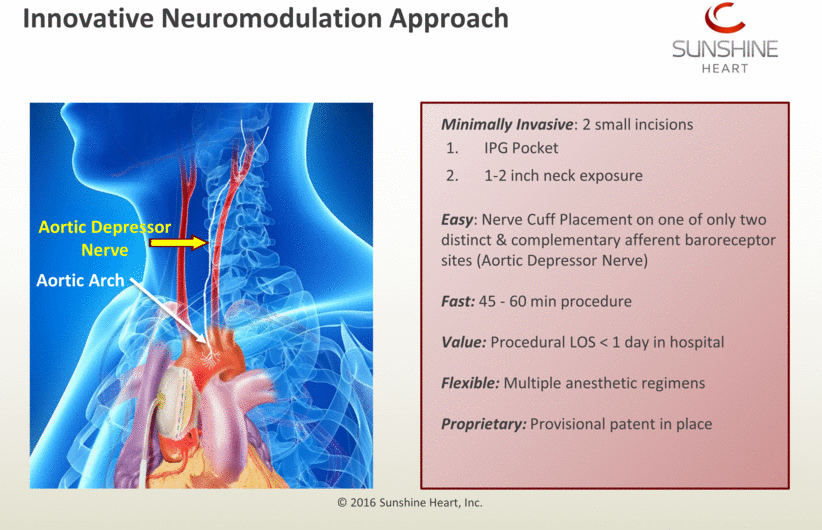 Hereunder is a summary of the results of my projections for the neuromodulation therapy included in Part 2 to this article series -
It can be seen from TABLE 2 in Part 2, the device is projected to be highly profitable even at very low market penetration percentages of 0.5% to 2.5% in the US and 0.1% to 0.5% in the EU. Even at these low percentages of the target market, the market cap projections in TABLE 2 above range from $500M in 2019 to $13.6BN in 2023. The potential market is huge. C-Pulse target market was the 3.7M patients in Europe and 1.5M patients in the US suffering from NYHA Class III and ambulatory Class IV heart failure. The simpler and minimally invasive neuromodulation therapy should have an either wider market.
Yes, I believe the $13.6 billion is achievable, if the neuromodulation therapy lives up to its promise. That remains a big if, but far, far less of an if than most small biotechs. At a $4.0 billion to $14.0 billion valuation, and with 200 million shares outstanding, the share price would be in the range of $20 to $70 per share.
Summary and Conclusions
I do still believe Sunshine Heart controls assets of potentially enormous value. So far, its execution in exploiting these assets has been far from optimal. I do believe the share price has potential to recover strongly from its present levels, if and when Sunshine Heart starts to execute in a meaningful and measurable way.
The first indication of that ability to execute will be arrangements for additional funding and commencement and completion of the acute 20 patient trial in December/January. A breathing space has been bought with the $3.2M raised, but at enormous cost to the Common Stock shareholders. If management allows the neuromodulation project to continue to run on idle and burning cash through December and January, and does not find a way to finance and move forward with the neuromodulation acute trial, it will be a major failure on the part of the management. Continuing to do nothing with a paused and heavily cash consuming project is not an option.
I certainly have been tempted to do what BrennanNoall did: sell. But, it is possibly a bit late in the day for that. I do continue to have faith in the value of the company's assets, and am loathe to miss out on a potential strong turnaround in share price. I also believe I have a real "show me a story" to tell about the potential of the Aquadex ultrafiltration business in Part 4 of this article series.That gives Sunshine Heart two strings to its bow, significantly increasing the chances of success.
Disclaimer: The opinions in this document are for informational and educational purposes only and should not be construed as a recommendation to buy or sell the stocks mentioned or to solicit transactions or clients. Past performance of the companies discussed may not continue and the companies may not achieve the earnings growth as predicted. The information in this document is believed to be accurate, but under no circumstances should a person act upon the information contained within. I do not recommend that anyone act upon any investment information without first consulting an investment advisor and/or a tax advisor as to the suitability of such investments for their specific situation.
Disclosure: I am/we are long SSH.
I wrote this article myself, and it expresses my own opinions. I am not receiving compensation for it (other than from Seeking Alpha). I have no business relationship with any company whose stock is mentioned in this article.
Editor's Note: This article covers one or more stocks trading at less than $1 per share and/or with less than a $100 million market cap. Please be aware of the risks associated with these stocks.