Sitting at my desk yesterday as the market finished its trading for the month of November, I could not help but think back to the crazy month we just went through. It was a month of the "unexpected". The unexpected happened as far as the election results were concerned, following which, the unexpected happened as far as the market reaction played out. The S&P 500 (NYSEARCA:SPY) finished up almost 4% on the month, while the DOW (NYSEARCA:DIA) was up almost 6.4% and the Russell 2000 (NYSEARCA:IWM) stole the show with an massive 12.5% gain. In my previous article on volatility (NYSEARCA:VXX) dated November 21st, 2016, I had flagged the possibility that the market was due for a pause. The pause has indeed materialized, however, it was the not the type of pause I had envisioned.
The pause I had envisioned, was what I would consider to be a healthy consolidation, or a small correction. This would be a situation where the market sells off and buyers materialize to provide support to the market. An unhealthy pause on the other hand is where sellers don't materialize and buyers are sitting on their hands. The sellers are being greedy hoping to ride their wins higher and buyers are not interested in chasing up prices. The past three trading sessions has shown us an unhealthy pause. Take a look at the chart below which shows how the last three trading sessions closed. In every instance, the market closed near its lows.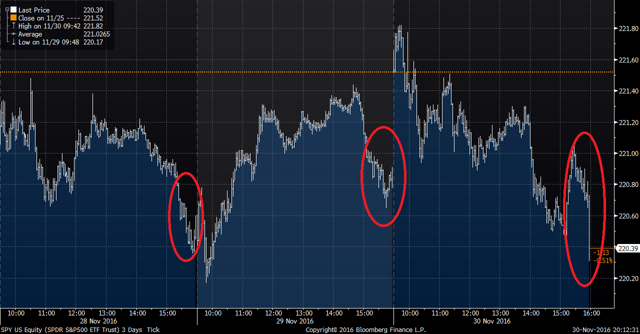 Click to enlarge
What is even more telling is what has driven the market recently. The strength in financials (NYSEARCA:XLF), Industrials (NYSEARCA:XLI) and materials (NYSEARCA:XLB) which propelled the markets post election was replaced by strength in one single sector, and that being energy (NYSEARCA:XLE). Take a look at the sector breakdown below: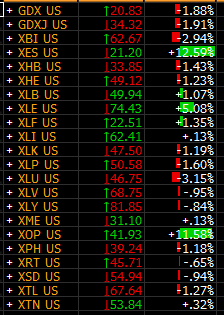 When the entire market is being supported by a single sector, on a piece of news out of OPEC which is based on promised cuts, not cuts which are being enforced, one has to ask whether the market is being supported by forces which have durability. I am not saying that oil prices will not rise from here. What I am saying is that I have never seen a strong equity market which is only driven by leadership in energy.
Now let's turn our attention to the S&P and why I think we may see volatility emerge once again. It has been purported that Trump's tax cuts may provide a lift of ~10% to the S&P 500. We are almost half way there in a matter of weeks but there have been no real announcements made thus far. It can be argued that the market has reacted too much and too fast. Now take a look at how investors are protecting themselves - or rather, not protecting themselves.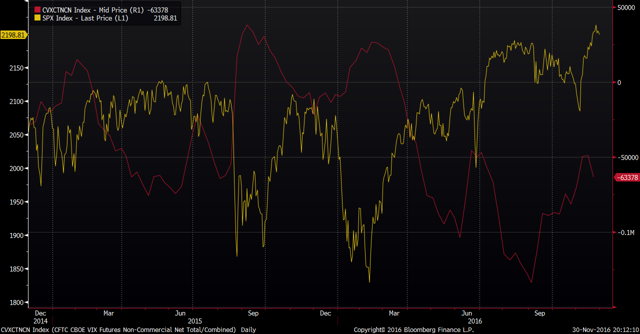 Click to enlarge
The chart above shows that as the market rallied, protection was peeled off and on a net basis. Now with the market at new highs and breadth failing on a short term basis and still lagging on a long term basis, this is an astounding development. Under 60% of the components of the S&P, NYSE and Nasdaq are above their 150 day moving average with all indices at or near their all time high. It also merits mentioning that the VIX is sitting with a very paltry 13 handle at the time of this writing. And the volatility of volatility, the VVIX index is sitting well under 90.
So where does this all lead us? In my estimation, we are likely due for a choppy start to December. The parabolic changes to yields, the US dollar and the rapid changes we have seen in equities needs to be digested. For this reason, I have significantly peeled back my short volatility exposure. I am not going short here because the I don't see any catalysts that could throw a wrench in the market in the near term. However, caution and cash are warranted for the time being.
Disclosure: I/we have no positions in any stocks mentioned, and no plans to initiate any positions within the next 72 hours.
I wrote this article myself, and it expresses my own opinions. I am not receiving compensation for it (other than from Seeking Alpha). I have no business relationship with any company whose stock is mentioned in this article.