We have talked about AMD (NASDAQ:AMD) in the past and how its new Zen processor is poised to change the prospects of the company. The release of Zen will arguably be the most important product release in the last 5 years for AMD, as it will bring AMD back into the CPU fight against arch-enemy Intel (NASDAQ:INTC) and also will impact Nvidia (NASDAQ:NVDA) (via its APU efforts.)
AMD recently announced that on December 13th at 3 PM (right after the markets close), they are going to give a sneak peak of the new CPU "Zen." Per AMD:
"Watch "New Horizon" (hosted by Geoff Keighley) for an exclusive advance preview of our new "Zen" CPU ahead of its 2017 Q1 launch. See eSports & Evil Geniuses legend PPD put "Zen" through its paces. There will be appearances from special guests and giveaways. This is the first time the public will be able to try it themselves and see its capabilities."

Click to enlarge
AMD will be live streaming this event, during which we can hope to gain a more intimate knowledge of Zen as far as its capabilities and how it stacks up against Intel. This might ignite the Zen hype machine, and of course, affect the stock, propelling it northward. AMD certainly thinks it's a big deal via the countdown timer on the New Horizon website.
By now, you are thinking "I've heard all about Zen." Yes, you have, but have the unwashed masses that buy stock? No - but soon they will and that is when the hype machine kicks off.
Indicators
AMD is allowing a pro-gamer a shot to try out Zen and live streaming the event. We might view this as an indicator that Zen is getting much closer to launch during early Q1, (hopefully, during the January to February time frame.)
How to play it
We received an email last week asking how to buy a stock option and how it all works. If you already understand stock options, you can skip this part. If not... read on.
A stock option is a form of leverage. To quote Rob Zombie it is "400 Horsepower of maximum performance piercing the night." A stock option in the form of a Call allows you to control 100 shares per contract you purchase for a limited amount of time. This could be a few days to even years. A Put functions just the inverse - you can "put" your stock on someone at the contracts strike price. Of course, you must pay for this right by purchasing contracts - and it comes with risk.
With great leverage comes great risk. Yet you cannot lose more than you invest if you are buying puts or calls, selling them is an entirely different beast.
Example
Assume the Zen hype will make AMD's stock take off and you want to capitalize on this. Unfortunately, you lack funds to purchase large blocks of stock, or you do not want to take on that much risk.
Instead of putting up roughly $900 for 100 shares of AMD stock, one might buy the April Calls at a Strike 10. They can be bought on the ask side for 1.14 as of November 29th. This amounts to $114 per contract to control 100 shares. Granted, stock options do expire once they go past the expiration date.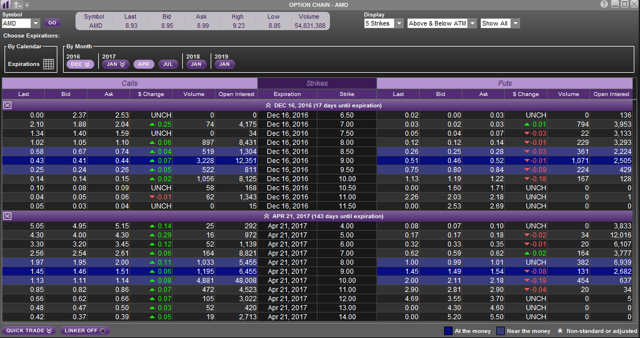 Click to enlarge
If we look at the above capture, we can see 2 sets of information for 2 different time frames of December and April. On the left, we have the Call options that if you purchase allow you to buy stock at the strike price up to the date of expiration (or you could always just sell the options back into the market.)
Puts are the inverse. A put allows you to "put" your stock on another person. Example: You purchase 100 shares of AMD stock at 9, but you fear a potential sudden drop. If you purchase a put, you use it as insurance on your investment. In this example, we purchase the December puts at a strike of 8 at a mere .14 cents (remember 1 contract is 100 shares so your total comes out to $14 plus commissions). If calamity strikes, your maximum loss stops at 8 per share. Even if the stock goes to one penny, you can "put" your stock on the seller of the contract for $8 per share.

Recommendations
Short term - In order to play the Zen preview on December 13th, we might wait to just a few days before the live event and buy a strike that is very close to the current share price in hopes of a pop. By then, the time decay on the options will have eaten away most of the time value left lowering the option price. Remember, time is not your friend if you are buying contracts. As you can see, time decay accelerates the closer one gets to option expiration.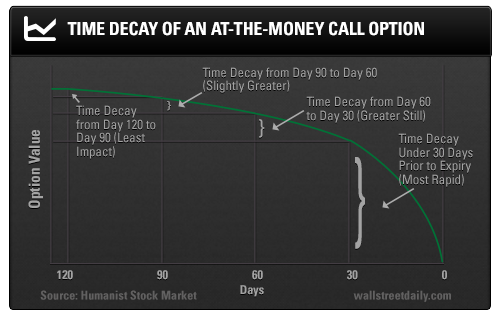 Long Term - We like buying the April calls at a strike of 10. As of Nov 29th, they can be had at 1.14 per contract. This gives up a nice window to let Zen arrive in and yet capitalize on any Zen/Vega hype that might come down the pipeline.
Disclosure: I am/we are long WE OWN AMD STOCK AS WELL AS CALLS FOR THE JAN AND APRIL TIME FRAMES. PROTECTIVE JAN PUTS ARE IN PLACE.
I wrote this article myself, and it expresses my own opinions. I am not receiving compensation for it (other than from Seeking Alpha). I have no business relationship with any company whose stock is mentioned in this article.