Conatus Pharmaceuticals, Inc. (NASDAQ:CNAT) is an early-stage developmental biotechnology company in the liver disease field. Its lead compound, emricasan, is an oral pan-caspase protease inhibitor designed to slow or halt the damaging effects of inflammation and apoptosis in the liver. It works by inhibiting human caspases in the liver, which are enzymes that lead to processes of inflammation and cell death. Excessive caspase enzymatic activity, as seen in severe liver disease, leads to liver fibrosis, cirrhosis, and eventually the need for a transplant for survival.
Conatus' market outlook for emricasan is quite large, as it is one of the multiple companies with products in development to deal with NASH (nonalcoholic steatohepatitis) and its consequences. Briefly, NASH is a liver disease that resembles alcoholic liver disease, but is found in individuals with little or no alcohol consumption. Its traits typically include a buildup of fat in the liver, along with excessive inflammation and cell death. NASH is labeled as a silent disease since most patients with NASH are asymptomatic, and do not develop symptoms until late-stage manifestations arise. There are currently no approved treatments for NASH, and the potential market for the drugs that make it through their developmental and marketing stages successfully has been touted to be as high as $35 billion. For a great overview of the main players in the NASH field, which includes some of CNAT's competition, see Logribel Biostocks' article "NASH Drugs: A Comprehensive Review Of Current Clinical Trials". This is especially recommended as the rest of the article will assume the reader's familiarity with the NASH field and focus on Conatus' outlook in the market going forward.
Emricasan's mechanism of action makes it a unique broad-based treatment option
Liver disease typically progresses in the following fashion: inflammation, fibrosis, asymptomatic cirrhosis, symptomatic cirrhosis, liver failure and need for transplant. This progression of fibrosis and cirrhosis occurs as inflammation and cell death increases, mediated by caspase activity, leading to significant scarring and loss of liver function. Emricasan, being a caspase inhibitor, blocks the enzymatic pathways that lead to inflammation and cell death. Due to this very general mechanism, emricasan has the potential to deal with the consequences of moderate to severe liver disease, regardless of the specific disease causing the progression. This positions emricasan uniquely in the field of NASH, as other competitors are developing drugs that focus on earlier stage intervention in the progression of NASH rather than consequences of NASH and liver disease in general. In addition to this, because emricasan works on the later stages of liver disease, it is an interesting candidate to be used in combination therapies with other drugs that successfully make it to market for the treatment of NASH at earlier stages of disease.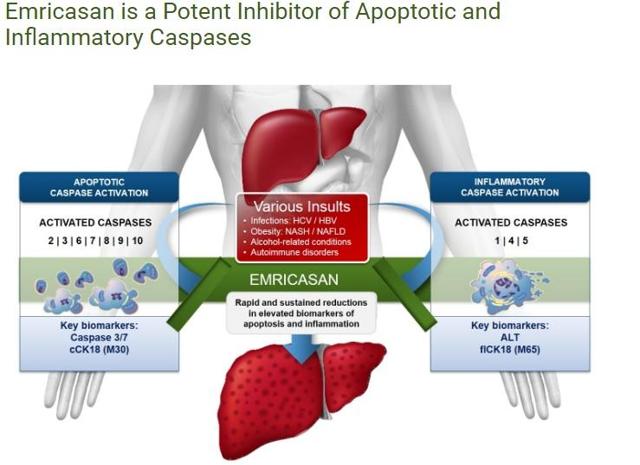 Click to enlarge (Source: CNAT)
Market potential for emricasan may be better than it appears
Currently, the focus of most drug developers in the NASH field is on dealing with NASH fibrosis and early-stage interventions in the disease cycle. Conatus has taken a different approach with emricasan, focusing primarily on later-stage cirrhosis treatment with emricasan - and for good reason. As illustrated below from management's presentation at the 2016 Stifel Healthcare Conference on November 16, 2016, cirrhosis affects approximately 630,000 US adults, with costs of up to $9.8 billion to the healthcare system. 36,000 patients die each year from late-stage liver disease, where the only current cure is a liver transplant with a huge waiting list (approx 15,000 waiting, with 7,000 livers available each year).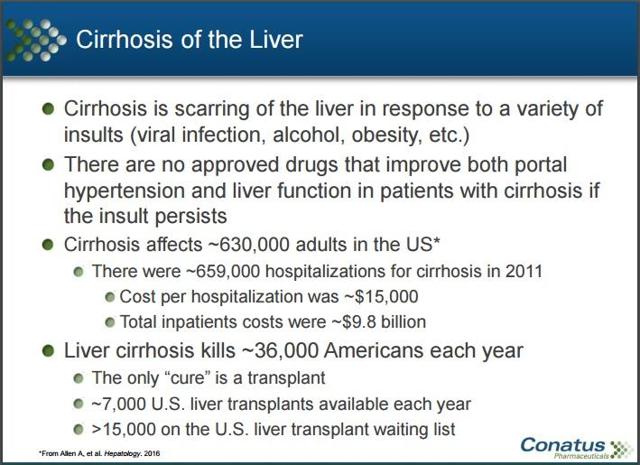 Click to enlarge
(Source: CNAT)
Taking a look at the market size, advanced NASH fibrosis (F2-F3 stages, approx 15 million US and EU patients) does have a larger patient population base relative to NASH cirrhosis (F4, approx 0.9 million US and EU patients). However, when we take diagnosis rates into account, the treatable diagnosed population sizes for patients with earlier NASH fibrosis and NASH cirrhosis equal out. This is because NASH is a silent disease as mentioned previously, and patients do not seek treatment until they become symptomatic. This results in a skewed diagnosis rate in favor of NASH cirrhosis relative to NASH fibrosis. Until better screening and diagnostic tools are developed to raise the level of diagnosed NASH fibrosis patients, the large estimated population size with NASH fibrosis will not carry over into the group of patients who will be seeking treatment.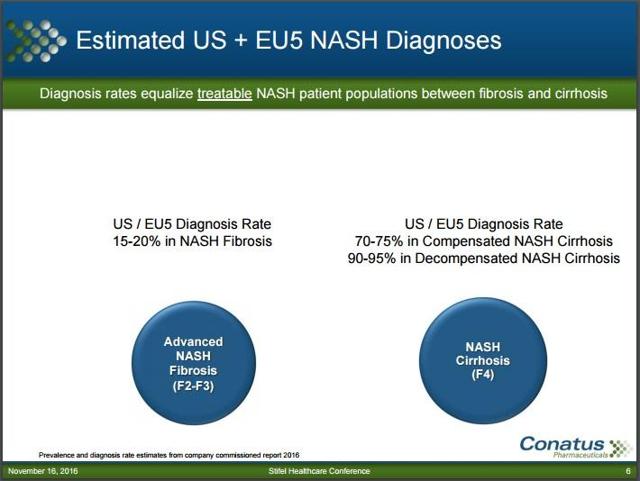 Click to enlarge
(Source: CNAT)
The next market factor that favors emricasan going forward is that there are far fewer drugs in development for NASH cirrhosis compared to NASH fibrosis. Currently, approximately 20 different drugs are being explored as treatments for NASH fibrosis while only two are being explored for NASH cirrhosis - emricasan being one of them. This lack of intense competition in the cirrhosis treatment field, along with similar diagnosed market potential as NASH fibrosis, and potential combination treatments down the road with early-stage fibrosis treatments, makes emricasan a unique player in the NASH and general liver disease field.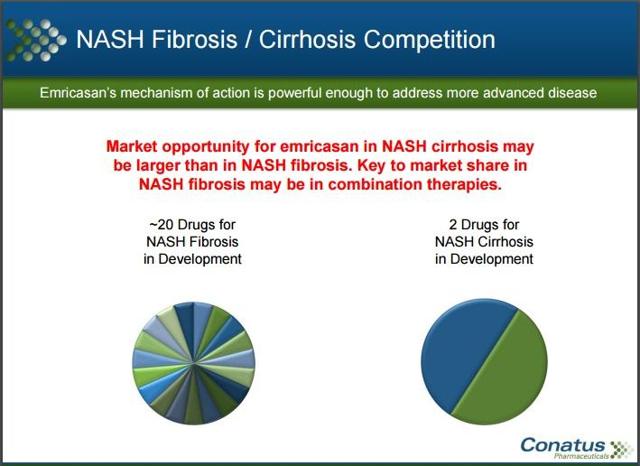 Click to enlarge
(Source: CNAT)
Clinical Trial Overview and Timeline
Conatus currently has several clinical trials at various stages in process. Below is a general overview of these trials and their expected timelines; please see the conference presentation slides for detailed breakdown: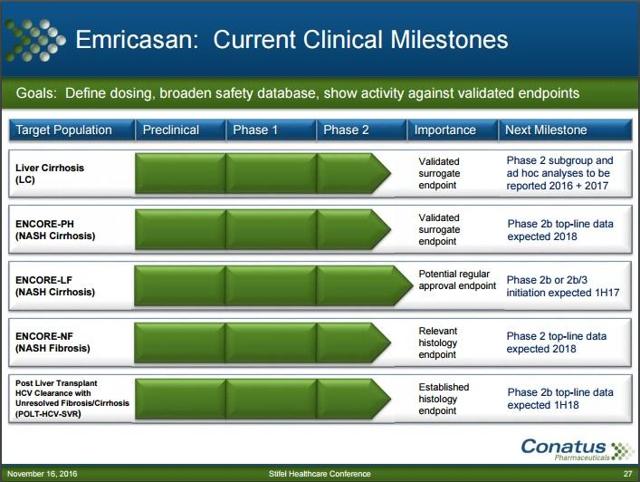 Click to enlarge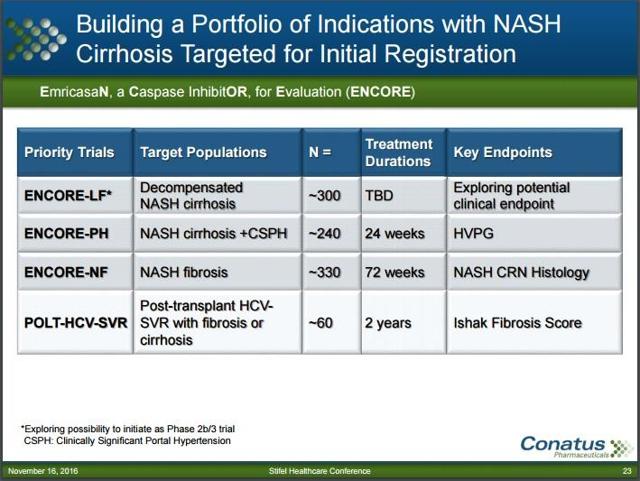 Click to enlarge
(Source: CNAT 2016 Stifel Healthcare Conference)
On top of the studies shown above that are in progress, management is planning an ENCORE-LF study, with expectations to start in H1 2017, that seeks to get approval for a clinical endpoint rather than a surrogate endpoint and be classified as a phase 3 trial for liver cirrhosis. If approved, this will accelerate its time to market for such a treatment, but it is not in any sense guaranteed. Management is having ongoing discussions to see whether a phase 3 trial will be appropriate, although the higher likelihood is that it will need to do a phase 2b first. This will be an announcement to watch for going into 2017.
Depending on the results of the above trials, management could have the data on hand to expand the scope of treatment for emricasan to earlier stages of liver diseases, especially with histology endpoints used in its NF and POLT-HCV-SVR trials.
Management has also stated it plans to release the three-month follow-up open-label results and analysis of its liver cirrhosis phase 2 trial in late 2016/early 2017. Besides this, all other trials in progress have at least 2018 top-line result timelines, making emricasan a long way away from getting through its developmental stages.
Plan for Conatus Going Forward
Management's plan for emricasan is to register it initially for treatments in patients with cirrhosis due to NASH. If emricasan is approved for this patient population in the US and/or Europe, management seeks to build its own commercial organization to market emricasan, along with its own sales team to target MDs dealing with NASH. If emricasan continues to show strong clinical results, management would look to expand emricasan's use to larger patient populations through combination treatments and partnerships with other biopharmaceutical companies.
As of November 1, 2016, CNAT had approximately 26 million shares outstanding. As of September 30, 2016, CNAT had $31.1 million cash on hand, which, at the current burn rate, should be enough to last for another year or so in operational/clinical expenses. CNAT has a $50 million ATM in place with MLV & Co. LLC since August 2014, of which it sold 6,155,721 shares for approximately $13.5 million net of expenses, as of its November 8, 2016, 10-Q.
With the current share price <$2.00/share, management may find itself diluting existing shareholders substantially to raise funds through its ATM. Unless significant positive news emerges, or a partnership is announced to help offset the costs of development, this poses a risk to existing shareholders and the share price. This is a concern going forward since there will be multiple trials in progress in 2018 at what will be a much greater cash burn rate. Due to distant timelines for completion of current and planned trials, management will need to find ways to raise the necessary capital, preferably via partnership and then further stock dilution as needed.
Market outlook for NASH companies
On September 20th, 2016, Tobira Therapeutics, also an early-stage NASH player, got bought out for a massive premium by Allergan (NYSE:AGN), rocketing the microcap company from a market cap of $78 million to over $730 million. This came after Tobira announced disappointing phase 2b results where it did not meet its primary endpoints. With the huge potential market in this field, it isn't surprising to see bidding wars emerge for small-cap companies that may have a better drug candidate in development than the big pharma players do. As a result of this buyout, you can be sure that other players, such as Gilead (NASDAQ:GILD) and Pfizer (NYSE:PFE), are paying attention and taking a look at what's available to pad their own pipelines. With Allergan's CEO being quoted saying that the Tobira deal was a "very competitive situation", that leads one to think that there is at least one other large pharma looking to buy out a smaller target, if not a couple. With potentially billions in repatriated capital coming back to the US via corporate tax cuts under Trump, this could be a very interesting area for acquisitions going forward.
Summary
Emricasan is a unique play in the NASH field, due to its broad function in treating NASH cirrhosis, and potentially NASH fibrosis and earlier-stage liver disease with label expansion. There is limited competition in the cirrhosis field, with an almost equal diagnosed market size of patients needing treatment between NASH cirrhosis and fibrosis. Although the timeline for reaching the market for emricasan is arguably quite distant relative to other NASH players, its broad mechanism of action could help it gain rapid market share through combination therapies down the road. Acting as a surprise factor is the sector CNAT finds itself in, with hungry large biopharms looking for potential buyouts or partnerships with the most promising drugs in development. However, it is always crucial to remember that the success of these microcap companies hinges on their main drug. If future trials do not show positive results, and management is unable to partner or sell sufficient shares to raise needed capital, the company can always go under. Investment in this field is risky and often a gamble. Going forward, CNAT presents itself as an interesting player in the field, with great potential IF all goes as planned with its trials and financing needs.
Disclosure: I/we have no positions in any stocks mentioned, and no plans to initiate any positions within the next 72 hours.
I wrote this article myself, and it expresses my own opinions. I am not receiving compensation for it (other than from Seeking Alpha). I have no business relationship with any company whose stock is mentioned in this article.
Editor's Note: This article covers one or more stocks trading at less than $1 per share and/or with less than a $100 million market cap. Please be aware of the risks associated with these stocks.