Facebook's New Revenue Stream?
Shares of Facebook (NASDAQ:FB) haven't been doing bad necessarily, but despite topping earnings and revenue estimates last quarter, the stock has struggled to maintain its upward trajectory thanks to management's comments about slowing growth in the future.
I mean, we can't possibly expect a $340+ billion market cap company to continue growing revenues at more than 50%, right?
Seems reasonable and given that reduction in expectations, the stock is actually handling it pretty well. But amid Facebook facing a slowdown in ad-based revenue, it is clearly looking for other ways to keep its revenues moving from the lower left to the upper right.
The company has now introduced a number of games, including Pac-Man, Words With Friends, Space Invaders and others for its users to play in their News Feeds. It also allows for in-game chat and group chat capabilities.
The Instant Games service will allow users to load full-screen games on their devices, available for users in 30 countries.
While there aren't any revenue streams available just yet, it doesn't mean that over time in-game purchases or possibly advertisements couldn't generate sales for Facebook. Instant Games is just the latest addition for the company, which has worked to make its Messenger, WhatsApp and Instagram properties more attractive to users too, while also boosting features found on its original Facebook platform.
Specifically, the company has added interactive calendar features, a marketplace, a workplace and a jobs/recruiting feature. The company has also tapped into appointment requests, event ticketing and food ordering.
Will all of these features spit out revenue growth? No. But perhaps between all of them, it will help to bolster the company's revenue growth rate and will ensure that long-term earnings growth remains viable, especially as it continues to make pinpointing customers an easier task for advertisers.
Download Netflix Content
On Tuesday we touched on the idea that Netflix (NASDAQ:NFLX) isn't going anywhere and being placed on set-top boxes shows just that. On Wednesday though, the company announced perhaps some of the most significant news about its service in a while: its content is now downloadable.
Downloadable content plays into the idea of keeping the platform in front of consumers' eyes as much as possible. It's what Snapchat (Private:CHAT), Facebook and a number of others are constantly striving to do.
The longer companies keep themselves planted in front of customers, the stickier their platform becomes and the more valuable their product is. If users can download shows or a movie from Netflix, they now no longer have to rent something from the Apple Store when they're on a flight, for instance. Or now, they don't have to use up their data when they're not streaming via WiFi.
This is valuable both at times when we don't have service and in other countries where internet connections may not be as prevalent as they are in the U.S.
The product feature gives customers one more reason to stay subscribed and one more reason to justify paying a higher price when Netflix inevitably raises prices once again.
This in turn fuels the whole circle: Netflix gains further in popularity, more customers ditch the cable box, more cable companies partner up with Netflix, Netflix gets bigger, more valuable and more popular. Then it's rinse and repeat.
Now the question of Netflix's existence isn't really a question, unless it comes to someone buying them. But its stock is another story. Trading at 377x last year's earnings and 122x next year's expectations, it's anything but cheap. But how do you assign value to a game-changer like Netflix?
GoPro's Restructure
Shares of GoPro (NASDAQ:GPRO) climbed 1.5% Wednesday, but closed well off the highs after it announced a restructuring. From the SA News Alert:
"The restructuring includes the closure of its entertainment division, facilities reductions, and the elimination of more than 200 full-time positions plus the cancellation of open positions for a reduction in force of approximately 15 percent."
The result will shave about $85 million off the company's planned 2017 operating expenses and CEO Nick Woodman looks like he may finally be serious about refocusing the company's efforts on its core business. That would be a big win for a company that has seen its stock price fall from the mid-$80s at its highs, to sub-$10 prices.
Aside from perhaps an increase in confidence that management is straightening out the company, investors should also be happy to hear that the Thanksgiving to Cyber Monday period saw sales climb 33% vs. 2015.
That's pretty impressive and it shows that GoPro's products are still in demand. Of course, last year's five-day stretch didn't go quite as well, thanks to some inventory management issues. Some may recall the company's disappointing Q4 results and also a string of job cuts earlier this year.
So all of this is to say, where's GoPro headed from here? All the latest signs have said not to trust this now sub-$1.5 billion company. With management continuing to swing and miss, increasing competition and a stock that never seems to stop declining, how do you know when it's time to step in?
I see GoPro as a category leader, for sure. And maybe its sales results this year will be really impressive. But I'm not a big believer in its Karma Drone, simply because of its high price and the addressable market. Its last earnings report was not good, to put it kindly.
While every stock eventually bottoms - and GoPro actually looks pretty good on a chart - I can't be certain whether its has or not.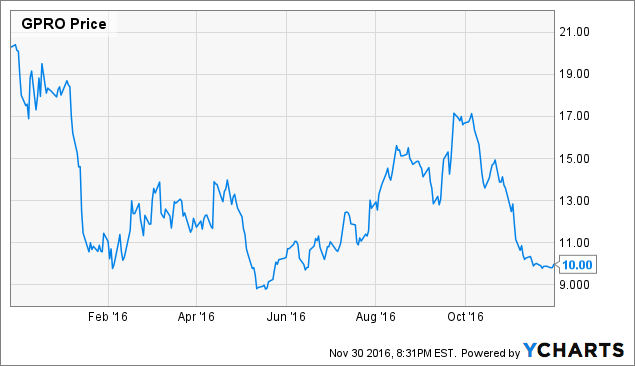 Disclosure: I/we have no positions in any stocks mentioned, and no plans to initiate any positions within the next 72 hours.
I wrote this article myself, and it expresses my own opinions. I am not receiving compensation for it (other than from Seeking Alpha). I have no business relationship with any company whose stock is mentioned in this article.