Gold price seems to have stabilized
It has been a brutal ride for gold (NYSEARCA:GLD) bulls. After reaching a peak of $1338 during election night, to the surprise of many, the precious metal reversed course and dropped to $1,173 last Friday.
The extent of the decline in gold prices, which was about 12% in less than three weeks (i.e. 12 trading days), shocked many market participants, as it is unusual for the precious metal to experience such a sharp decline within a short time frame.
What is equally surprising is that gold prices have crashed on the back of bullish news, with many traders expecting a Trump victory to provide more fuel for the precious metal to rally.
After falling relentlessly since the election, gold prices seem to have stabilized, at least for the moment. During the time of writing, gold was trading at $1,187.75.
Non-commercial funds have been selling gold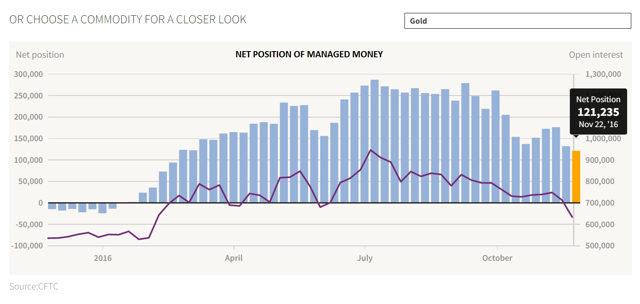 Click to enlarge
Reuters
The latest commitment of the traders report from CFTC demonstrates that managed money continues to sell its long gold positions. The chart shows a strong positive correlation between gold prices and managed money positions for 2016.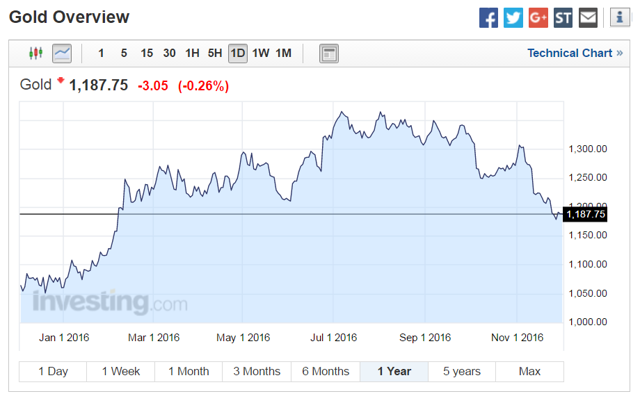 Click to enlarge
Investing.com - Gold 1 Year
The strong positive correlation between managed money positions and gold prices in 2016 surprised me. In my opinion, managed money positions in gold reported by the CFTC carry a great deal less weight when compared to other commodities.
In order for speculators to gain direct exposure to price movements for commodities, buying or selling futures/options contracts is often the best way to do so. This reason for this is because the majority of commodities are rather costly to possess and store. Additionally, we have to worry about factors such as shelf life when it comes to commodities like soybeans or corn.
Gold, in contrast, could easily be bought and stored in a personal vault. You do not have to worry about the shelf life of gold - it'll still be there when your grandchildren try to retrieve it. In fact, it's better to own physical gold compared to ETF/futures contracts if you're trying to protect yourself from an abrupt financial crisis.
Last but not least, the heavyweight long term "investor" in gold, namely, central banks, purchase physical gold. These will not be shown in the CFTC position.
Based on the above reasons, I presume that the commitment of the trader report will be less relevant for the gold market. Therefore, I'm very surprised to witness such a strong relationship between speculator positions and gold prices.
Current market's perception is key
After spending the past twelve months in consolidation mode, the dollar index broke out of its range and turned decidedly higher. With the FED about to raise rates, and more good news for the dollar pouring in, I expect the dollar to continue moving higher.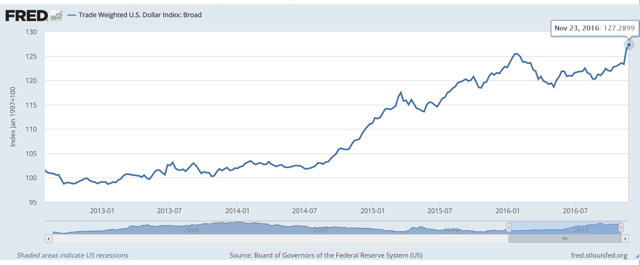 Click to enlarge
King dollar moves higher
Does a stronger dollar mean lower gold prices? - Avi Gilburt published a great article questioning this conventional wisdom.
Here's my take: Gold will tank because most people "comprehend" that they are negatively correlated.
When one sees a dramatic move in the dollar, one automatically assumes one will encounter an equally dramatic move in gold - As Avi himself has pointed out.
This belief will strengthen itself, especially if the dollar continues to march higher, while gold continues to decline, "proving" that such comprehension is a correct one, and creating a bearish spiral of death for gold, which leads me to think sub-$1,000 gold.
It is not the strong dollar that would kill gold, but rather the people's perception of a stronger dollar.
This is why I believe that market's perception will be the key. I predict the market expectation to turn more bearish on gold on the back of stronger dollar, rate hikes and stock market euphoria.
Conclusion
Since the great gold bull run was initiated back in 2000, gold hasn't made a 50% correction in the past 16 years. Why can't it go lower before heads much higher? It is very common for a commodity to correct 50% every 5-10 years, even during a bull market. In my view, this correction is long overdue for gold.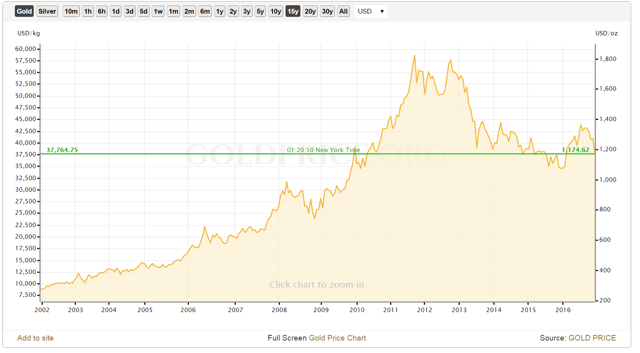 Click to enlarge
Gold 20 Years Chart
I still hold the view that gold is headed lower for the short term.
Looking at the longer term, the bond market will be among the reasons for higher gold prices. What would the government do if the US-treasury continues its current free fall? President Trump needs $1 trillion for his grand infrastructure plan.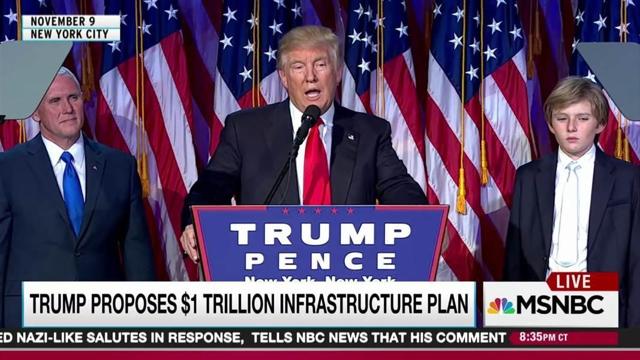 Click to enlarge
Note: Avi Gilbert's "Sentiment Speaks" provides an interesting read. It is often thought provoking, and makes me stop and think much deeper than I would regarding the market. I would recommend investors read "Sentiment Speaks", especially if you invest in the gold market. It would certainly help to broaden your view, and thus breakaway from conventional thinking.
Disclosure: I/we have no positions in any stocks mentioned, and no plans to initiate any positions within the next 72 hours.
I wrote this article myself, and it expresses my own opinions. I am not receiving compensation for it (other than from Seeking Alpha). I have no business relationship with any company whose stock is mentioned in this article.
Additional disclosure: I own physical gold.