Market Expectations
Apple (NASDAQ: AAPL) finished the most recent quarter with $237.6 billion in cash plus financial assets. Apple sold nearly 212 million iPhones globally. Now what?
Well, the status quo is that Apple is perpetually undervalued, at least since 2012 on a price-to-earnings multiple, relative to the S&P 500. Tough love given Apple grew earnings by 64% over the past five years.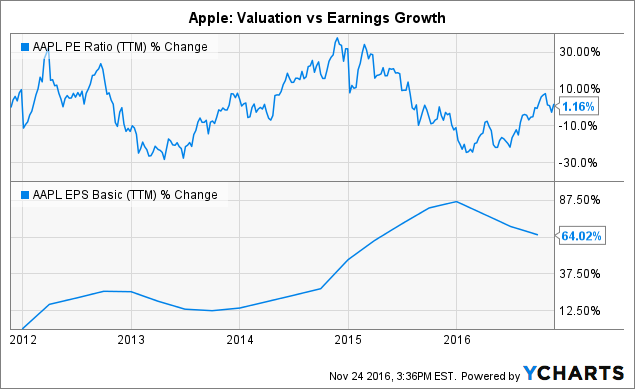 At time of writing Apple is trading at $111 per share. It's clear at this price the market isn't discounting much future growth.
Just divide 1 by your cost of equity estimate to get the P/E that would be a fair multiple to pay for the current business, as is, no growth. Let's use 9%, for this example.
So, if Apple traded at exactly 11.1 times earnings, the market price would imply a future without growth. Apple's trailing P/E based on a $111 share price and basic EPS is 13.3x. Expectations for future growth are low.
The Brand
In forming an outlook for 2017, it's useful to put in perspective how innovative and user-friendly Apple hardware and software is. Apple products are often described as ones that simply work. Not all the competitors, past and present, can say the same.
Some of the worst feedback in 2016 was for the new ports, USB-C, used on the MacBook Pro, which required costly adaptors. Apple responded with price cuts on all the newly required accessories. Other recent missteps to mention include Apple Maps and the iOS 8.0.1 update. But at the end of they day, Apple maintains high, perceived or real, switching costs, which bodes well for fending off competition in the years to come. Interbrand estimates Apple's brand to be worth $178,119 million, ahead of Google (NASDAQ:GOOG) (NASDAQ:GOOGL), Microsoft (NASDAQ:MSFT) and Samsung (OTC:SSNLF) by $45 million, $105 million, and $126 million, respectively.
Just imagine Motorola or Nokia had some complementary devices or services. What if BlackBerry (NASDAQ:BBRY) had more than BBM? Apple does: Apple Watch Series 2, Apple Pay, Apple TV, iOS 10 and the App Store.
What's in store for 2017?
What's next is what worries investors, especially given the lower return on R&D Apple has delivered over the past five years - in stark contrast to the long-term trend. To us, the recent trend of lower return on research and development indicates that many of Apple's core products have reach maturity. But also that management is putting a lot of capital to work to develop new technologies.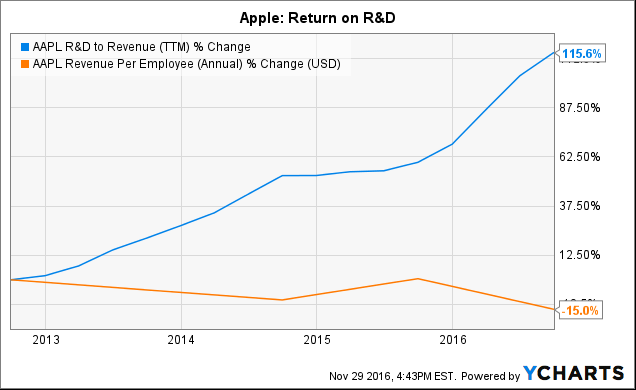 Apple is integrating augmented reality into the iPhone camera, testing wearable technology like glasses, pondering a scaled down version of a rumored Apple Car, perhaps simply an autonomous driving operating system. The timeline on these projects is unknown. But we view Apple shareholders as the owners of long-term call options on the success of any of these technologies. The call options are valuable, given Apple's deep pockets and track record of successfully bringing new tech to market. The market's current low expectations also reduces the cost and increases the probability of profit on these options.
Tailwinds in 2017
iPhone sales likely peaked in 2015, with 231 million units sold that year. 2016 saw nearly a 7.7% year-on-year total revenue decline. But in the latest conference call, Luca Maestri called for a record setting quarter to start off 2017 - $76 to $78 billion in sales. The midpoint of the guidance represents a 1.6% increase versus the 2016 first quarter net sales results and 3.2% greater than those of 2015.

For 2017, it's clear that easy growth may be now only a memory. Today not many of those who purchase an iPhone can call themselves early adopters. But there are several reasons to be optimistic for 2017.
In 2017, new product launches will play a significant role in terms of unit sales and Apple's ability to raise prices. Higher prices aren't the norm in the technology sector, but the average sales price of iPhone is set to increase further. The cheapest available handset now retails for $649. Worldwide the average sales price in the last quarter of 2016 was $619 and $595 in the quarter before that.
The Mac lineup also will receive a lift from the new generation of MacBook Pro laptops. Also, the Services segment will continue to benefit from greater adoption and use of Apple Pay and iCloud. As Tim Cook noted, Apple Pay transactions were up 500% on a year-over-year basis in the last quarter of 2016.
In 2017, year-on-year revenue comparisons will be easier, given the third quarter of 2016 represented the trough of the iPhone 6 cycle. Margins may also surprise if the devastating impact from the US dollar rally subsides. Foreign currency headwinds impacted Apple's gross margin by an incremental 340 bps in 2016, relative to 2015. Apple also will continue to benefit from macro trends like greater adoption of high-speed communications networks in emerging markets.
As 2017 plays out, Apple shareholders also will benefit from the capital return program.
Since re-instating dividend payments in 2012, Apple has a solid track record of increasing payments annually. The dividend is up 30% over the last three years. Another dividend increase is almost certain in 2017. Just compare Apple to its more mature competitors HP (NYSE:HPQ) and Microsoft that pay out 34% and 68%, respectively. Apple pays out 27%.
Apple's capital return program, dividends and buybacks, is set to return another $63.8 billion by March 2018. That's about $12 per current share outstanding.
Fair Value Estimate: $133
Our fair value estimate is $133 per share. Base case assumptions include a corporate tax rate of 25.6%, the status quo, net sales of $228.6 billion in 2017, up 6% from 2016, and from there, a slight decline with a CAGR in revenues of 4.7%, from 2017 to 2021.
We further expect SG&A costs to remain flat as a percentage of sales and Apple's net investment to increase as it seeks to develop new technologies. The cost of capital input is 10%.
To be clear the base case assumptions don't price in greater return on R&D investment, nor do they assume the spectacular revenue growth of the past five years, a result of the iPhone. In our opinion, the assumptions are conservative.
There is room for Apple shares to appreciate in 2017 as the company also looks attractive on a relative basis. For example, our base case projects that Apple will earn an EBITDA of $74.5 billion, up 5.6% from 2016. The median of analysts' estimate is $73.5 billion. If Apple reaches our EBITDA target and the EV/ EBITDA multiple remains constant, at 8.4x, Apple shares should trade at $145.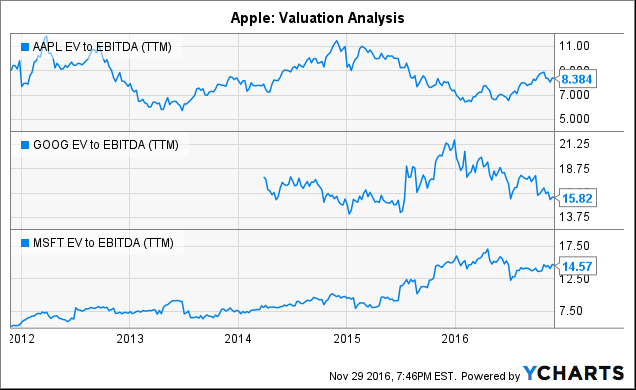 At current market prices, $111 per share, the expectations for Apple shares are solely negative. The market prices in materially slower revenue growth, about 3% top line growth by 2021, moderately higher operating costs, and significantly higher net investment requirements. Negative sentiment appears to be the consensus. But low expectations can be just what Apple buyers need.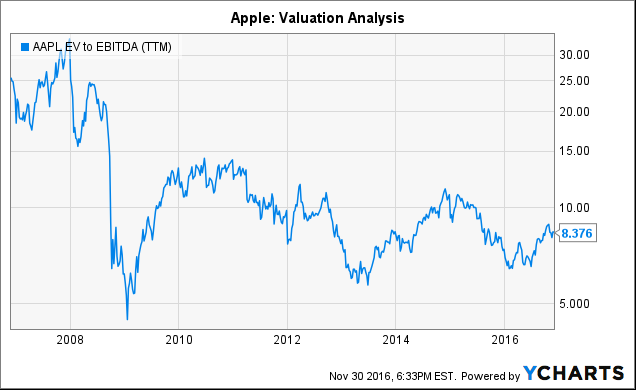 Disclosure: I/we have no positions in any stocks mentioned, and no plans to initiate any positions within the next 72 hours.
I wrote this article myself, and it expresses my own opinions. I am not receiving compensation for it (other than from Seeking Alpha). I have no business relationship with any company whose stock is mentioned in this article.