Overview
It is no secret that GoPro (NASDAQ:GPRO) has been riding on the struggle bus for some time now. Business performance has lagged across the board year-over-year, and the stock price appears to reflect that. GoPro started the year trading in the $18 per share range, which has recently dropped to about half that. Knowing GoPro has a strong brand, one might think it's time to pick up a few shares from the bargain bin. However, the story might be a little more complicated.
Here are the highlights of GoPro's recent struggles:
Production issues with HERO5 camera

Temporary halt in Amazon (NASDAQ:AMZN) sales

Karma drone recall
Basically, HERO5 production ramp up for the holidays came in a little later than expected. There were some misunderstandings with Amazon, and Karma drone had technical defects that resulted in a total recall. But enough of the slip ups from the recent past. What does GoPro have going for or against it in the future?
What's in store for GoPro?
If I had to name the single most positive factor for GoPro, it would be brand name recognition. Anybody mentions something about action cameras and you immediately think "GoPro." To bring back an antiquated reference, it's like the branding that Xerox (NYSE:XRX) had with copy machines.
Brand name recognition is great, but monetizing the brand isn't as easy as slapping your logo on a piece of plastic. GoPro built its brand by tackling the well-established camera industry from a completely different angle. I would consider this a thought innovation - they took existing technology and brought new meaning to it. When someone says "action camera" most people will make the connection of a camera strapped onto a helmet, after putting some thought to it. When someone says "GoPro," there is no delay in thought. You immediately think of that tiny camera that attaches to people doing crazy things.
GoPro's innovations since its initial launch have been incremental, which are more comparable to base hits than to home runs. While there is nothing wrong with incremental innovation, GoPro's competition is mostly caught up as far as the product spec game goes. Fortunately, this is where GoPro's established brand name comes in handy. It's probably not farfetched to say that GoPro will continue to have a "brand edge" that allows them to command a larger share of the market and a better price point in the action camera market for the foreseeable future. That said, the market itself is more mature now than it was a few years ago. You'll always have the small group of fanatics that will wait in line to buy the latest GoPro product every time it is released, but the average Joe probably won't have the desire to buy an expensive action camera every year or two.
Karma Launch
Entering the drone industry makes a lot of sense for GoPro. Drones are cool and "action-y." Drones with GoPro cameras sound even cooler. However, the Karma drone launch (and subsequent recall) highlighted a few missteps for GoPro. The problem here was that GoPro lost the technical spec battle and the execution battle. The main competitor here is DJI, that has a solid product (Mavic Pro), but nowhere near the brand recognition that GoPro has with the general public. The short version of the Karma launch story is this:
GoPro launches Karma drone

DJI launches Mavic Pro

Reviews from everybody suggested that Mavic Pro was better than Karma in basically every way possible.

Karma drones get recalled.
I don't think this is the end for Karma, but we can all agree that the Karma launch was an important setback for GoPro. If the two drones had roughly equivalent specs and same prices, I'd bet money that the average Joe (not a die-hard drone enthusiast) would have chosen the Karma over the Mavic Pro simply because of GoPro's brand name. Unfortunately, this wasn't the case for the initial launch - and this setback probably brought more positive attention to DJI than it brought negative attention to GoPro.
The Business
GoPro's balance sheet looks pretty OK, but recent revenue stinks: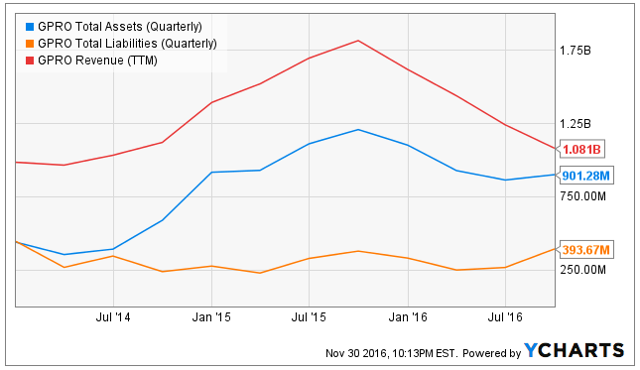 Click to enlarge
Source: YCharts
What most people seem to be concerned about is whether the falling revenue will ever pick back up. It's hard to say with any degree of certainty that the revenue will return to previous levels through action camera sales. The good news is that GoPro maintains a strong brand name and it's has some time and money. Exploring other action products makes sense. However, if the Karma launch was any indication, they have to at least build a product that matches competitor specs, and then slap the GoPro brand on it. Other product categories that come to mind are wearable fitness gadgets and sportswear.
Final Thoughts
Currently, GoPro's Price to Tangible Book Value is roughly 4x. As larger competitors creep up on the action camera market, GoPro will likely need to expand into other action product categories to thrive. This means there is no real line of sight as to when GoPro will return to profitability. Fortunately, GoPro maintains a solid brand name and has some time (and money) to figure things out. I'm hopeful and confident that the company will continue to exist, but I'm not comfortable enough with the five year-plus outlook (or the lack of clarity in their outlook) to invest my own money. While I believe they are well-positioned to expand their product lineup into new areas, there are a few too many unknowns for me to have any conviction in the investment at GoPro's current stock price.
Disclosure: I/we have no positions in any stocks mentioned, and no plans to initiate any positions within the next 72 hours.
I wrote this article myself, and it expresses my own opinions. I am not receiving compensation for it (other than from Seeking Alpha). I have no business relationship with any company whose stock is mentioned in this article.