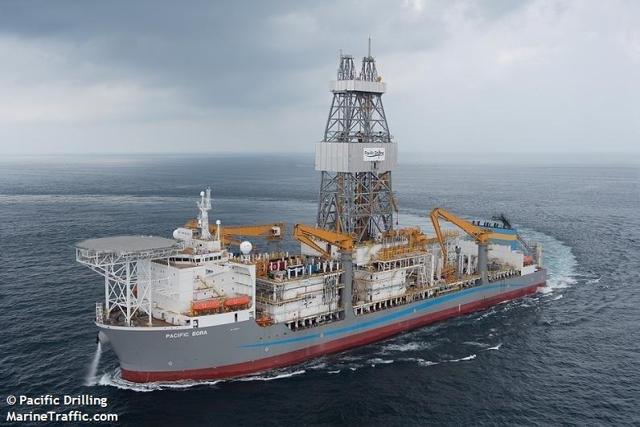 Click to enlarge
This article is an update of my previous article on Pacific Drilling (NYSE:PACD) from October 12, 2016, about the most recent October Fleet Status Report.
Note: Quantum Pacific LLP is PACD's majority shareholder and is represented on its board of directors by three board members (~70%).
Note: PACD approved a 1-for-10 reverse stock split of the company's common shares. The reverse stock split was effective May 25, 2016. Please read my article about the subject here.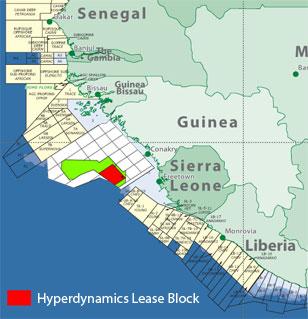 Courtesy Hyperdymanics Corporation
On November 30, 2016, Hyperdynamics Signed Definitive Contract with Pacific Drilling to Drill Offshore Guinea Prospect.
it has signed a definitive drilling services contract with a subsidiary of Pacific Drilling SA to engage the Pacific Bora drillship to begin a drilling campaign offshore the Republic of Guinea in the second calendar quarter of 2017.

"This contract underscores our commitment to drilling our next exploration well offshore the Republic of Guinea next year," saidRay Leonard, Hyperdynamics President and Chief Executive Officer. "Since the signing of a preliminary Letter of Award with Pacific Drilling a month ago, we have also achieved several other crucial milestones that will enable us to begin drilling the Fatala-1 prospect this spring.

"Long-lead time equipment and materials that are being turned over to Hyperdynamics by former operator Tullow Oil are currently being inspected at a storage yard in Ghana before shipment to Guinea. We are in the process of tendering for the major services that will be needed for our drilling operations as well as for support services such as boat and helicopter transportation.

"We are continuing to hold discussions with prospective working interest partners, including major multinational energy companies and independents, to share project-related costs and risks and to enhance project technical competencies. We are also exploring options to raise equity through a share offering," Leonard said.

The Pacific Bora is currently located in West Africa, has just finished a contract for a major American exploration and production company. The drillship is expected to arrive shortly before the target spud date for the Fatala-1 well. Hyperdynamics' contract with Pacific Drilling enables us to include as many as three additional wells under the same favorable terms and conditions.
Fleet Status as of October 7, 2016. Company's [fleet status].
Last investor presentation September 6, 2016. [Click here]
N
Name

Year

Built

Specification

UDW

Contract

End

Day Rate

K $/d

Client

Location

1
Pacific Bora
2011
Samsung 10,000 design

Standby

12/16 - 4/17(?) (2-wells)

2Q'17 (1 well and 3 well options)

225(?)

225

[Unknown]

Nigeria

[Hyperdynamics]

2
Pacific Mistral
2012
Samsung 10,000 design

Smart stacked

-

Aruba

3
Pacific Scirocco
2011
Samsung 10,000 design

1/19/17

455

[Total]

Nigeria

4
Pacific Santa Ana
2012
Samsung 10,000 design
4/17
481

[Chevron]

US Gulf of Mexico

5
Pacific Khamsin
2013
Samsung 12,000 design
Ready Stacked
-

Limassol

Cyprus

6
Pacific Sharav

2014

Samsung 12,000 design

8/19

551

[Chevron]

US Gulf of Mexico

7
Pacific Meltem
2014
Samsung 12,000 design

Smart stacked

-

Aruba

Click to enlarge
Note: 2016 indicates the remaining backlog as of 12/01/2016, using an average for the Pacific Scirocco new deal with Total. I apply about 145-day total contract for the Pacific Bora at $195k/d. Estimated Backlog added was about $28 million. This backlog can increase to approximately $60 million, if the 3-wells option is exercised by Hyperdynamics.
It was not really a 'new' news, but only the official confirmation of the "letter of award" received early November. We do not know really the terms, but we may have a better idea after the two recent contracts awarded to Stena.
On November 24, 2016, Stena Drilling and Providence Resources (OTCPK:PVRS) announced that the Drillship Stena IceMAX will drill the Druid well off Ireland, at a day rate of $185k/d for one firm well to start in Summer 2017.
On November 26, 2016, we learned from OffshoreEnergyToday the following:
Cairn Energy has decided to drill two appraisal wells on the SNE oil field off Senegal in 2017 with Stena Drilling's 2007-built drillship, Stena DrillMAX [...] The joint venture has completed a rig tender evaluation process and executed contracts for the use of the Stena DrillMAX drillship for the two well drilling program starting in 1Q 2017.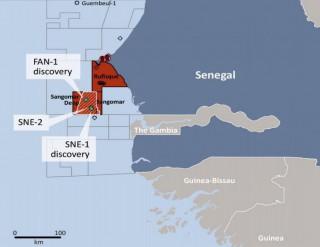 As we can see, The Cairn/FAR location in Senegal is just North of the Hyperdynamics project.
This is decidedly a new trend that has taken shape as soon as oil prices started to reach $50 a barrel.
During the 3Q16 conference call, one analyst, M. Praveen Nara, asked a very pertinent question.
A lot of your peers talked about 2018 being something that E&Ps are talking about. Are you guys getting the sense that they are starting to think about longer term work on that 2018 or do you think this is kind of year end increase as normal?
M. Michael Acuff answered:
I think it is. They are starting to plan some major programs out into 2018 - starting in 2018. We've seen several tenders or expression of interest in the late 2017, early 2018 timeframe and they varied anywhere from two years to four years in turn. So I think the operators are really starting to look at their forward planning and obviously there is some price checking in the market but the majority are starting to plan out into 2018 and 2019.
I see a slow recovery coming in two phases.
Assuming producers are serious about reducing global oil production, and demonstrate a real desire to support a price of oil at a decent level around the 60's a barrel. This is, however an ongoing question floating around, and it is not one "cut statement" from OPEC that will change fundamentally the problem.
Words are cheap, as we all know, especially, when it comes from the Arab producers who have been notorious for systematically cheating on quota, and the World needs concrete facts this time to change its mind and sees this "one day rally" as a positive long trend event.
The first phase will take care of the small drilling contracts -- mostly one well to three wells projects -- by small IOCs or NOCs, such as Hyperdynamics, Cairn or ONGC. Prospects already declared commercial "ready to launch", in need of a quick production development. This is what we see happening with contracts starting from 1Q'17 to 3Q'17.
The second phase, which is more what Michael Acuff is talking about above is a new exploration phase with a multi-wells exploration contracts. Oil Majors such as Total, BP, Statoil, Chevron and Shell will have to commit more CapEx for new exploration, which is not really what has been decided in 2017, yet. This is what I am really waiting for and what the offshore drilling industry needs the most, especially the ultra-deep water. The first phase, will be the bridge to the promised land, but without a promised land in sight, the industry will not be able to survive much longer.
Is it perhaps too little too late for Pacific Drilling?
Pacific Drilling is stuck between a rock and a hard place, and has limited financial options available, other than starting negotiation with its lenders to restructure its large debt load, while it still has some leverage. Of course, if oil prices are showing a sustainable recovery the negotiations will be friendlier and lenders may be lenient.
The company has barely enough cash to cover the notes maturing in 2017, but will not last much longer, in my opinion.
As of September 30, 2016, PACD had $363.3 million in cash and cash equivalents, $82 million in restricted cash pledged to the ledgers under its senior secured credit facility as cash collateral, and a net debt balance of $2.54 billion.
PACD, recently, drew the entire remaining balance of its revolving facility after the consent solicitation launched on 9/22/2016, and the company has now approximately $660 million in cash.
The next most urgent issue is the $719 million of senior secured term loan B that matures in 2018.
M. Chris Becket, CEO, said in the 3Q16 conference call:
Turning to our capital structure, we're actively engaged with our banks and other lenders with a view to amending the terms of our debt to allows to weather the storm and deliver the highest return to all our stakeholders. It's still early in the process, but we believe our banks and bondholders will work with us to provide a desirable outcome.
Clearly, PACD is heading to a conversion of a large part of the debt into equity resulting in a significant stock dilution. Pacific drilling has an important debt load of $2.91 billion ($2.54 billion net debt).
It would be a good idea for PACD to make a discounted tender offer for the remainder of the 7.250% Senior Secured Notes due 2017, and get a significant discount of approximately 40+%.
However, It will not be enough to avoid a debt restructuring next year, in my opinion, and I still warn actual shareholders about the actual and present danger of holding PACD for the long-term rather than trading the stock, which is the only viable alternative.
Conclusion: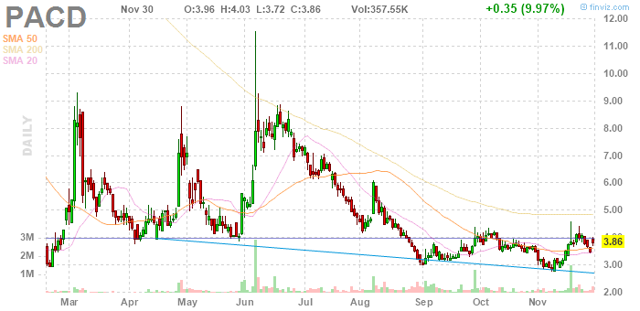 Click to enlarge
The stock is trading within an descending broadening right angle pattern, with resistance at $4.
The Descending Broadening Right Angle is a bullish reversal pattern. The pattern is formed by two diverging lines, the resistance being a horizontal line and the support a bearish slant. So it is a inverted ascending triangle. The oscillations between the two levels of the triangle are therefore becoming more and more important. Each line must be touched at least twice for validation.

The Descending Broadening Right Angle shows the growing nervousness of investors but also their indecisiveness. If the pattern is not identified quickly, the movement may seem totally random and thus trapping many investors.
Which means that I recommend to take some profit off the table as soon as $4 is reached. A possible buy entry can be decided using the light blue line indicated in the chart above.
Important note: Do not forget to follow me on PACD. Thank you for your support.
Disclosure: I/we have no positions in any stocks mentioned, and no plans to initiate any positions within the next 72 hours.
I wrote this article myself, and it expresses my own opinions. I am not receiving compensation for it (other than from Seeking Alpha). I have no business relationship with any company whose stock is mentioned in this article.
Additional disclosure: I trade PACD only.
Editor's Note: This article covers one or more stocks trading at less than $1 per share and/or with less than a $100 million market cap. Please be aware of the risks associated with these stocks.