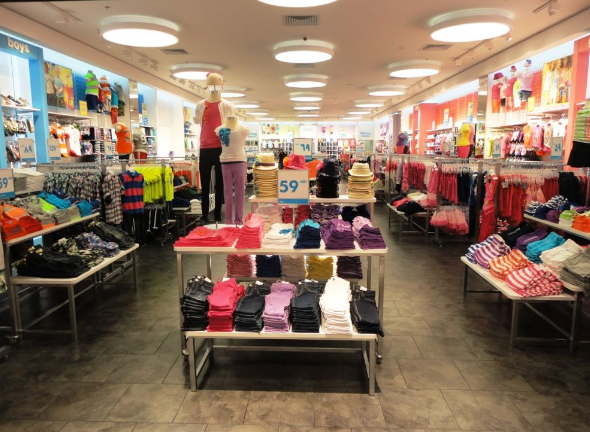 I've been a big fan of Children's Place (NASDAQ:PLCE) for some time as I've found the combination of a reasonable valuation and a commanding position in its niche is too good to pass up. Throw in the fact that revenue and margins continue their respective treks higher and you get a recipe for a very bullish setup. I said after the Q2 report that - at $83 - PLCE was consolidating for its next move higher. We've now received the Q3 report and "move higher" doesn't quite begin to justify what we've seen. But after PLCE soared from $70 to better than $100 in a straight line, is it time to take profits and move on?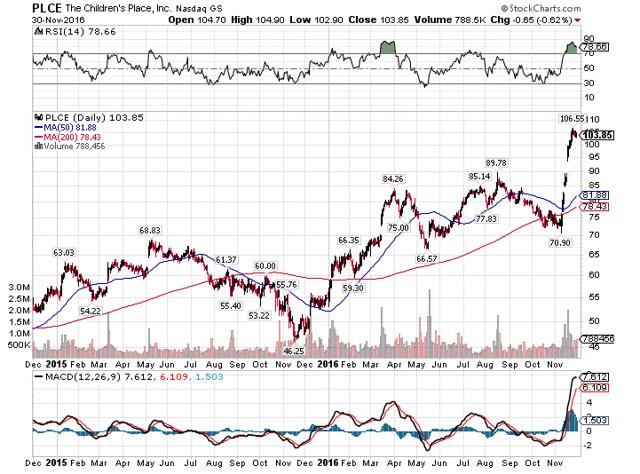 Click to enlarge
Total revenue was up 4% in Q3 as PLCE put in another decent showing on the top line. This is a very mature company, so blistering revenue growth isn't in the offing but what is - and has been for some time - is higher comp sales. PLCE came through with a +4.6% showing in Q3, absolutely astounding considering the sorry state of retail right now, and I have to say that despite my longstanding bullishness, PLCE even exceeded my expectations. In addition, despite the sizable sales increase, PLCE managed to reduce its inventory ever so slightly. As a result, this company is in really terrific shape headed into the Christmas quarter.
Gross margins were up as well as they rose 140bps to 41% in Q3. As I mentioned, this has been part of the bull thesis for many quarters, and PLCE is simply continuing its excellence here. The gain is unsurprising given the huge leverage on comp sales, but PLCE is realizing higher average tickets as well. As we continue to see higher comps - and if guidance is a clue then we will - we should continue to see some leverage on gross margins as well. PLCE's model has become quite lean and that's important so that it can take full advantage of its comp gains. In addition, with a lean inventory position, markdowns and promotions will be kept to a minimum, further protecting margin gains.
Unfortunately, on the SG&A side, PLCE gave back the full 140bps of leverage it gained with merchandise margins. Decreased store operating expenses weren't enough to offset higher incentive compensation, and thus, gains from merchandise margins on a percentage of revenue basis were wiped out. The fact that incentive compensation grew wildly isn't surprising as we've seen this countless times with other growing retailers. Targets are made based upon results of prior years, and when a company blows expectations out of the water - like PLCE has this year - those targets get passed and the company has to pay up. Surely, it is happy to do so, but the good news is that this should not be a recurring item into next year unless PLCE continues to produce enormous comp and margin gains. And while I don't like higher SG&A costs, if that is the price of continued excellent growth, so be it.
The thing is that as good as PLCE has been - despite the spike in incentive costs - and the fact that it boosted guidance in a big way after Q3, the stock is still only going for 18.4 times next year's earnings. That's roughly congruent with where it traded after Q2, but the enormous hike in estimates for next year has merely kept pace with stock price growth. That's an ideal situation for longs because not only have huge gains accrued, but also the stock isn't really any more expensive than it was. That's key for the bull case, and given the continued success of PLCE, it means that my bullishness carries on it a big way.
The only word of caution I'd offer on the fundamentals is that analysts expect sales growth to come in at just 1% next year, but EPS is slated to grow by 11%. That 10% gap is sizable and can only be made up with a combination of margin growth and buybacks. Operating margins were roughly flat in Q3 due to the spike in compensation costs, and while I expect growth in that category to be closer to flat next year as higher expectations are built into targets, can PLCE grow operating earnings enough to get it to 11% EPS growth?
Net income margin in Q3 was 9.3%, which is very strong for a retailer. PLCE's margins are already very high, and seeing another 10% of expansion there is going to be a very tall order. It is certainly possible as 140bps' worth of merchandise margin expansion would have more than done it in Q3, but SG&A costs ate that up. Regardless, it is clear that PLCE needs some additional margin expansion next year in order to have a shot at hitting its EPS growth estimates. It has some room to run thanks to higher SG&A costs this year, but the battle is uphill since it is already so efficient.
On the other hand, PLCE has $159M left on its current buyback authorization and that represents about four quarters' worth of buybacks at the current run rate. It also represents about 8.5% of the float, meaning that if PLCE were to make good on that 8.5% in the next four quarters, we would see a roughly equivalent boost in EPS for next year. PLCE has the willingness and ability to do so; it just needs to execute. That would go a long way towards furthering its EPS growth and indeed, getting it much closer to 11% next year.
On the whole, considering that PLCE's fundamentals continue to improve unabated and that fact that it has a reasonable path to its boosted EPS target for next year, I remain quite bullish even at $103. The stock is certainly overbought, and at $24 above its 200DMA, it surely looks like it is due for some sort of consolidation and/or pullback. That's all fine and would be welcomed because any sort of lower prices on PLCE are a gift, as right now, the stock is still actually quite reasonably priced despite its huge run. I like PLCE more than ever here, and I still think it will be higher next year than it is right now.
Disclosure: I am/we are long PLCE.
I wrote this article myself, and it expresses my own opinions. I am not receiving compensation for it (other than from Seeking Alpha). I have no business relationship with any company whose stock is mentioned in this article.