Investment Thesis
In spite of the recent rally in Bed Bath and Beyond (NASDAQ:BBBY) shares, this successfully run business is still trading at a discount to intrinsic value. It has a very strong balance sheet as well as share repurchase program in place. Patient investors will be rewarded with at least 35%-50% upside return over the next two years.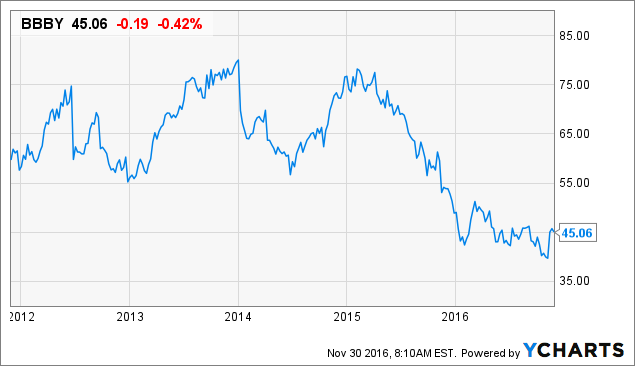 BBBY data by YCharts
Financials
BBBY is a successful retailer which is currently navigating in a difficult and competitive environment. In spite of this, BBBY's financials are great.
The company is growing very steadily over the last 10 years on average 7% and it has made a profit each year in the last decade. However, its operating margins have not kept up with the top line and are only growing at 4%. In the table below I have highlighted in green its persistent share repurchases. At the moment it has in place $2.5B share repurchase program.
One measure by which I define a good quality company is when a company is able to generate free cash flow margin above 5% [defined as FCF/Revenue (%)]. And BBBY has a normalized FCF% of 8%, which for a cyclical retailer is simply outstanding and should command a significantly higher trading multiple than that of other retailers. Additionally, BBBY has huge normalized ROE of 27%.

Click to enlarge
Acquisitions of One Kings Lane and PersonalizationMall.com
As it struggles to navigate this over-promotional period as well as to compete with the likes of Amazon (NASDAQ:AMZN) it needs to be creative and think of more than just price, but customer service also.
BBBY has attempted to improve its customer service through two recent acquisitions. But as might be expect when you have a fantastic business any detraction from it will create a drag on performance in the near term.
For example, subsequent to the end of Q2 2016, Pmall.com was acquired. PMall.com's earnings will be accretive over Q3, but longer term I don't feel that to be the case, which is confirmed by the company:
The acquisition of PMall.com is not anticipated to have a material effect on Bed Bath & Beyond's fiscal 2016 third quarter ending on November 26, 2016
However, there is little that BBBY can do about this. BBBY is already run as optimally as possible and any diversification will cause a drag on performance. Furthermore, like a lot of other retailers, such as Pier 1 Imports (NYSE:PIR) that I wrote about earlier, it is in a transitional time and competing against heavy-discounters online is one issue and operating in a recessionary period simply compounds issues. Retailers being what they are, cyclical businesses, need to be to adjust through the downturn in order to came out the other end even leaner.
Insider Ownership & Compensation
As far as large caps go, BBBY has a very respectful amount of insider ownership, at roughly 4.7%. Also, roughly half of managements salary comes in the form of stock options, so I genuinely believe that management's incentives are correctly aligned with shareholder returns.
Valuation
I performed both a relative valuation and a DCF valuation.
First from the relative valuation perspective. My favorite metric is the P/S. I like because it is quite a clean metric. I like to compare what investors have been willing to pay for a stock over the past five years and what they are willing to pay for it now. In the past five years, investors were happy to pay 1.4x P/S. Currently, investors are asked to pay only 0.6x P/S or less than halve.

Click to enlarge
Source: Morningstar.com
I am not saying that BBBY will be as profitable as it had been the recent past, but I can easily see at least 35% upside to the current share price.
I confirmed this when I performed a back-of-the-envelope DCF analysis, with a normalized $880m of FCF, with 2% growth over the next five years (which is equal to normalized inflation, or in other words, 0% real growth in revenue and certainly below the 5 year average growth of 7%), before leveling off at 1% (below inflation). I then discounted this FCF back at 10%. I used 10% because although BBBY is a cyclical, it is a really good quality company with a high FCF(%) and high ROE. This brings the DCF valuation to ~$10.5B or at least 35%-50% upside to the current share price.
Conclusion
Investors will have to patient and wait for BBBY to turnaround as it struggles, like many other retailers in this difficult environment. There is minimal downside from the current share price. Investors looking for even better opportunities can look at here and here.
Thank you so much for reading my article. If you have enjoyed reading this article, please click "Follow" to get more articles of mine in real time.
Disclosure: I/we have no positions in any stocks mentioned, and no plans to initiate any positions within the next 72 hours.
I wrote this article myself, and it expresses my own opinions. I am not receiving compensation for it (other than from Seeking Alpha). I have no business relationship with any company whose stock is mentioned in this article.