Freeport-McMoRan Inc. (NYSE: FCX) is one of the world's largest publicly traded copper producers. Copper remains a preferred commodity given its favorable supply and demand characteristics over the medium term. Freeport operates some of the lowest cost mines in the world, including Grasberg with its sizable gold by-product credits. The company has a vast pipeline of growth opportunities.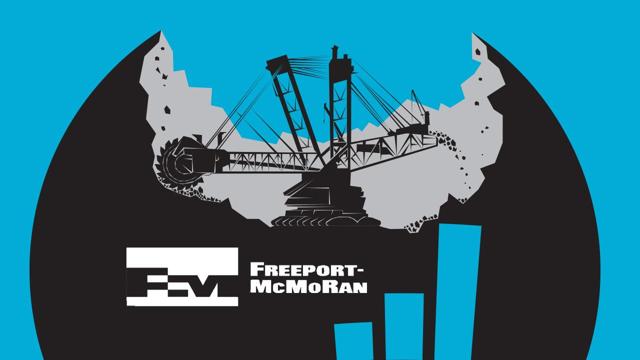 Freeport has regained its status as the go-to copper investment vehicle after the impressive actions taken by management to right-size the balance sheet. FCX shares could re-rate higher as the implied copper price in shares is well below current spot prices. I am raising price target to $20.
FCX maintains significant leverage to improving copper prices, in spite of recent copper asset divestitures. Every 10¢/lb move in copper prices results in an estimated $410MM change in 2017 EBITDA. Copper prices have been volatile in recent weeks, but appear to have settled close to $2.50/lb from under $2.10 just a few weeks ago.
While acknowledging that 2018 is likely to be a trough year for FCX copper production, I expect improving supply / demand fundamentals in the coming years will induce higher copper prices and help to offset lower production. Shares should grind higher from here, even if copper prices retrace slightly, in my view.
Indonesia
With the balance sheet right-sized, Indonesia is again the biggest uncertainty for Freeport. Freeport is battling the competing priorities of high-grades at the bottom of the open pit, continuing investment in the development of the underground (at an annual rate of ~$1Bn or ~$0.8Bn net to PT-FI), and the desires of the government (smelter development, ~20% divestment of PT-FI, underground investment, employment). FCX management has noted that discussions with Indonesia continue to advance on the two key issues: exports post Jan-2017 and the extension of long-term operating rights. I do not believe that the recent commodity recovery will materially change sentiment and/or progress in Indonesia. Labor issues in Indonesia are also likely to drag on as the mining of the open-pit moves toward completion. Overall, Indonesia remains my primary focus for Freeport in the coming quarters.
Copper Market Update
The copper market is likely to be relatively balanced in 2016, which is much improved from consensus expectation of a surplus at the beginning of the year. The delta in 2016 was largely driven by better-than-expected Chinese demand and to a lesser extent a re-emergence of supply issues for many copper miners, in part due to mining companies cutting back on sustaining capex. Several industry forecasters/participants are expecting a surplus of 300-400k mt in 2017. I believe the improvement in price in recent weeks has been largely due to improved sentiment over China (especially coming out of LME week) and partially due to optimism post the U.S. election. Heading into 2017, I would be carefully watching Chinese demand, labor contract renewals (which could potentially affect some of the largest Chilean mines accounting for ~14% of world production), Indonesian export ban, the Fed, and Trump. Post 2017, the copper market is expected to tighten as global refined supply growth is expected to slow to <1% per annum.
Primary Copper Investment Risks include:
Copper prices remain significantly above their marginal cost of production, and over the long term, I would expect for prices to return to a reasonable margin above this cost. But over the near term, I anticipate that it would take a significant demand shock for this to occur, an event which I do not include in base case.
Currency exchange rate fluctuations, which can both influence commodity prices and affect financial results due to the geographic diversity of the copper miners' operations and sales.
Regulatory changes influencing the profitability of current operations and/or the outlook for future mine development.
Political instability in some of the countries in which the miners operate and the associated risks of terrorism, civil unrest, nationalism, sudden changes in law or government, as well as other unforeseeable risks.
The global macro economy poses the biggest risk to the Metals & Mining industry as demand for metals and minerals is highly correlated to economic growth. In particular, China is the world's largest consumer of aluminum, coal, copper, iron ore, nickel and steel. A material slowing in China's economic growth trajectory could result in lower prices for commodities. Further, with China being a significant producer of aluminum and steel, it is possible that the country may be less disciplined and export large quantities of these materials, further depressing global prices.
Bottom Line: The ICSG released an update to its 2017 copper market outlook, forecasting a 120kt surplus next year compared to a balanced market this year. These figures are lower than my surplus estimates, but point to a similar near-term view: the oft-cited "structural" deficit market for copper is probably not going to materialize soon.
My production forecasts are stronger-than-expected, though this may have more to do with fewer disruptions this year than in past years. I note that supply disruptions have been mounting (Las Bambas road blockades, in particular), but my model still has a 700kt "disruption allowance" for H2/16.
Also supporting this view is Codelco's announcement for a 2017 Europe cathode premium at $82/t, in line with Aurubis' announcement two weeks ago for an $86/t premium next year, both below the $92/t premium for 2016. This is for contract volumes, however, and I note European spot premiums are actually languishing around $45/t. Freeport recently revised its Grasberg copper sales forecast - down slightly in 2016E but up in 2017E. Overall, this does little to change my copper market expectations, and I await earnings results from more copper producers over the next couple of weeks.
I maintain forecast for range-bound copper prices through 2018E on expectations of an oversupplied market for another two years yet, and growing inventories as a result. A meaningful improvement in copper prices only really takes place when inventory levels shift to "normal" levels of around 55-60 days, compared to estimate of 70 days at end-2016E, and 79 days by end-2018E.
Competitive Landscape.
Mining for natural resources is a highly capital-intensive business requiring large sums to explore for deposits and construct mines once deposits have been discovered. Since the early part of this century, exploration and mining costs have risen dramatically, and there has been substantial consolidation of the global mining and oil and gas industry.
FCX's main competitors in copper are Chile's state-owned copper company, Corporacion Nacional del Cobre de Chile (Coldelco), Grupo Mexico (OTCPK:GMBXF), BHP Billiton (NYSE:BBL), Rio Tinto (NYSE:RIO), Southern Copper Company (NYSE:SCCO), Teck Resources (TCK) and GlencoreXstrata. Demand for copper is closely correlated to the underlying world economic growth rate, particularly industrial production and construction. According to Wood Mackenzie, copper's end-use markets are construction (30%), consumer products (28%), electrical applications (19%), transportation (12%) and industrial machinery (11%).
FCX's main competitors in gold are Anglogold Ashanti Ltd. (NYSE:AU), Barrick Gold (NYSE:ABX), Gold Fields Limited (NYSE:GFI), Harmony Gold (NYSE:HMY) and Newmont Mining (NYSE:NEM). In Oil and Gas, its competitors include smaller U.S. independents such as Apache (NYSE:APA), Andarko and Marathon (OTC:MGDPF).
Demand for molybdenum, which is used for corrosion resistance, depends mostly on the level of global steel production. FCX estimates that 37% of demand is for stainless steel and super alloys, 33% for low alloy steels, 5% for cast iron and 5% for high tool and high speed steels. Some 20% of molybdenum demand is used in specialty chemicals such as catalysts, water treatment specialty additives and lubricants.
Financial trends.
From 2010 to 2015, revenues declined at a compound annual growth rate ((OTCPK:CAGR)) of 3.5%. Over the same period, EBITDA decreased at a CAGR of 16.1%. In 2014, FCX completed approximately $5 billion in asset sales, including the June 2014 sale of its Eagle Ford shale assets for $3.1 billion and the November 2014 sale of its 80% working interest in the Candelaria and Ojos del Saldo Copper mines for $1.8 billion. In December 2015, FCX announced lower capital budgets and suspension of its dividend.
At December 31, 2015, FCX had $20.4 billion in total debt. FCX has announced initiatives to accelerate debt reduction plans. Several initiatives are being advanced, including an evaluation of alternatives for the oil and gas business as well as several potential transactions involving certain mining assets. In February 2016, FCX entered into a definitive agreement to sell a 13% undivided interest in the Morenci unincorporated joint venture to Sumitomo Metal Mining for $1.0 billion in cash. In May 2016, FCX entered into a definitive agreement to sell its interests in TF Holdings Limited to China Molybdenum for $2.65 billion in cash and contingent consideration of up to $120 million.
Risks!
Key risks for FCX are higher/lower-than-expected commodity prices and changes in the industry's supply and demand dynamics, specifically for copper, gold, molybdenum and O&G. Risks also include raw material and other operating cost pressures, currency fluctuations in key producing countries given the geographical diversity of assets, project delays and cost overruns, and geopolitical risks given production sites in Indonesia, DRC and Latin America. Freeport's current Contract of Work (COW) in Indonesia is up for renewal by 2019. Also, anti-mining protests in Peru may delay ongoing expansion plans. As Freeport's balance sheet remains highly levered, further dilutive equity raises are possible. Key O&G risks include execution, higher-than-expected operating costs, logistics, transport and pricing. Upside could also come from exploration success.
Disclosure: I/we have no positions in any stocks mentioned, and no plans to initiate any positions within the next 72 hours.
I wrote this article myself, and it expresses my own opinions. I am not receiving compensation for it (other than from Seeking Alpha). I have no business relationship with any company whose stock is mentioned in this article.
Editor's Note: This article covers one or more stocks trading at less than $1 per share and/or with less than a $100 million market cap. Please be aware of the risks associated with these stocks.