By Parke Shall
Wayfair (W) released a report yesterday during market hours claiming that holiday sales for Thanksgiving weekend were looking impressive and while the market popped the stock briefly, it then sold off in short order and pared a lot of its gains. We think that there is starting to be a sentiment change on Wayfair which will prevent the stock from moving significantly higher. We wanted to write today to talk about that sentiment change and look at why yesterday's press release isn't as meaningful as many people think.
Wayfair is a company that we have been critical of for the last year, claiming that no material appreciation would take place in the stock price until the company was able to prove that its bottom line would be able to grow alongside of its top line.
For those unfamiliar with the company, it primarily deals in online sales of furniture and household items. It has been argued in the past by several short-sellers that the company, due to the logistics of shipping such tremendous items, is going to have a difficult time turning a profit and consistently generating cash. As this narrative has been made more and more public to the market, Wayfair stock has responded accordingly, showing signs of skepticism about the company simply growing its top line. Here is what the stock has done over the last year, as skepticism has grown,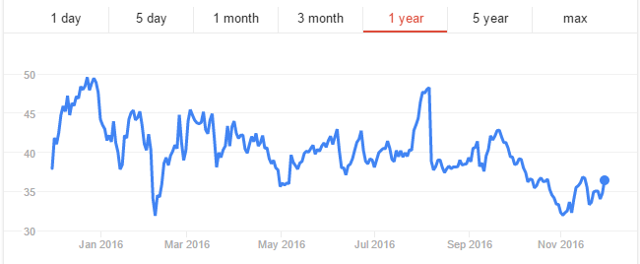 Click to enlarge
(source: Google Finance)
Heading into the holiday season, retail numbers are always in focus and companies are always eager to show the market that things are going well when they are. Wayfair is no exception, and the company released some information yesterday while the market was open about their fourth-quarter sales so far. The company's press release can be viewed in full here. It's stated,
Wayfair, Inc. (NYSE:W), one of the world's largest online destinations for home furnishings and décor, today reported a 52 percent increase year over year in direct retail gross sales, defined as dollars of order intake, for the five-day peak shopping period of Thanksgiving Day through Cyber Monday. The growth rate of total company gross sales was 46 percent year over year during the same period. The company experienced its strongest sales day ever on Cyber Monday with peak order volume between 9 p.m. and 12 a.m. ET. Repeat customers accounted for 58 percent of holiday sales and Wayfair's popular mobile app made it quick and convenient for shoppers to make purchases on the go.
Management then commented,
"The holiday shopping weekend is always a busy time for Wayfair, as our customers take advantage of outstanding deals on furnishings and décor across the site," said Niraj Shah, CEO, co-founder and co-chairman of Wayfair. "In addition to shopping for seasonal items, our customers are also preparing their homes for holiday entertaining and hosting guests, buying across a wide range of categories covering all things home. Wayfair is delighted to be the trusted retail destination that helps shoppers find just what they need for their homes every day of the year. We look forward to exceeding our customers' expectations during the holiday season and beyond."
A nice narrative, no doubt. But not enough to satisfy the market, and with good reason.
While these are certainly impressive metrics for the company from a perspective of generating sales, it does little to rebut the standing bear case on the company. Ideally, when you want an equity to move higher, the company needs to come out and disprove allegations and underlying concerns from the bearish side of the camp. Bulls wait for the company to refute these ideas, whether it is through actions or through financials, and from there the company is able to move forward.
But that isn't the case of what is happened here. Again, we are dealing only with top line numbers and while the company has grown it's top line impressively, it has also spent impressively, shelling out significant amounts for marketing and advertising. At the end of the day, these administrative costs and the cost of doing business continue to hamper the company from generating a consistent profit.
These trends are moving in the wrong direction.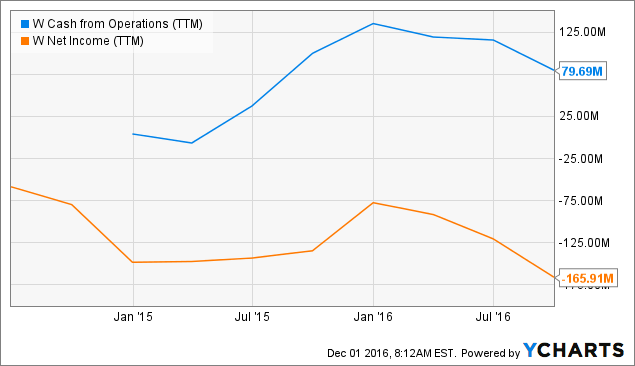 W Cash from Operations (TTM) data by YCharts
A consistent profit and cash generation is exactly what the market is looking for when it looks at Wayfair. If this company could come out tomorrow and prove to the market that consistently generate cash or can consistently turn a profit, we would see significant appreciation in the stock in short order.
Instead, what we believe we got yesterday, was an opportunity to sell the stock or short the stock on the pop yesterday. We briefly shorted the stock after the news came out and covered our position shortly thereafter, not because we don't believe Wayfair is not a long-term short, but for capital allocation purposes and portfolio allocation purposes.
It doesn't surprise us that the market wasn't totally amused and we think what we have seen here over the last year is a full-scale sentiment shift where the market now acknowledges that the bottom line is going to be the only driver for Wayfair going forward. If you are invested in the company and hope that it can have an Amazon style move higher based simply on its top line, we don't think that is possible. We think Amazon (NASDAQ:AMZN) is an exception to the rule, especially now because of how big it has gotten and how diverse its product portfolio is, and we have also seen that Amazon is capable of flipping the switch to profitability whenever it wants. Wayfair may not have a such a luxury and this concern could still hamper the equity price moving forward.
If you are like us and you believe that a correction in the market is coming soon, Wayfair is specifically the type of stock that you would not want to own. In a correction scenario, we expect high valuation stocks like Wayfair, that have yet to prove themselves financially, will be the first stocks that get roped in from a correction. We think the price action yesterday confirms to us that a full-scale change in sentiment has occurred, that the market is more skeptical on Wayfair than it is ever been, that the company is out of short term ammunition in terms of good press and that Wayfair is not a stock that we would want to own here.
Disclosure: I/we have no positions in any stocks mentioned, and no plans to initiate any positions within the next 72 hours.
I wrote this article myself, and it expresses my own opinions. I am not receiving compensation for it (other than from Seeking Alpha). I have no business relationship with any company whose stock is mentioned in this article.