The Trump Tantrum continues its march toward higher rates. During the Taper Tantrum rates have increased faster than they did in the Taper Tantrum. The rapid growth in rates is shocking and it should be a central area of analysis. There are a few arguments for why rates are increasing so substantially, but the strongest case may simply be that no one wants to get in the way of the herd.
The Herd Mentality is Strong In This One
Almost all yield investments have been hammered as rates raced higher. Panic among investors has been seen in Treasuries, corporate bonds, REITs, preferred shares and several dividend champions. Of course, there has been some carnage in the utility sector as well as some investors treat them as a proxy for bonds.
The following chart shows the carnage for several names that are used as yield instruments:
Philip Morris (NYSE:PM)
Realty Income Corporation (NYSE:O)
Utilities Select Sector SPDR ETF (NYSEARCA:XLU)
Vanguard REIT Index ETF (NYSEARCA:VNQ) (this one isn't down as harshly)
The iShares 20+ Year Treasury Bond ETF (NYSEARCA:TLT)

Click to enlarge
With the exception of VNQ, the damage to these names has been substantial and reflects the decline in Treasury prices.
Perhaps the most impressive example of the herd mentality taking hold is the willingness of analysts to jump on board with the idea that higher oil prices means higher Treasury rates. The entire premise is materially flawed. A quick and strong piece from Economist.com opens:
(Caps lock is theirs)
"EXACTLY two years after Saudi Arabia coaxed its fellow OPEC members into letting market forces set the oil price, it has performed a nifty half-pirouette. On November 30th it led members of the oil producers' cartel in a pledge to remove 1.2m barrels a day (b/d) from global oil production, if non-OPEC countries such as Russia chip in with a further 600,000 b/d. That would amount to almost 2% of global production, far more than markets expected. It showed that OPEC is not dead yet."
A 2% cut in production sent shares of the PowerShares DB Oil Fund ETF (NYSEARCA:DBO) and the United States Oil Fund LP ETF (NYSEARCA:USO) up around 5% by the middle of the day. According to Bloomberg, the impact was even stronger in some areas:
"The impact on the energy world was immediate: benchmark oil prices gained as much as 10 percent in New York and the share prices of energy companies around the globe jumped alongside the currencies of large exporters. Whether that's sustained will depend on how strictly members of the Organization of Petroleum Exporting Countries stick to the agreement, something they haven't always done in the past."
Treasury Impact
Treasuries across the yield curve moved to higher rates. The yields increased from 3.5 basis points to 8.3 basis points so far: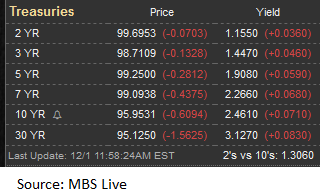 The curve is higher and steeper as investors prepare for…
What are investors preparing for? The obvious answer from several decades would be that investors are selling off Treasuries to move into equities based on expectations of higher inflation and higher economic growth. Arguments of higher inflation could hold some water, but the argument for higher economic growth is weak at best.
Oil and Growth
If the price of oil futures increases due to forecasts of stronger demand due to expectations of economic expansion, then the correlation makes sense. In that scenario, the higher oil prices are caused by expectations of economic expansion. On the other hand, we have this scenario. Oil prices are soaring higher on the premise of a cut in supply, not an increase in demand. The causation factor is gone, but the correlation remains.
Remember what your macroeconomics teacher used to say:
"Nothing signals economic growth like a cartel slashing production of a major resource."
That wasn't what your economics professor said? It looks like he didn't trade with today's correlation driven investors.
The Trump Tantrum
Prior to today's huge increase in yields, the Trump Tantrum was already outpacing the Taper Tantrum. Surely most investors remember when the market hit reverse on bond prices. In the second quarter of 2013 Ben Bernanke suggested the Federal Reserve might slow their support for bond prices. The market went into a tantrum so severe it earned the nickname Taper Tantrum. Below I put together a couple tables using data from Treasury.gov:

Click to enlarge
In only 22 days, we have seen the yields across the three middle points of the yield curve soar by 50 an average of 50 basis points. During the Taper Tantrum, it took into the 28th day to reach that level of panic.
I feel compelled to point out that the figures here do not include the latest increase in rates. If Treasuries end where they are right now, the movement to higher yields will become even more extreme.
Remember that a major part of the Trump Tantrum comes from the idea that Trump will be authorizing legislation to bring about enormous amounts of deficit spending. The legislation has not been written yet. It has not been prepared. The new government has not been sworn into office. The president doesn't get along with his own party. Yet, investors are convinced that enormous deficit spending will drive economic growth and that interest rates need to move higher.
Real Economic Growth
Does anyone remember what real economic growth looks like? What drives economic growth? Remember that growth relies on spending and for all the talk about new fiscal stimulus, we shouldn't take our eyes off other factors like the unemployment rate.
Completely overlooked in the excitement about OPEC finally reaching a deal was the miss on initial jobless claims. The forecast was 253k and the value came in at 268k. That means an extra 15,000 new Americans joining the ranks of the jobless. It wasn't simply a rotation of which workers were employed and which were unemployed, because also saw a miss on "Continued Jobless Claims."
Conclusion
Investors are amazed at OPEC reaching a deal and are happy to trade on the correlation of higher oil prices with higher economic growth. That correlation makes sense when the causation comes from demand for oil, but an increase in oil prices coming from a cartel cutting is not a sign that economic growth is right around the corner.
Meanwhile, investors seem unconcerned that rates are moving higher on the premise that legislation might be written, might be passed, and that fiscal stimulus within our country might be enough to lift bond yields materially. This all comes despite the Federal Reserve's primary factors being employment and price stability. While the outlook for inflation may have increased, the picture for unemployment remains stubborn.
Want to know when great income investments go on sale? Consider joining The Mortgage REIT Forum. For the cost of one lunch per month, you can get access to the research I'm using for managing my own investments. On average, I publish about three subscription articles per week. One is for calculating new estimated book value for several mortgage REITs and finding the current discounts to those estimates. Another covers the preferred shares for each mortgage REIT that has preferred shares. The third is used to either preview articles I'm working on for the public or to provide real-time updates on liquidity failures where prices for a small number of securities detached from other similar stocks.
Disclosure: I am/we are long PM.
I wrote this article myself, and it expresses my own opinions. I am not receiving compensation for it (other than from Seeking Alpha). I have no business relationship with any company whose stock is mentioned in this article.
Additional disclosure: Information in this article represents the opinion of the analyst. All statements are represented as opinions, rather than facts, and should not be construed as advice to buy or sell a security. This article is prepared solely for publication on Seeking Alpha and any reproduction of it on other sites is unauthorized. Ratings of "outperform" and "underperform" reflect the analyst's estimation of a divergence between the market value for a security and the price that would be appropriate given the potential for risks and returns relative to other securities. The analyst does not know your particular objectives for returns or constraints upon investing. All investors are encouraged to do their own research before making any investment decision. Information is regularly obtained from Yahoo Finance, Google Finance, and SEC Database. If Yahoo, Google, or the SEC database contained faulty or old information it could be incorporated into my analysis. Tipranks: Assign no ratings