Following the elections, bond investors have been watching their portfolios shrink as yields have risen. They may point to the elevated volatility in the bond space and seek solace with the hope that as volatility in bonds subsides, bond prices will once again recover. I think that while this is entirely possible in the near term, over the longer term, a return to the type of bond volatility we saw in the past few years is highly unlikely. Let me allow you to walk you through my logic:
The 10 year yields have spiked in the past couple of months, and are almost double where they stood near their 2016 lows.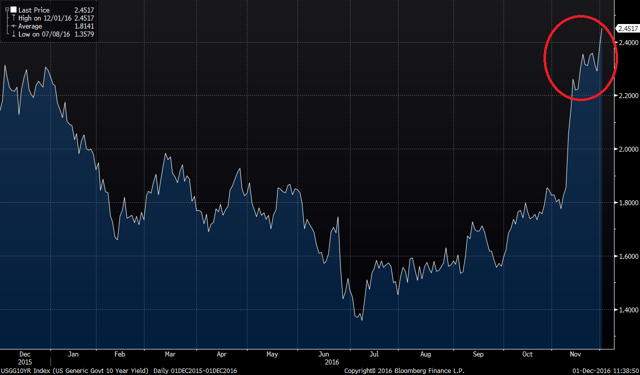 Click to enlarge
As bond yields dropped, bond volatility as measured by the MOVE index rose: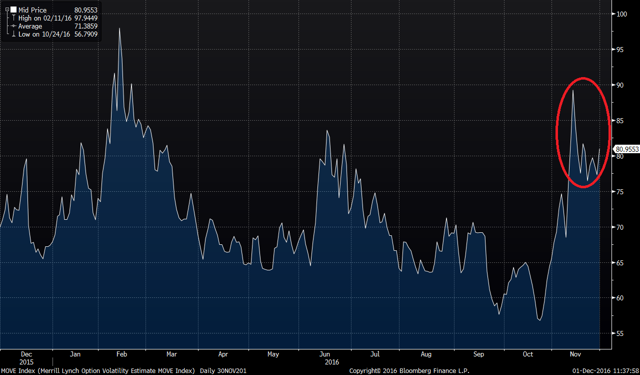 Click to enlarge
Now this sure looks like a topping pattern to most. However, let's re-frame things a bit. Bonds have been in a 30+ year bull market. The price of bonds over this period has done nothing but go up as yields have gone down. Let's look at how the 10 year Treasury yield (NYSEARCA:TLT) has changed over this time frame: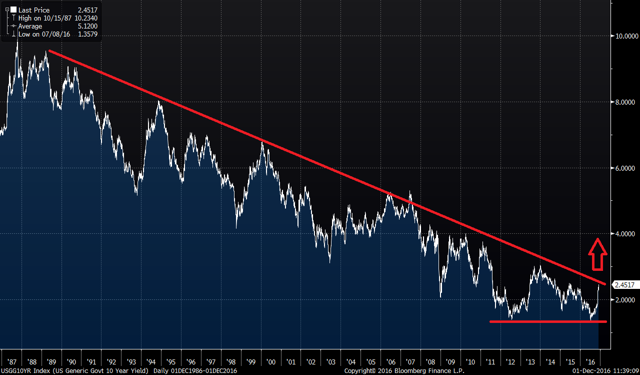 Click to enlarge
Compared to the one year chart above, this chart doesn't look stretched to the upside. One can argue that we may be able to break out of the 30 year long downtrend. And with this comes, higher bond volatility. Look at how the MOVE index looks over the long term: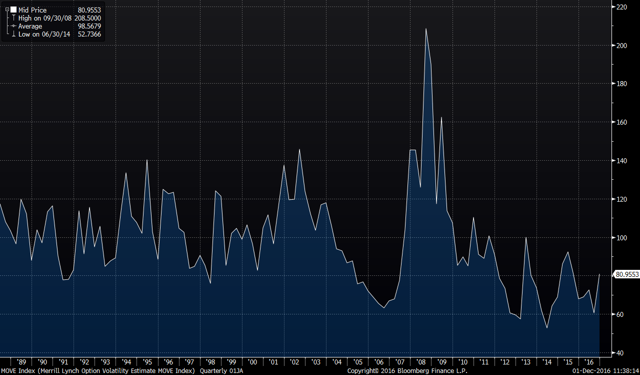 Click to enlarge
The recent spike in volatility barely registers. Even more importantly, when you re-frame the current bond volatility in a longer term time frame, it appears that we have been in an artificially lower volatility period.
If the above observations are true, and yields move higher to their historic norm, volatility in bonds will move higher alongside it. It sure appears like the new paradigm of the bond markets is about to go old school.
Disclosure: I/we have no positions in any stocks mentioned, and no plans to initiate any positions within the next 72 hours.
I wrote this article myself, and it expresses my own opinions. I am not receiving compensation for it (other than from Seeking Alpha). I have no business relationship with any company whose stock is mentioned in this article.