The EIA reported a storage draw of -50 Bcf, bringing the total storage number to 3.995 Tcf. This compares to the -35 Bcf draw last year and the -44 Bcf draw for the five-year average.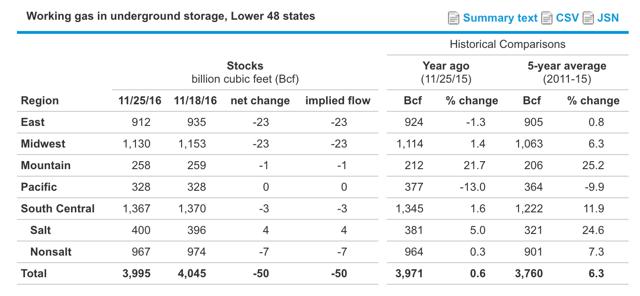 Click to enlarge
Going into this report, SNL did a survey among traders and analysts. The survey range was from -48 Bcf to -60 Bcf with an average of -54 Bcf. We expected a -53 Bcf and very close the consensus average. Our forecast was off by 3 Bcf.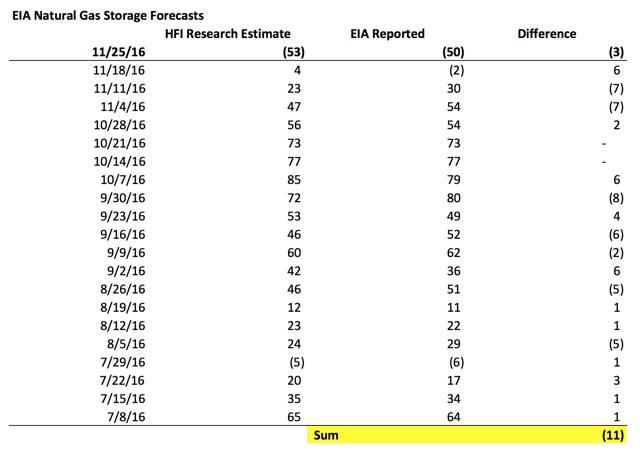 Click to enlarge
Source: HFI Research Natural Gas Storage Forecast
Looking at this report, several things stand out to us. Despite weather being more bearish (lower HDDs than normal), storage draw was higher than the five-year average as the structural imbalance continues to play in the bulls' favor. As weather normalizes closer to the 10-year average, a normalized demand outlook could see storage draw sharply higher than the average, and that's particularly meaningful when analyzing the context of the natural gas market.
Now everyone knows weather is hard to predict, but it's important to remember that even slightly bearish weather will see storage draw slightly higher than the average. And as we've been saying all this time day in and day out, the odds favor the bulls this winter.
Looking at supply/demand for this week however, the figures have been weak. Heating demand was not near last week's level, and we will be publishing an update in our new "premium daily" with our updated injection forecast for next week.
With natural gas (NYSEARCA:UNG) prices for Jan now hovering around $3.50/MMBtu, many are likely wondering where prices could go from here? We've long said that $3.50/MMBtu is the "new" equilibrium price where enough supply will be brought online while demand remains strong. In the short term (8-12 months) however, natural gas prices could easily move to $4 as we detailed in a Big Picture Outlook report. For natural gas traders, it might not be a smooth path for natural gas to move from $3.50 to $4. The gains are minimal at best with a potential return of just 14%. Most natural gas traders we talked to are playing spread trades betting on some months to drastically outperform other months' prices.
We think as investors, it may be more profitable to buy natural gas producers that will see significant cash flow improvement from a move of $3.50 to $4 rather than natural gas itself. Storage draws are coming, and there's a good chance storage will fall below the five-year average by mid-Jan.
Disclosure: I/we have no positions in any stocks mentioned, and no plans to initiate any positions within the next 72 hours.
I wrote this article myself, and it expresses my own opinions. I am not receiving compensation for it (other than from Seeking Alpha). I have no business relationship with any company whose stock is mentioned in this article.