Intel (NASDAQ:INTC) has announced that a 10-year ARM Holdings (OTCPK:SFTBY) executive, Tom Lantzsch, will head its Internet of Things (IoT) group. That Intel went outside the company to fill this leadership position, and especially went to ARM, speaks volumes about Intel's future direction.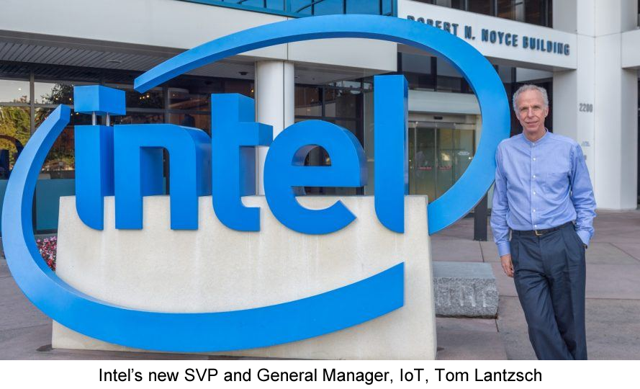 Click to enlarge
Source: Intel
Sea Change
Dr. Venkata "Murthy" Renduchintala, president of the Client and Internet of Things businesses made the announcement via a blog piece on Intel's website. Murthy himself was recruited from Qualcomm (NASDAQ:QCOM) only a year ago to head the new umbrella organization that combines Client Computing Group, IoT Group and a Systems Architecture Group. Reporting directly to CEO Brian Krzanich, it was clear that Krzanich wanted the perspective of an Intel outsider.
Long-time Intel executives were made Murthy's direct reports, which apparently didn't sit well with some of them. Kirk Skaugen, then head of the Client Computing Group, subsequently left Intel and is now with Lenovo (OTCPK:LNVGY). Doug Davis, then head of IoT Group, was also reported to be leaving the company, but apparently, he hung on until Murthy replaced him with Lantzsch. Davis will now head a newly created Automated Driving Group, according to Murthy's announcement.
Murthy's announcement of the Lantzsch appointment began with the portentous words:
There's a sea change in technology happening all around us, defining what it means to live in a smart and connected world. We know it as the Internet of "Things" - a massive surge of more than 50 billion devices expected to come online over the next few years.

IoT is nothing short of a revolution, requiring a new generation of technology and 5G connectivity that can serve a far broader set and multitude of devices, process volumes of data, and satisfy our ever-growing human need for connectedness.

Just as industry and the experiences it creates are evolving, so are we here at Intel. In the face of this revolution, we are adding experienced leaders and building new organizations.
I don't think it's reading too much into the above statements to infer that Murthy is at least willing to contemplate that Intel Inside might not be the best option to further the IoT revolution. At the very least, Murthy is probably charged with undertaking some form of trade study to determine whether x86 or ARM is the best processor architecture for IoT.
Such trade studies are a common systems engineering process in the technology industry. To be performed well, such studies require an "honest broker" approach, in which the lead systems engineer doesn't take sides or assume a conclusion in advance.
Given the long-standing position of Intel executives, the equanimity of such a study would be questionable without a strong voice of advocacy for ARM architecture. Tom Lantzsch is now that voice.
That doesn't mean that the outcome of the trade study is a foregone conclusion. But at least when Murthy asks the question "Which would be better for IoT, Intel or ARM architecture?", he won't only hear what Krzanich has been hearing for years.
Avoiding Another Debacle
Up to this point, Intel's approach to IoT has been pretty much the same as its approach to mobile devices. It's best with Intel Inside. In other words, best with Intel's x86 architecture processors.
This was shaping up to be another mobile device debacle. In May, Intel announced that it was discontinuing its tablet and smartphone processors, a move I had been expecting for some time. I pointed out that the best explanation for the failure of Intel's move into mobile devices was not lack of technical competitiveness with ARM devices, but lack of cost competitiveness.
Yet the lessons of the mobile device experience didn't seem to be sinking in over there at Intel, at least among the old line Intel executives. IoT has a number of components, not the least of which is significant cloud-based support, but in terms of the Things end of it, it's basically a mobile device market. Most of the processors that the Things will be carrying around will be low-cost, low-power, and Internet connected via cellular or Wi-Fi.
So it was never clear why Intel thought that the outcome of its entry into the IoT market was going to be any different than the outcome of its abortive entry into mobile, except that Doug Davis was still in charge of IoT.
With Lantzsch in charge of IoT, the way is now clear to drive to a different conclusion. Given that the key imperative in the trade is economic, I would be very surprised if Intel somehow reached the conclusion that IoT Group should stay the course.
Intel is already a producer of its own ARM processors through its acquisition of Altera. And it has signaled that it will produce ARM processors as a foundry for customers such as LG Electronics (OTC:LGEAF). In so doing, Intel has become an ARM licensee for IP to both manufacture and design ARM architecture processors.
Investor Takeaway
Given the very significant change in Murthy's staff, the switch to ARM is starting to look highly probable, at least for IoT applications. Long-time Intel bulls may not welcome this, but I regard it as a very positive development.
Intel's February Investor Meeting is shaping up to be a very interesting, perhaps groundbreaking event, and I'm looking forward to it. I continue to rate Intel a hold, but, depending on what transpires in February, that could easily be upgraded.
Disclosure: I am/we are long QCOM.
I wrote this article myself, and it expresses my own opinions. I am not receiving compensation for it (other than from Seeking Alpha). I have no business relationship with any company whose stock is mentioned in this article.
Editor's Note: This article discusses one or more securities that do not trade on a major U.S. exchange. Please be aware of the risks associated with these stocks.