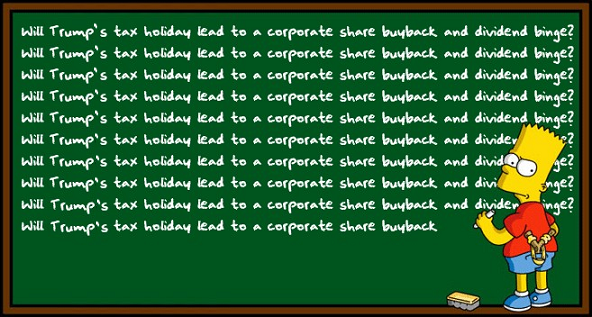 The stock market has significantly risen since President-elect Donald Trump won the Oval Office. The Dow, the Nasdaq, and the S&P 500 (NYSEARCA:SPY) had another record close on Black Friday. Markets are reacting positively to pre-election promises and policies that Trump touted in almost every rally speech.
There's expectations that Trump will overhaul financial regulations like Dodd-Frank (clear positive for large banks), increase infrastructure spending, cut corporate taxes, and boost the nation's manufacturing sector. So what we're seeing is a number of "Trump trades" or bets on companies in industries projected to perform well under a Trump presidency.
Trump wants to cut the business tax rate from 35% to 15% in an effort to keep U.S. companies from leaving for countries with lower tax rates. This should be generally positive for U.S. equity markets and capital investment. The one piece of proposed legislation that interests me is the one-off repatriation tax holiday at a 10% tax rate. This will give U.S. multinationals like Apple (NASDAQ:AAPL) the chance to repatriate trillions of dollars in cash stockpiled overseas.
According to Congress's Joint Committee on Taxation, there's about $2.6 trillion in profits parked overseas in tax haven subsidiaries (source: Bloomberg).
Apple will be a real beneficiary of any tax holiday, as would Microsoft (NASDAQ:MSFT), and many other U.S. tech companies. The top 10 largest tech companies have more than half a trillion dollars overseas. Today, Apple and Microsoft's offshore cash represents 36.3% and 23.4% of their respective market values. Pharmaceuticals like Johnson & Johnson (NYSE:JNJ), Pfizer (NYSE:PFE), and Merck (NYSE:MRK) have plenty of cash overseas as well.
The chart below shows the top 5 U.S. companies with the most offshore cash (source: Bloomberg). Moody's Investor Service estimates that the top 5 will accumulate $505 billion overseas by year-end, up from $441 billion in 2015.
| | | |
| --- | --- | --- |
| (in US$ billions) | Offshore cash as of Sept. 30 | Est. Offshore cash by year-end |
| Apple | $216 | $230 |
| Microsoft | $111 | $113 |
| Cisco Systems (NASDAQ:CSCO) | $60 | $62 |
| Oracle Corp (NASDAQ:ORCL) | $51 | $52 |
| | $48 | $49 |
(Source: Bloomberg and Investor's Business Daily)
The reason they keep money offshore in tax haven subsidiaries is because to bring that cash back you must pay a 35% tax. Apple's CEO Tim Cook in December last year said that he would "love" to repatriate some of Apple's cash, but not at a 40% tax rate (combining federal and state taxes). It just doesn't make sense for any business to repatriate cash when you got to pay a substantial tax on it.
So will U.S. companies take advantage of the one-time 10% tax rate? Maybe. Some U.S. multinationals have many reinvestment opportunities outside of the U.S., so they may not consider repatriating their cash. Instead, they rather invest in markets where they produce most of their sales and profits.
Corporate buyback and dividend binge?
Trump says the repatriated cash guarantees bigger tax revenues that would partly fund his $1 trillion infrastructure program over the next 10 years (clear benefit for E&C's, equipment rental firms, and material producers). This spending would lead to increased economic productivity and growth. On top of that, Trump expects U.S. companies will use the repatriated cash on "growth capital" investments like building new manufacturing plants and factories at home to fuel job growth.
On paper, this is all very promising. But I don't think it will all go accordingly to Trump's plan. I expect the repatriated cash will benefit investors rather than job creation. Instead, the cash will be returned to shareholders through dividends and share buybacks. This is how U.S. companies reacted in the past, why not expect more of the same again?
The U.S. last introduced a one-time tax holiday under the Homeland Investment Act in 2004. About 843 U.S. corporations returned more than $300 billion at a reduced rate of 5.25% (nearly half of what Trump's proposing). The legislation didn't allow companies to use the cash to buy back shares, but they still did anyway. Over 90% of the repatriated cash was used for buybacks, dividends, and executive compensation. It didn't serve to create U.S. jobs or build new factories as planned.
Cisco's CEO Chuck Robbins was asked how he would spend the repatriated cash in an interview with Bloomberg. He said: "We do have various scenarios in terms of what we'd do but you can assume we'll focus on the obvious ones - buybacks, dividends, and M&A activities."
It seems like wishful thinking to believe U.S. companies won't spend majority of their foreign cash on buybacks and dividends. Trump's Black Friday-like tax holiday for American corporations sounds like a good idea, but it's really a big gamble on infrastructure and job growth.
It's also a big gamble if you're merely buying specific stocks that could benefit from Trump's future policy changes. In this case, you're not investing, but dangerously speculating, and ignoring the underlying fundamentals of a business which drive stock performance. You don't know if his plans will come to fruition (e.g. repeal of Dodd-Frank). Chasing what's hot in the market without doing your own homework is risky investment behavior and you're setting yourself up to lose money.
If U.S. multinationals do repatriate cash, the U.S. will see an influx of capital flows, and that should benefit the U.S. dollar (clear negative for consumer staples like Colgate-Palmolive (NYSE:CL) and Procter & Gamble (NYSE:PG)). The U.S. is seeing economic growth return, with Q3 GDP expanding to 3.2% (versus 1.4% in Q2), and this is fueling the strength of the U.S. dollar against foreign currencies. Growth is favoring the U.S. Fed futures market, now pricing a 100% probability of a rate hike on December 14.
The U.S. Fed has held the fed funds rate target range at 0.25% to 0.50% since December 2015. The financial sector, which was the worst performing sector at the start of the year, has rallied hard the past few weeks becoming the best performing sector over the last 12 months. Higher interest rates increase net interest margins and profits for banks, like JP Morgan (NYSE:JPM), Goldman Sachs (NYSE:GS), Bank of America (NYSE:BAC), and Morgan Stanley (NYSE:MS).
If you're buying these banks solely because of the expectation of the Fed bumping up interest rates or the repeal of Dodd-Frank, you're not investing, but speculating. There's substantial downside risk for many of the stocks that have moved higher because of possible Trump policies, and even the Fed's expected rate hike in two weeks. Instead, focus your energy on due diligence. Investigate your investments before making an informed investment decision.
Avoid the herd mentality. Chasing stocks is for chumps.
Reading recommendations:
Disclosure: I/we have no positions in any stocks mentioned, and no plans to initiate any positions within the next 72 hours.
I wrote this article myself, and it expresses my own opinions. I am not receiving compensation for it (other than from Seeking Alpha). I have no business relationship with any company whose stock is mentioned in this article.