In early November, market participants were thrown for a loop when Donald Trump beat Hillary Clinton to become the 45th US President. Most participants were expecting a market meltdown the next day after the election, but that did not happen. Not only did it not happen but the markets went up for almost two weeks in a row afterwards. This was quite shocking to a Consulting Equity Analyst like myself as you would think that with Donald Trump promising to launch a new paradigm shift that is quite isolationist in theory, that stocks would actually implode, especially those in the Dow Jones 30 Index (NYSEARCA:DIA).
Why do I say that?
Well the Dow Jones 30 Index is made up of 30 stocks and about 24 of those are U.S. Multi-nationals and thus operate globally. The Chart below is the action of the U.S. Dollar since May 2016 and as you can see, the US Dollar has gone up +11% since then.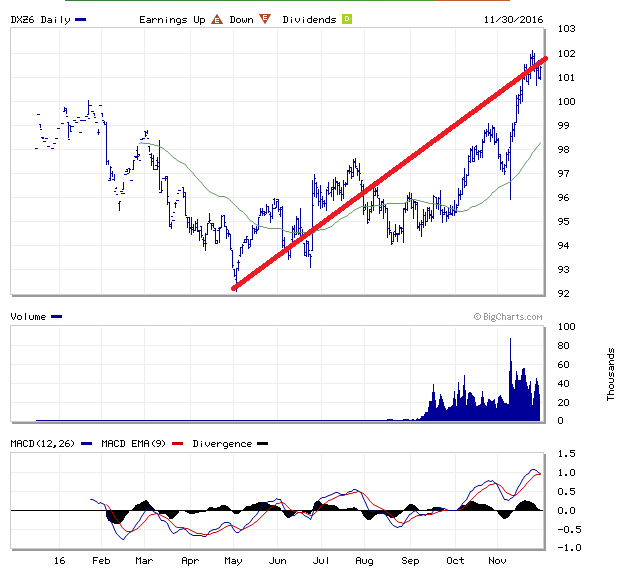 What this means is that when a US Multinational like Coca-Cola (NYSE:KO) or Apple (NASDAQ:AAPL) sell their products outside of the USA, their products just became 11% more expensive for consumers in countries like Russia, Greece or Japan. Thus, when prices go up, sales and revenues tend to retreat as it becomes more expensive for overseas consumers to buy US goods.
As a result, and despite management's best efforts at currency hedging, US Multinationals' earnings reports are probably going to show poor results in January 2017, when each Dow component starts to report year-end results. Now 24 out of 30 = 80% and that means that 80% of the Dow Jones 30 Index could be in serious trouble soon.
If that is not bad enough, we also have to deal with the incredible rise in Treasury yields, which since July 1st have risen +73% or about 100 basis points.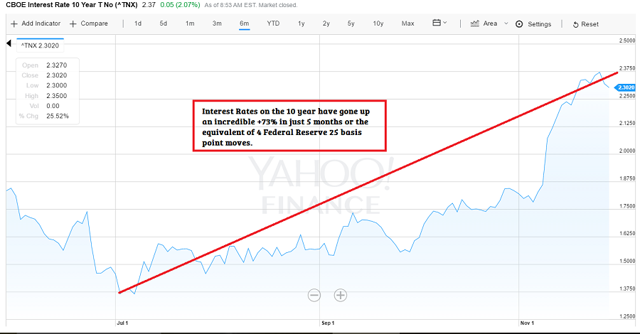 Click to enlarge
When you add such dramatic rises in both the US Dollar and 10-Year yields to an already uncertain scenario, it has the effect of causing investors to become quite nervous. Additionally, when you add that the Dow Jones 30 Index is made up of 80% U.S. Multinationals, which should be hurt by both higher yields and the strong US Dollar, you thus have the makings for some serious problems ahead for the markets.
So what is an investor to do? The smart move to make is to look for investments that have an opposite correlation to those of the Dow and generate most of their revenue domestically here in the US. Since many investors like to be fully invested in stocks as well as through ETFs, I thought I would try helping them out by discussing a unique (Value-Based) ETF that gives the investor the ability to go long and short stocks at the same time, but also achieves that opposite correlation we are looking for.
In my opinion, this ETF could also be a lot safer than one trying to build a similar portfolio on one's own, as this fund is professionally managed by an expert in forensic accounting and if you tried to emulate a similar portfolio on your own (following a similar strategy), your costs would be much higher than the 1.15% expense ratio that the ETF charges: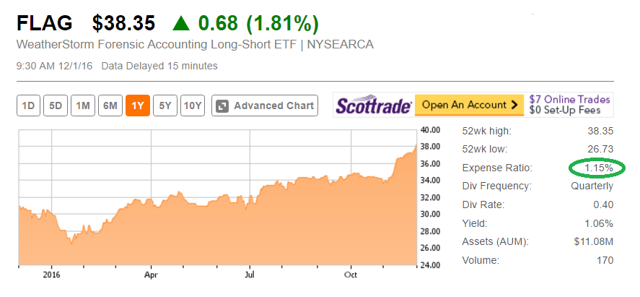 Click to enlarge
What really caught my attention is that this ETF just received a "Five Star" rating from Morningstar.

Click to enlarge
So how does this ETF work?
The WeatherStorm ETF (NYSEARCA:FLAG) basically allows an investor to go 130% long while at the same time go 30% short the market and is basically an ETF that provides some of the benefits of a long/short hedge fund would do without the average hedge fund fees of 2% of assets under management and 20% of the profits. Thus, you have a lower fee alternative that basically does what a high-priced hedge fund will charge you for a fraction of the price and not only that but you will also have one of the best Forensic Analysts in the world picking the stocks for the ETF.
Not only that but you also have the advantage of seeing daily what the holdings are by going to WeatherStorm's website. Thus, you can be fully invested and still have some downside protection because the ETF shorts as well as goes long. Adding shorts add value over time despite the fund being 100% net long. How is this so? Well, we know that more and more companies are using games to play with the numbers they report every quarter.
By going long the companies that are undervalued with the cleanest accounting and short companies that are overvalued with aggressive accounting, you get the best of both worlds. The fund is entirely unique in the ETF world. While other funds may weight their stocks based on revenues or cash flow, no other fund looks beyond the reported revenues, cash flow, and other financial data and look under the hood to see how management teams may be aggressive in their accounting.
Now that we have explained how FLAG works, let us now examine how this ETF can help you when it comes to the President Trump Paradigm Shift that is coming? In order to find that out, we need to view the holdings of FLAG and see if they are what we are looking for as strong Trump plays. Morningstar helped us out here by analyzing FLAG's holdings by displaying FLAG's stock by stock performance of its top 25 holdings.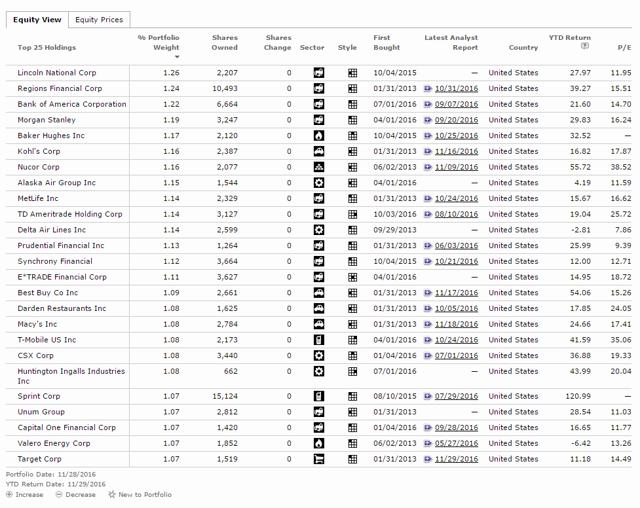 Click to enlarge
As you can see from the table above that not only are these investments value plays, but also turned out to be Trump plays as well like Bank of America (NYSE:BAC) and Regions Financial (NYSE:RF), which should both capitalize on the rising rate environment or stocks like Nucor (NYSE:NUE) and CSX (NYSE:CSX), which should benefit from any infrastructure plans that President Trump may have in mind. Most importantly, you can see that the fund is also well diversified and achieves our goal of being invested in US-based firms that generate the majority of sales from the US.
If you go through the list above, you will find that only one company is Multinational and that is Delta Air Lines (NYSE:DAL), which just had Warren Buffett recently invest in it. The portfolio is made up of energy plays, restaurants, airlines and US-based retailers that make up the long side of the portfolio.
Well what about the short side of the portfolio? Are they just overvalued stocks or do they play into the anti-multinational theme we are looking for? Here is the whole portfolio and those with minus signs under the shares column are stocks that the fund is short. As you can see, Netflix (NASDAQ:NFLX), Facebook (NASDAQ:FB) and Under Armor (NYSE:UA) seem to fit the bill as US Multinationals that the ETF is short and it's interesting that many of those names have been suffering lately in the markets. This ETF seems to be the perfect way to play the current market environment using strict forensic accounting to determine which stocks are bought or shorted.
So, if you are feeling nervous about the markets, then the FLAG ETF may allow you to hedge your risk and sleep better at night, as I am quite sure that going forward things will become quite volatile once President Trump starts his paradigm shift. We are seeing this happen a lot lately as the Dow Jones Index may be way up one day, while the Nasdaq (NASDAQ:QQQ) maybe way down at the same time. By going with FLAG, you as an investor can go both long and short, and in effect, kill two birds with one stone.
Disclosure: I am/we are long AAPL.
I wrote this article myself, and it expresses my own opinions. I am not receiving compensation for it (other than from Seeking Alpha). I have no business relationship with any company whose stock is mentioned in this article.
Additional disclosure: DISCLAIMER: This analysis is not advice to buy or sell this or any stock; it is just pointing out an objective observation of unique patterns that developed from our research. Factual material is obtained from sources believed to be reliable, but the poster is not responsible for any errors or omissions, or for the results of actions taken based on information contained herein. Nothing herein should be construed as an offer to buy or sell securities or to give individual investment advice.