In an earlier article, I had no doubts in affirming that Bank of America (NYSE:BAC) showed a strong upside potential in the medium and long term. Even in the short term, I saw good investment opportunities, provided they were properly monitored. I wrote this on June 1 at a time when rate hikes were only an expectation. With the Trump administration, interest rates will likely rise quickly, which will benefit banks especially those that are more solid and profitable. It would be unnecessary to develop topics that everyone knows as the fact that a stronger economic growth is predicted for the near future and that the likely rise in inflation will also imply a rise in interest rates. All of this is great news for BAC because it is also obvious that since loans are usually linked to the 10-year Treasury yield, its revenue will increase much more than the interest it pays to customers.
In other words, the loan spread will be wider, which will make it possible for banks to earn more profits.
I have already said that Bank of America is a true case study, because over the years, its share price has presented fluctuations in a blatant way. As the chart below clearly illustrates, the movement of its price is a monumental roller coaster with two different stories. One that ended in late 2006 and another that started in early 2012. It's like a second life that leaves behind tremendous drawdowns between those two dates.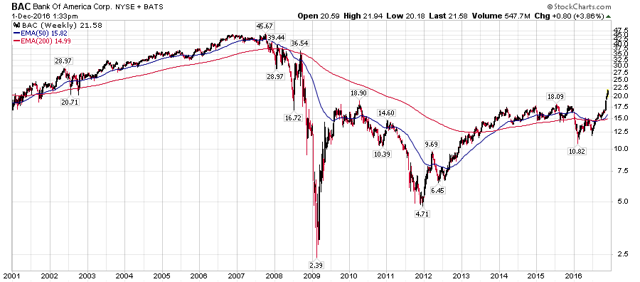 Click to enlarge
Charts courtesy of StockCharts.com
Note: All charts are in semi-logarithmic scale and historical price data was adjusted to remove gaps caused by stock splits, dividends and distributions.
It should be noted that Bank of America's situation is sound and can thus make the most of this new phase. Still without the highly positive outcome of relevant interest rate increases, the bank's situation was promising as we can conclude from the words of BAC CEO Brian Moynihan in the Q3 2016 earnings call:
Long-term rates are down compared to last year, yet earnings have grown. Despite that, net interest income is up 3% from third quarter '15, while net interest yield has been stable because we grew core loans and deposits. (...) Deposits are core part of what drives our franchise earnings. We have 1.2 trillion of deposits that's proof the customers entrust us to safeguard their money. (...) Nearly $450 billion or 36% of our deposits are non-interest bearing, a very strong mix. Deposits on average grew $68 billion year-over-year or 6%. - Seeking Alpha Transcript
In addition, it is crucial to remember that on Q3 2016, BAC's charge-off ratio declined to 40 basis points, setting a historic low.
With a very strong trading volume, BAC's shares started a new rush exactly the day after Election Day. In fact, in 16 trading sessions, BAC's share price has climbed from $16.94 to $21.70 in mid-session today. Momentum is evident, but let's see if share prices are not rising too fast too soon.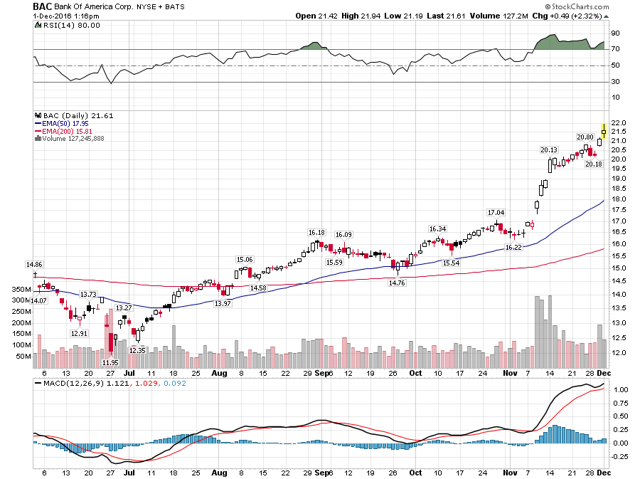 Click to enlarge
Conclusion
While BAC is skyrocketing with the fuel of rate hikes soon, one thing is sure in a calmer look: if the economy really grows as expected with a strong housing market, the bank will benefit hugely on the medium to long term. But its short-term share price advance may seem too fast to be sustainable. Investor confidence is understandable and acceptable, but some caution is needed. Of course, long-term investors will welcome BAC's positive expectations based on solid fundamentals.
Disclosure: I/we have no positions in any stocks mentioned, and no plans to initiate any positions within the next 72 hours.
I wrote this article myself, and it expresses my own opinions. I am not receiving compensation for it (other than from Seeking Alpha). I have no business relationship with any company whose stock is mentioned in this article.
Additional disclosure: The author of this article is not an investment adviser and gives only his personal view and opinion, never making any investment advice or recommendation to buy or sell specific securities. Investors in financial assets must do so at their own responsibility and with due caution as they involve a significant degree of risk. Before investing in financial assets, investors should do their own research and consult a professional investment adviser.