Hopefully this article will help you grow your assets.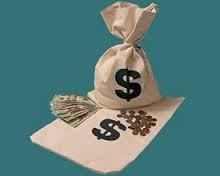 ARMOUR Residential REIT Inc. (NYSE:ARR) is an agency mortgage REIT. It invests in agency hybrid adjustable rate, adjustable rate, and fixed rate MBS. Agency RMBS, especially fixed-rate agency RMBS, usually go down in value when interest rates go up and vice versa. ARR also includes since April 6, 2016 the assets of its subsidiary, Javelin. These include fixed rate, adjustable rate, and hybrid adjustable rate Agency RMBS, and non-Agency RMBS. All of the above are managed externally by ACM. ARR pays an 11.7% annual dividend.
At the end of Q3 2016 ARR recorded a book value of $27.87 per common share. By October 31, 2016 the book value was estimated at $27.71 per common share. By November 18, 2016 ARR's book value was down to $25.13 per common share. The main reason for this is likely the spike higher in interest rates approaching and after the election of Donald Trump as President. His campaign promises for hugely increased federal spending are considered highly inflationary. An example of the apparent result is the large rise in the 10 year US Treasury Note yield (see chart below).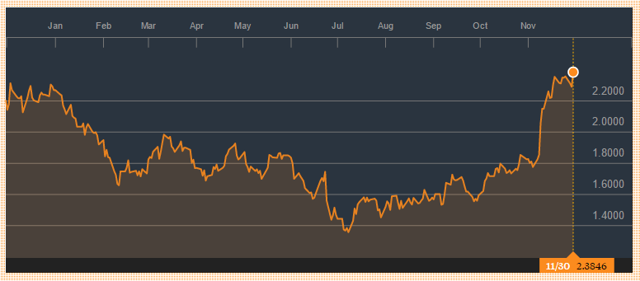 Click to enlarge
From 1.83% on October 31, 2016 the yield on the 10 year US Treasury Note rose to close at 2.35% on November 18, 2016 (+52 bps in 18 days). According to ARR this translated into a loss of $2.58 per common share (-9.3%) for just those 18 days. From Q3E 2016 to November 18, 2016 the loss was a larger -$2.74 per common share (-9.8%). How did ARR's management let this happen?
At Q3E 2016 the leverage was 6.03x; but it was 8.28x when considering TBA securities purchased forward. This latter level is relatively high leverage for an uncertain environment. In the past this high leverage in uncertain times has led to high losses for ARR. This seems to be more of the same. A second area contributing to the high losses was the relatively low hedging for an uncertain time. As of November 18, 2016, ARR had only 54.3% of Agency fixed rate assets hedged.
To get a clearer picture of where the losses may have occurred it is good to take a look at the portfolio as of November 18, 2016 (see tables below).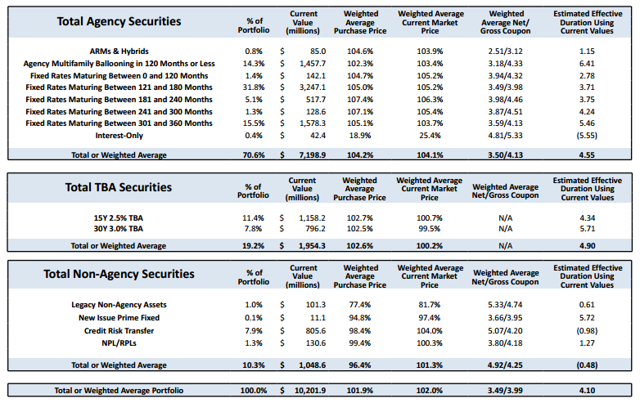 Click to enlarge
As an example of what the fixed rate Agency RMBS might lose as a result of the above described spike in interest rates, I choose to look at the 30 year FNMA 4.0% coupon MBS (see three month chart below).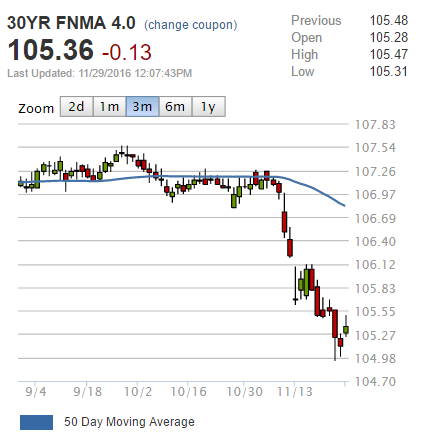 The large drop in the fair market value of the MBS is painfully obvious. The value was 107.42 on September 28, 2016. It was 107.09 on October 31, 2016. It was 105.50 on November 17, 2016. From October 31, 2016 through the close on November 17, 2016 the drop was -1.59 (about -1.48%). With leverage of 8.28x, this could amount to a loss of 12.25% without any hedges. If the hedges were 100% effective for the 54.3% of Agency fixed rate MBS hedged, then the losses would only occur on the approximately 45.7% that were not hedged (8.28 * -1.48% * 0.457 = 5.6%). This leaves a lot of losses unaccounted for. Remember ARR claimed a loss of -9.3% for the first 18 days of November 2016. One might think that the hedges were not 100% effective. On might think that ARR's Agency RMBS suffered greater losses than the FNMA MBS.
To get a better picture, let's look at the portfolio as of October 14, 2016 (see tables below).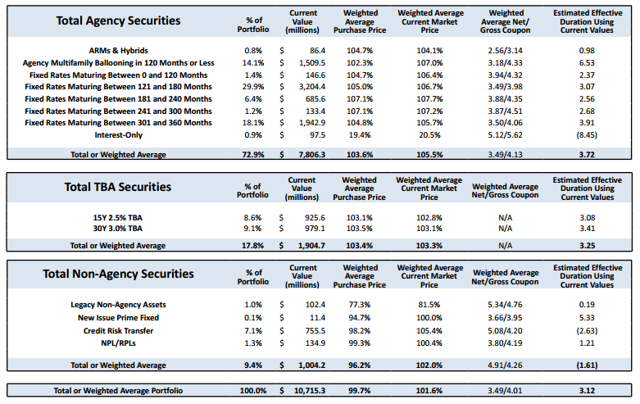 Click to enlarge
From October 14, 2016 through November 18, 2016 the Weighted Average Current Market Price for the Total Agency Securities dropped from 105.5% to 104.1% (-1.4%). Assuming 100% effective hedging on the Total Agency securities, the losses on those were 8.28 * 0.457 * 1.4% = 5.30%. The Total TBA Securities Weighted Average Current Market Price dropped from 103.3% to 100.2% (-3.1%). Assuming 100% effective hedging on the TBA securities, the losses on those were 8.28 * 0.457 * 3.1% = 11.73%. This accounts for some of the difference; but it still indicates the hedging is not as effective as advertised.
There were other factors in the losses. The absolute losses were ($7.8063B - $7.1989B) = +$0.6074B for the Total Agency Securities and ($1.9047B - $1.9543B) = -$0.0496B (or a gain in value) for the Total TBA Securities. That is impossible, if the amount of TBA securities was held the same. It was not. The TBA part of the portfolio percentage increased from 17.8% on October 14, 2016 to 19.2% on November 18, 2016. Clearly ARR increased its holdings in TBA securities during this time. Perhaps ARR was counting on a Hillary Clinton win? In any case putting on "more risk" at that time appears to have been a bad management decision. For the case of the $0.6074B loss in Total Agency Securities (not considering TBAs), the $0.6074B amounts to approximately 7.78% of the original total of $7.8063B compared to the 9.30% loss (without considering hedges) one would have predicted from the average current market price drop. The Total Non-Agency Securities registered a small gain during this period, so I will just ignore them for now.
Another factor that may have played a part is the basis spreads. These may have expanded as the interest rate spike occurred. If so, they may shrink again as the interest rates settle down. That may occur by Q4E 2016. If it does, ARR may recoup some part of its losses due to this. Another area may be amortization costs. The average CPR was 10.93% at the end of Q3 2016. It may have blipped higher temporarily on worries that higher interest rates might prevent some sales. Perhaps there were worries that higher interest rates would bring the price of single family homes down. The spike in interest rates might then have caused a spike in selling (prepayments). That could have led to higher amortization costs temporarily.
In Q3 2016 ARR seemed to perform well. It had $28.9 million ($0.68 per common share) in Core Income, including Drop Income. This covered its $0.66 per common share quarterly dividend nicely. It had an 8.57% increase in book value for the quarter to $27.87 at Q3E 2016. This is almost as big as the loss it has already experienced in Q4 2016 thus far (-9.8% through November 18, 2016). The average Net Interest Margin was 1.44%, which was reasonable for the industry. The average CPR ("Conditional Prepayment Rate") was 10.93% for Q3. All of the above sounds fairly solid. However, ARR is even after this big spike in interest rates holding its Duration at 1.99. This is high for a time when interest rates may still rise quickly. In fact the 10 year US Treasury Note yield rose to 2.38% as of this writing on November 30, 2016 on the news of the OPEC oil deal. Many think that deal will let oil prices rise above the $50/barrel level for WTI. At the very least it should allow oil prices to stabilise at a price significantly higher than EIA's expected FY2016 average of $42.84/barrel for WTI. It also tends to give EIA's FY2017 average price of $49.91/barrel more credence. Some believe prices could go far higher. However, just $50/barrel for WTI should push inflation (and hence interest rates) upward.
Overall ARR seems to have coped, when it found itself in a very bad position upon Trump's election as President (and the subsequent interest rate spike upward). However, it has not acted to decrease this too-high (in my opinion) leverage at a time of high uncertainty. Alternatively it could have acted to increase its hedging (decrease the Duration of the portfolio). That too might lessen the risk. That too has not been done. ARR's current positioning could lead to unacceptably high book value losses, if interest rates continue to rise. ARR also probably has some losses associated with its larger than normal amount of TBA securities that it has not taken yet. Since most TBA trades are on the order of 1-2 months, these losses will likely be taken by the end of Q4 2016.
It is uncertain where interest rates will go from here. The Trump interest rate rally seems to be calming down. However, coming events could get it going again. The Italian Referendum is December 4, 2016. Some think a result either way could push rates upward; but a "no" vote would probably be most worrisome. The ECB announcement on December 8, 2016 is expected to detail the start of ECB QE tapering after March 2017. This could push rates upward. The FOMC will meet December 13-14, 2016. It is expected to raise the Fed Funds rate by +0.25%. This too might push interest rates upward. The BOJ and the BOE are also set to announce news in December 2016. The PBOC is a factor; but it does not seem to operate on the same schedule as the others.
Given all of the above uncertainty, I would tend to SELL ARR at this point, at least temporarily. It's book value is $25.13 per common share. The stock closed at $22.24 per share on November 30, 2016. This is a discount of -$2.89 to its book value as of November 18, 2016 (-11.5%). However, ARR lost -9.8% from Q3E 2016 through November 18, 2016. It lost -9.3% from October 31, 2016 through November 18, 2016. If December is a volatile month as it may well be, then ARR could lose significantly more book value. It has increased its exposure to TBA losses; and it still has low hedges. It now has higher leverage with 7.2x stockholders' equity without TBA positions than at the beginning of Q4 2016 (6.03x). That number is likely roughly 9.5+ times if you include TBA positions. That is too high to feel comfortable. The 1.99 Duration is worrisome too.
ARR is too big a risk right now. The management team has incurred too many big losses in the past. At the current leverage, it would probably elect to sell some of its securities at larger losses than it should incur, if interest rates keep rising. It would have to do so in order to keep its leverage at a "safe" level. This has often been a management problem in the past for ARR. Investors were taking a risk at the beginning of the Q4 2016. Now they are taking an inordinate risk to stay in the stock. If you do, you are betting that interest rates will go down from here. They may; but if they do not, you could lose an inordinate amount of your investment by the end of Q4 2016. This kind of stock is not supposed to be that risky.
The two year chart of ARR provides some technical direction for a trade/investment.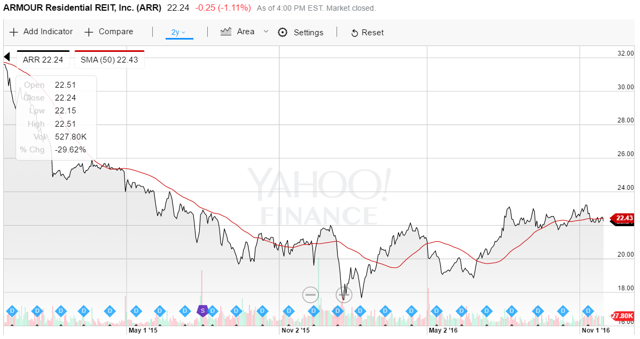 Click to enlarge
The chart above appears to show a good bottom. However, part of that may have been spurred by its announced intention to buy Javelin Mortgage. It did buy this company at a discount to its book value. That has added to the recent gains in book value. However, any gains from the Javelin acquisition have been accounted for.
The extra value gained from the money market fund investment rule change has likely played out too. That change caused money market funds to buy significantly more government securities as the rule change, effective October 14, 2016, demanded safer investments. Most investment managers likely bought prior to that date (hence prior to Q3E 2016). Q4 2016 will be back to a more normal loss scenario for the case of higher interest rises. In Q4 2016 the losses could grow a lot larger by December 31, 2016. This bodes ill for ARR.
ARR is too risky an Agency mREIT at this time. I would SELL; and I would wait for a better time or a better mREIT to get back in. This strategy could backfire if rates suddenly start downward. However, they are trending up so far in Q4 2016. Plus there are a lot of central bank issues that will be announced in December 2016. Any or all of these could push rates upward further. I don't like the uncertainty. I don't like the too high leverage or the high Duration. I would sell ARR now. If rates go down, that could prove to have been a bad decision; but it is one that I think I can live with.
NOTE: Some of the fundamental fiscal information above is from Yahoo Finance.
Good Luck Trading/Investing.
Disclosure: I/we have no positions in any stocks mentioned, and no plans to initiate any positions within the next 72 hours.
I wrote this article myself, and it expresses my own opinions. I am not receiving compensation for it (other than from Seeking Alpha). I have no business relationship with any company whose stock is mentioned in this article.